There is a reason why The San Gabriel House Bed and Breakfast in Georgetown Texas consistently receives high marks in on line guest reviews.
The rooms are comfortable, beautifully appointed and the owners Dee and Neil Rapp are great hosts.
Having traveled all over the world, I have stayed at everything from 5 star hotels, condos and apartment rentals, guesthouses and B&B's. It's not that I dislike hotels, in fact hotels are great, I just prefer staying at smaller places. With condo and apartment rentals I get a kitchen, more room and it is just more comfortable. With a guest house or Bed and Breakfast, I enjoy meeting the people that own the property and learning about the area I am visiting.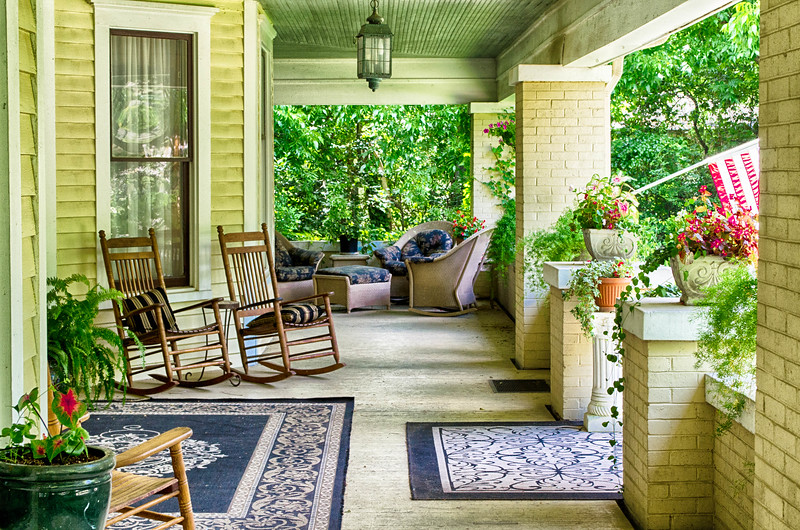 The San Gabriel House fits that bill perfectly. Located on University Drive, across the street from Southwestern University, it is a convenient location to base your travels in the area.
The House was built sometime between 1908 and 1914 and is in one of the historic residential areas of Georgetown Texas. With six rooms, there is parking available either in front of the house or in the rear.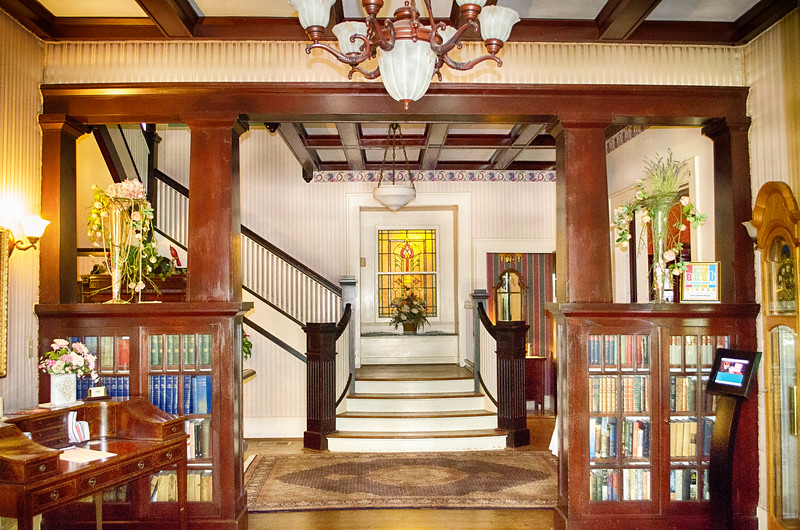 As soon as I arrived I was impressed by the large wrap around porch that reminded me of when people spent time in the evenings enjoying a cold drink and visiting with each other, unlike today when most people just hole up inside their home and turn on the TV.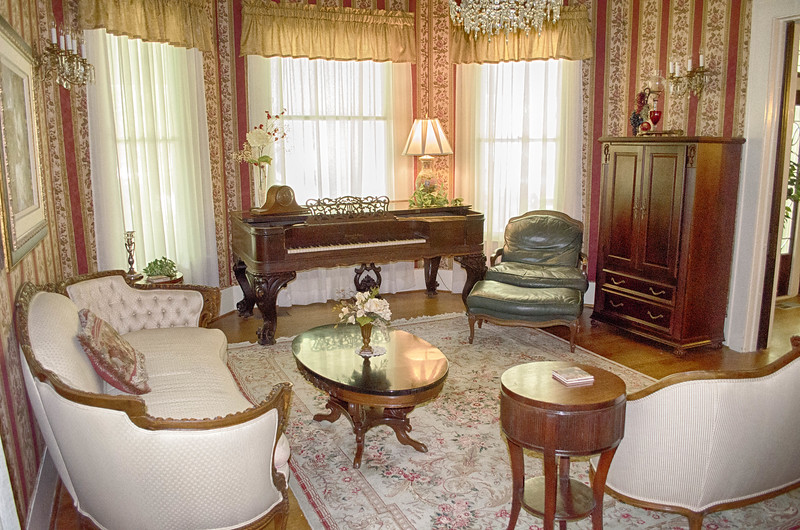 Speaking of television, the rooms at the San Gabriel House don't have any. If you really can't tear yourself away from the latest reality show, there is a television in the living room downstairs that you can watch but I'm not sure why you would. You can watch television when you get home and have nothing to do. They do have free Wi-Fi so you can stay connected, which for me, is important.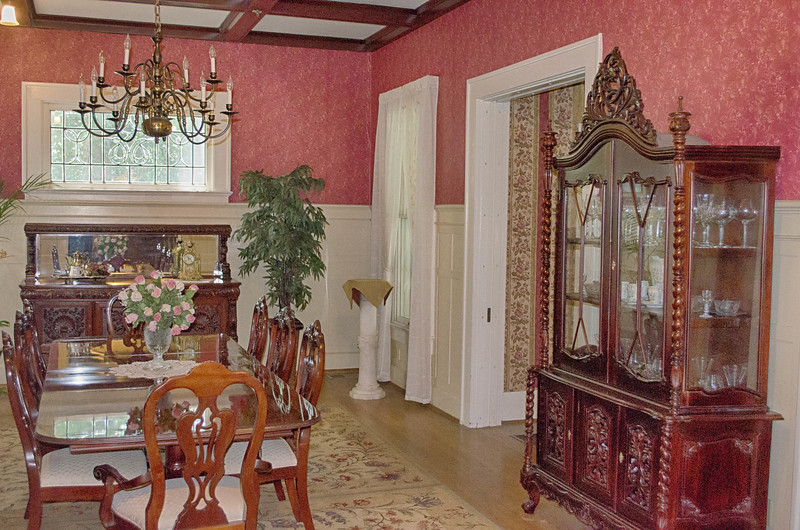 When you first enter the San Gabriel House you notice how beautiful it is with a staircase in front of you, the living room off to the right and an enclosed study on the left. Downstairs you have access to the living room, the dining area with a refrigerator stocked with drinks and ice and a wine bar next to the stairs. The study, kitchen and the remainder of the downstairs is where Dee and Neil live full time.
The upstairs opens into a large library with bookshelves lining the walls, comfortable couches and chairs and enough books and magazines to keep even the most prolific reader occupied for a long, long time.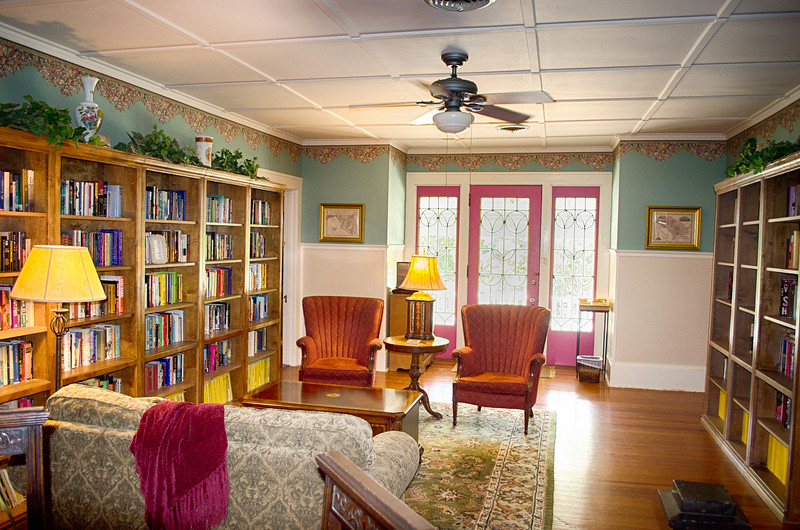 The San Gabriel is a popular place during the holidays with several groups and organizations holding holiday parties each year.
All of the rooms have been converted from the old residence to their current configuration so that each room has a private bath and individual air conditioning systems. Each room is decorated differently and all are very roomy and comfortable.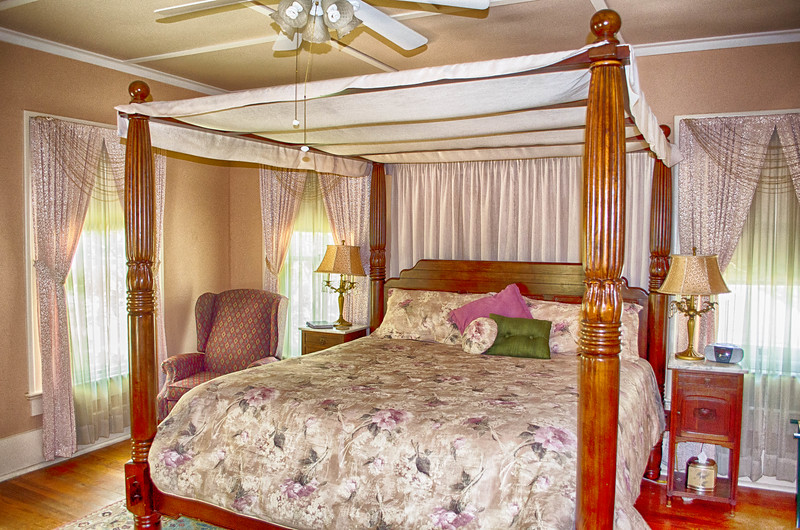 A lot of Bed and Breakfast places are very, how should I say this without sounding too bad….. girlie. The San Gabriel reminded me of a home in the early 1900's that might belong to a successful businessman, doctor or college professor. With large rooms, heavy solid wood furniture, wood floors, large area rugs, books everywhere and large porches it is an absolutely beautiful property.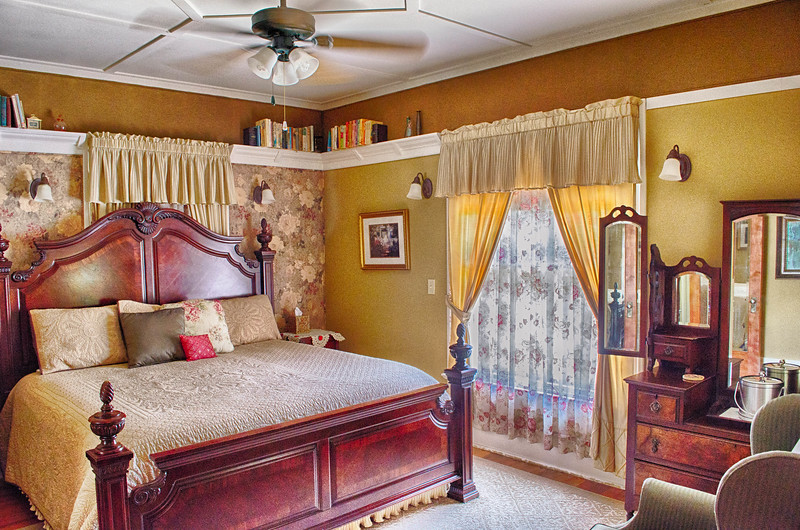 When I arrived four of the rooms were unoccupied waiting on guests to arrive so Neil gave me tour of each room and I took a few photos. When I woke the next morning all the rooms were occupied. My room was very comfortable, quiet and I slept great.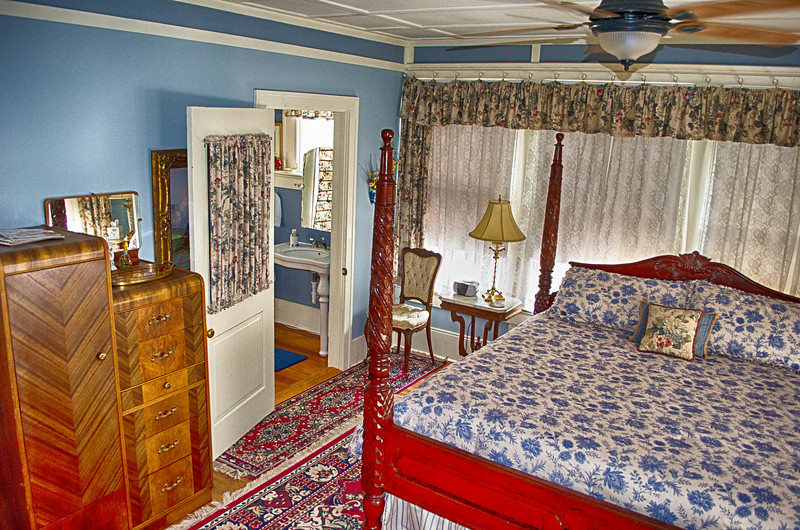 The sixth room is located above the Carriage House adjacent to the main house. There is also a large garden in the rear of the residence.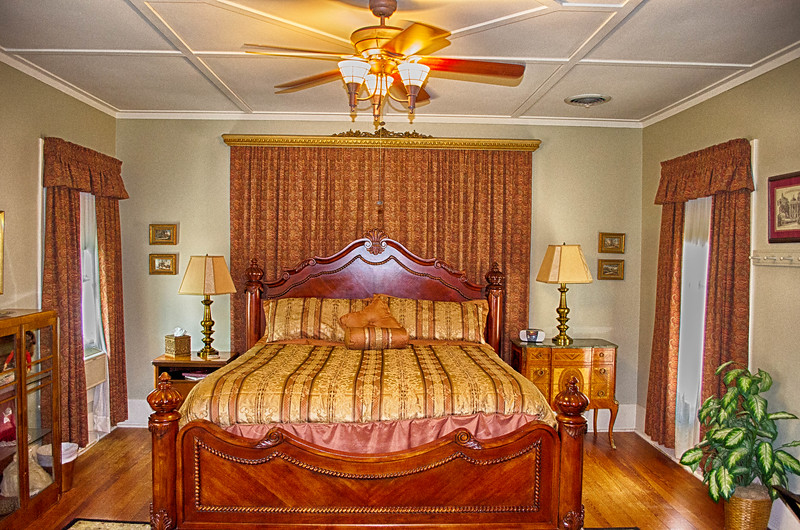 The San Gabriel has a policy of no children although they have on limited occasions allowed infants when the entire house was rented out by a family for a family reunion.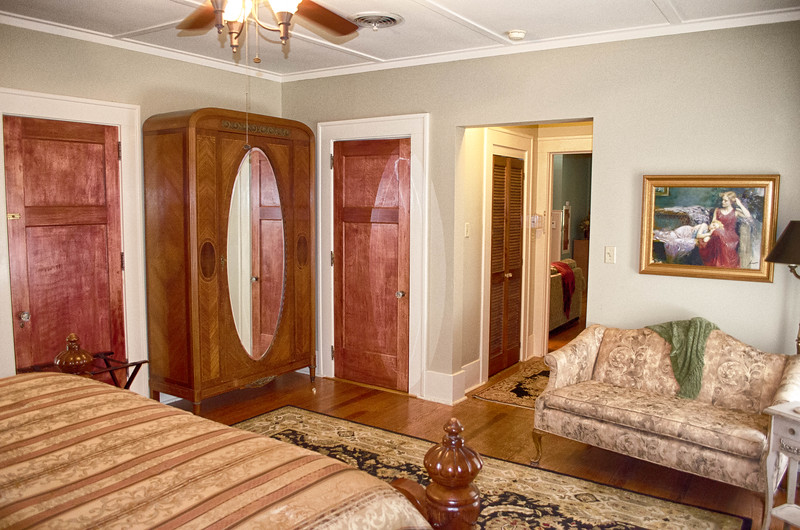 There is access to a small outside patio upstairs with a couple of chairs and tables to enjoy your morning coffee or a drink in the evening.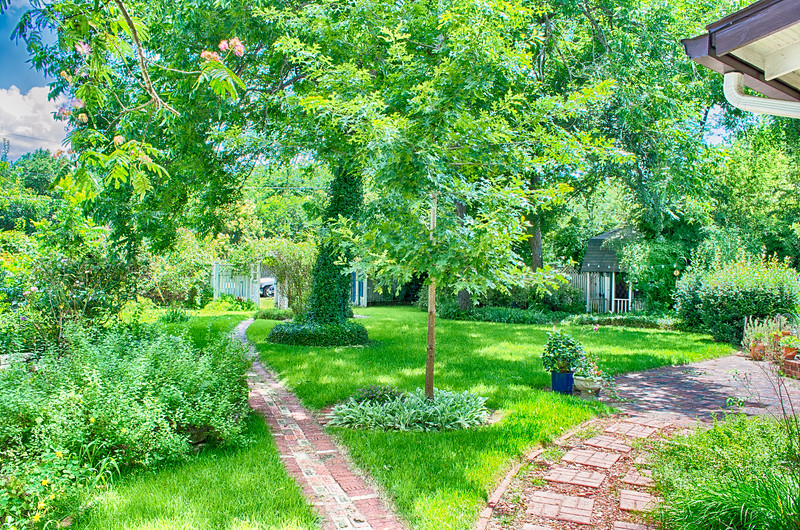 Breakfast is cooked in the morning by Dee and she takes into consideration any preferences or allergies. When you check in you are asked when you want breakfast and they are ready for you at that time when you come downstairs.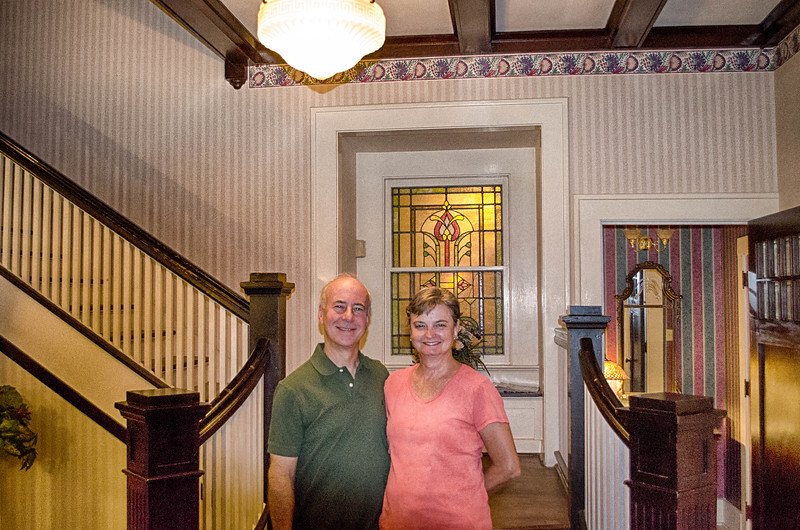 When you travel there are a lot of options for lodging. You can stay at a large hotel or a super budget accommodation. For me, I prefer a boutique hotel, private guest house, condo or apartment rental or a well-run Bed and Breakfast where the hosts cater to their guests and understand how to treat them.
The San Gabriel House Bed and Breakfast in Georgetown fits that bill and if you ever find yourself in the area, I would highly recommend checking it out.
Tell Dee and Neil I said hi.
The San Gabriel House is located at 1008 E. University Ave, Georgetown, Texas.
I recently had the opportunity to stay at The San Gabriel House in Georgetown Texas, courtesy of the Georgetown Convention and Visitors Bureau.
(Visited 800 times, 1 visits today)