If you are planning an international trip there are several things you need to do in order to make your trip go as smooth as possible.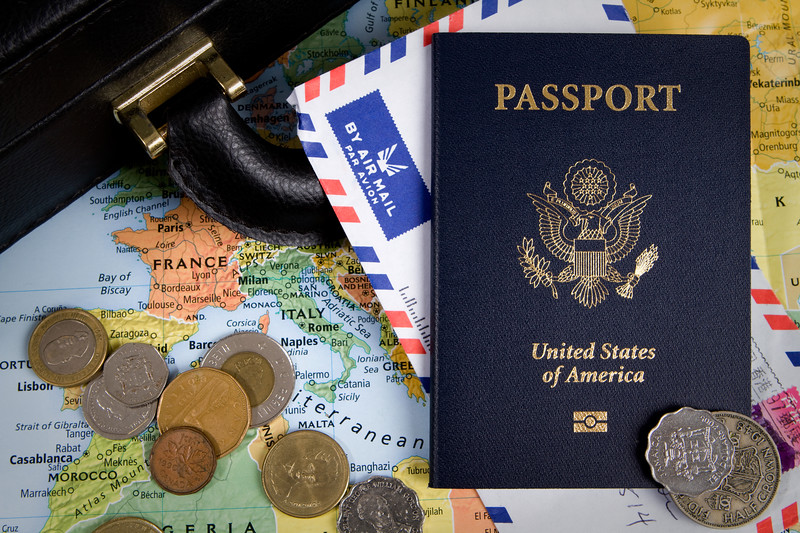 Begin Your Planning Early
I know people sometimes decide to take a trip somewhere and within a month or less they take off to some faraway place, I have done this also.
Although a lot of travel bloggers and writers would lead you to believe otherwise, the majority of people don't travel full time or take multiple international trips per year.
Getting ready for a trip abroad takes a little more planning than a domestic trip. Here are a few tips to follow that will save you time and money.
Flights
When it comes to buying international flight tickets there is no one time fits all method. According to a study done by CheapAir the best time to buy your tickets depends on your destination. These studies are based on flights from the United States.

For domestics flights the best time to book a flight in order to get the best prices is 54 days out.
When it comes to international flights the time increases. For travel to Central and South America the time increases to 70 days from travel date.

Travel to Canada and Mexico is 75 days. Europe is 120 days and travel to Asia is 160 days from travel date.

If you are planning a trip to the Middle east or Africa you need to start looking 215 days out and although nearby, the best prices for the Caribbean are found 320 days out.
If you are planning to travel to Australasia/South Pacific, you had better start looking at flights early with 320 days out the optimal time to get the best prices.

Other things to consider when booking a flight are seasonal demands. Travel to Europe during the summer will cost more.
If you are traveling as a family, the earlier you book the better while someone traveling solo with some flexibility might be able to snag a last minute deal saving big bucks.
In addition to a specific airline site it is also best to check several booking sites as you will find different prices.
Some of my favorite places to book flights include:

One of the things people hate when taking long international flights is the duration of the flight. Let's face it long flights are tiresome, especially if you are traveling as a family. Even traveling solo, it is nice to relax for a while when you have a 3-5 hour layover in some airport.
With the problems of navigating the security check lines it is hard to leave the airport and check out the city for a few hours unless you have a really long layover. One solution is to take advantage of the Airline lounges.
Even if you are not flying first or business class you can still visit one of the lounges, connect on the WI-Fi, grab a bite to eat and in a lot of cases even take a shower.
Check out Lounge Buddy. With this app you can look up lounges at airports worldwide that accept visitors for the day by paying a onetime fee. I have done this several times and it is well worth it to get out of the main terminal, relax or even take a nap in quiet place.
Hotels
Just like airfares you can save a little money depending on when you book the hotel. An April 2016 study by TripAdvisor shows the optimal times for booking hotels in popular places around the world.
While you can find deals within a month or so in some locales, in other places like the South Pacific the best deals are found five months from check in.
When it comes to accommodations you have a lot of options to choose from. The types of accommodations range from Budget Hotels, Luxury Hotels, Apartment rentals, all-inclusive Resorts, Home Exchanges and House Sitting, Hostels and even Bed and Breakfast Inns.
Take into consideration how long you will be staying and what you plan on doing once you get there. If you want to get away for a week and relax on a Caribbean Beach, then an all-inclusive resort might the best option.
On the other hand, if you plan on waking early and exploring wherever you're at only to return after a long day, a budget accommodation or hostel might work.
For longer stays look into apartment or condo rentals or house sitting.
If I am staying somewhere for a couple of weeks I google "apartment vacation rentals" and whatever city I'm at. In addition to the major booking sites you can also find some great places and great deals.

Reward cards and loyalty programs can definitely help in saving money. Look into getting a rewards card far enough in advance of your trip to rack up some points.
US News and World Report rated the best Hotel and Airline Reward programs. Check out some of the credit card rewards programs and pick the one best for you.
Some of the Places I use for booking accommodations are:
Now that you have taken care of the two big things for your trip there are a few other things to look at.
Personal Documents
Insure your passport has at least six months from the time you arrive at your destination remaining before expiration. Some countries won't allow you in otherwise. Also check visa requirements.
Do you need to apply for a visa prior to departing or can you automatically get a visitor visa when you land? Citizens from different countries have different visa requirements.
Make copies of any important documents such as Passports, driver's license or other ID, reservations, prescriptions, travel itineraries and any other important document.
You can keep a copy of these documents on your smartphone but it is also good to have a printed copy. In case you lose your passport it will be much easier to get a replacement if you have a copy on hand.
Keep any prescriptions in their original bottle. The last thing you want is to be detained by immigration for attempting to smuggle a drug into the country.
If you think you might rent a vehicle get an international driver's license. US citizens can apply for an international license from either AAA or The National Auto Club.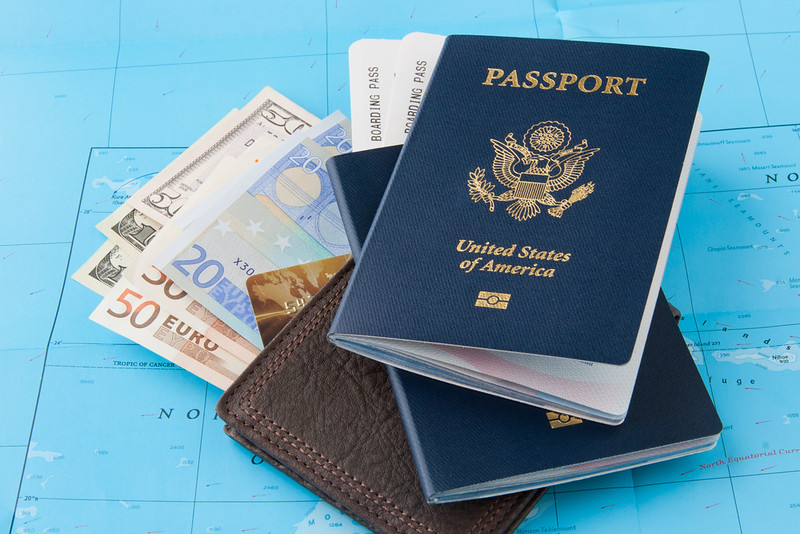 Money
Always notify your bank and credit card companies of your travels. You can give the countries you will be visiting and the time frame so they don't flag your transaction as a fraud transaction.
It is best not to use a credit card for cash advances since they will most likely add a cash advance fee. Instead use an ATM card that has no fees for being used out of network. Debit cards from Capital One, Charles Schwab and Discover have no out of network fees. Some Banks will also reimburse any fees.
Do not exchange money at the airport. The airport exchange kiosks will give you the worst rates and possibly even shortchange you. Avoid exchange kiosks at any international point of entry, whether it be airport, train station or ferry terminal.
If you are traveling as a couple or the entire family, the last thing you want to do after a long trip is to stand in line and convert some money. A better option is to contact your bank a month or so before traveling and order $100-$200 in the local currency. This way you will have cash when you arrive for taxis, transfers, snacks, a quick meal, whatever you need before having to exchange money.
Always exchange money at the local Bank or use a Bank ATM. Avoid using some no name ATM on the street.
Lastly, always pay for items in local currency. Be aware that commissions will be added to credit card transactions when converting the currency. In some countries, using foreign currency might be looked upon as illegal and a form of black marketing.
I usually have $100-$200 in local currency on me when I arrive and from there I use an ATM card to withdraw money from my bank.
Some countries have entrance and exit fees. In a lot of cases the entrance fee might be part of your airline ticket but you should check just in case you are asked to pay during immigration check.
Also have money on hand to pay the exit fee. Each country has different airport departure fees and can range from $3.00 to more than $50.00, just research airport exit fees for the country you are visiting.
Prepare for Problems
The last thing people think about when traveling is the possibility of having an emergency. No one thinks that their idyllic trip is going to be interrupted by a natural disaster such as a typhoon, earthquake, civil unrest, coup or life threatening injury.
For US Citizens, check out the US State Department for travel warnings and enroll in the STEP Program. By enrolling you can be notified of any safety conditions for the area you are traveling in. You will also be contacted in case of emergencies, whether natural disaster, civil unrest or a family emergency back home.
It also helps family members get in touch with you and if the worst happens and you need to be evacuated the Embassy can help facilitate that. Citizens of other nations should check to see what services their embassies offer.
Get vaccinations if needed. While you don't think it will happen, it is best to get vaccinated before traveling to a foreign country. Check this chart to see what is recommended. Sometimes you are required to get a certain vaccination if you are arriving from a particular country. Plan in advance since you might need to get that shot 6-8 weeks before travel.
Travel Insurance is one of the things most people rarely buy but should. A good travel insurance policy can cover flight delays and cancellations, hotel cancellations, medical expenses and even medical evacuation. While you never think this will happen, neither did some of the people in this article about scooter rentals. Get a Free 10-Day Look with Allianz Travel Insurance, the world leader in travel insurance. Make sure you're covered!
Take Care of The Little Things
Prep your Phone
Check with your carrier to see if your plan allows for Wi-Fi calling. If so you can find a Wi-Fi spot pretty much anywhere in the world. Alternatively, you can download Skype to your computer and use it or one of the other chat services.
Don't be so social
Advertising on social media that you are headed to that resort next week is like hanging out a sign saying "no one home, help yourself". A lot of devices such as laptops, smart phones and social media platforms like Facebook utilize geotagging. Disable these options so you don't advertise that you are away from home.
Checking in on Facebook and other social media sites share your location, advertising you're not home. While it is fun to post everything about what you are doing just be aware that sometimes the bad guys are checking. It may be hard to resist the urge, but you can always post those photos when you get home.
Lean on a friend
Give a friend or neighbor your itinerary and contact info in case something happens to your home while you are gone. Arrange for them to watch the house, mow the lawn, pick up the newspaper and other things so as not to advertise no one is home. In case something happens such as damage to your home they will know how to reach you.
Take a Breath, Relax and Enjoy
By using these guidelines your international trip will go a lot smoother but that doesn't mean things might not go wrong. Just resign yourself to the great probability that something will go wrong. It could be a minor thing such as a flight delay, bad weather or your room isn't ready when you want to check in, but something will go wrong.
Don't get all upset, just relax and enjoy the fact you are on one heck of a trip. Flight delay? No problem, check out the airport shops, enjoy the lounge or use the time to Skype your family back home. Bad weather? Use the bad weather days to visit indoor sights like museums. If your room isn't ready the hotel will be more than glad to check your bags, giving you a chance to walk around a little a see what's nearby.
Have fun, enjoy your trip and make some memories
(Visited 35 times, 1 visits today)