If you have done much traveling you have undoubtedly come across at least one weird, strange or wacky location. You know the place. It's the one that made you wonder, "What were these people thinking"? And they are everywhere if you look hard enough. But I am proud to say that I believe we in the US have more than any other country. That doesn't mean we have a monopoly by any means. Oh no in fact what other countries lack in terms of numbers they more than make up in the level of weirdness they bring to the table. So here are a few of the wackiest places you could visit.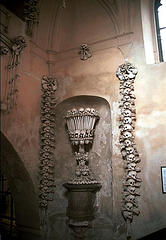 Image by PDXdj via FlickrTHE BONE CHURCH
Located in Kutna Hora,  Czech Republic this has become a huge tourist attraction. Even I, the Traveling Fool, have been there. About an hour train ride from Prague people come in droves to see this church decorated entirely in human bones. Word has it if you read the brochure, that's right brochure, that a monk began stacking bones in the church when bodies were exhumed to make way for additional construction of the Church. Then later a woodcarver was hired to properly "stack the bones". Well artistic license grabbed the woodcarver and the result was chandeliers, crosses and candlestick holders made of the dearly departed.
THE HAIR MUSEUM
Chez Galip, a potter in the town of Avanos Turkey, decided he need to increase participation in the workshops he gave about pottery. What better way than to clip the hair of women and dedicate a space in his gallery, which is in a cave, to display the specimen and the address of the person it came from. Kinda like an episode of CSI huh? Since 1979 Chez has gathered over 16,000 specimens and has them on display. He even runs a guesthouse where each year he plucks, couldn't help myself, 10 addresses and invites them to stay in the guesthouse and participate free in his workshops.
But wait he isn't the only one.
LEILA'S HAIR MUSEUM
Located in Independence Missouri Leila Cohoon  has amassed over 159 wreaths and 2000 pieces of jewelry containing human hair.  The museum is open from Monday thru Saturday from 9am to 430 pm and charges $5, Seniors and Children under 12 get a break and it's only $2.50. "Daddy, take me to the hair Museum". Just don't see it but what do I know.
ISLAND OF DOLLS

Image via WikipediaMexico's Island of Dolls, also known as Isla de la Munecas, was started by a hermit named Don Julian Santana.
Located in a network of canals, South of Mexico City, the island is a place of mystery and superstition. Old dolls on trees, tied to fences and peering out, some headless some only the head. Just the place to take your young sweet impressionable child. "Jenny, today we are going to go see rotting plastic dolls hanging by their necks on trees".
RAT TEMPLE

Image via WikipediaLocated in Deshnoke India the Karni Mata Temple is revered by the locals. Karni Mata was a female Hindu sage in the 14th century and believed to be the incarnation of the Goddess Durga by her followers.
The legend goes that Karni Mata asked Yama, the God of death, to restore the son of one of her storytellers back to life. When Yama refused Karni Mata incarnated the son and all of her story tellers back to life as rats and put them under her protection. Now rats and people coexist side by side and spotting a white rat among the hundreds of black ones is considered to be very good indeed.
IT'S A MAN THING
The British have not one but two museums dedicated to the lawn mower. The British Lawnmower Museum in Southport http://www.lawnmowerworld.co.uk/ and The Lawnmower Museum on the grounds of Trerice House in Cornwall.  So if your on Holiday in England and the wife insists on seeing that fascinating display of Victorian Dresses, pay her back by taking her to see one of the Lawn Mower Museums.
JUST PLAIN CRAZY
The Stephen Beaumont Museum in Wakefield UK. This Museum tells the story of the West Riding Pauper Lunatic Asylum that was built in 1818. With a display of restraining equipment, medical and surgical equipment and it also has a full size padded cell. Just watch out for your wife she might pay you back for the lawn mower tour.
But if you want to see some quality strange stuff you have to look in the US. That's in Part 2 .
Did you enjoy this article?
Subscribe for Updates
I promise not to bombard you with emails and I will never sell or share your information with anyone.