This post contains affiliate links
The

Sandugo

or

Blood Compact

was a ritual performed in the Philippines. This monument on the Island of Bohol commemorates the blood compact between Spanish Explorer Miguel Lopez de Legazpi and Datu Sikatuna the Chieftain of Bohol in 1565.
Check for accommodations in Bohol
Each made a small cut in their arms and let a little blood drip into some wine.
By drinking each other's blood and performing the Sandugo or "One Blood" the ritual sealed their friendship and established an alliance between Sikatuna and the King of Spain.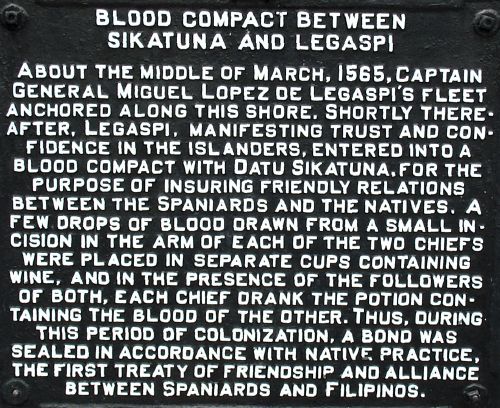 Legazpi was not the first European to reach the Philippines. In 1521, 44 years earlier another explorer found his way to the Philippines and is credited with being the first European to step foot on the Philippine Islands. Unfortunately for him it didn't end well.
Ferdinand Magellan, yep that one, landed in The Philippines and befriended the folks in Cebu. Apparently Magellan and the local leader in Cebu became fast friends. Then one day the local leader and some of his friends convinced Magellan to kill their enemy Lapu-Lapu that ruled a nearby island.
Being ever the confident and superior European, Magellan led a 49 man attack force loaded up with firearms against the poor native leader armed with spears and such. When Magellan arrived he was met by Lapu-Lapu and 1500 warriors who weren't too impressed and soundly defeated Magellan killing him and several of his men.
I guess the moral of the story is when you are traveling abroad, enjoy the sites, embrace the culture but don't get wrapped up in local disputes.
(Visited 2,181 times, 4 visits today)