Have you ever thought of taking off on an epic bike tour?
One guy did and I had the privilege to interview him. In March 2011 Tom started off with a bike, a few provisions and a general plan on an adventure that would take him over 14,000 miles and last over nine months.
Tom was kind enough to answer a few questions and share some thoughts.
So I have to ask the obvious question. What possessed you to take a bike and cycle around the world?
I have always liked cycling and I have always wanted to travel. The first time I linked the two passions was when I did a coast-to-coast ride in the UK with my mate Jonny after my GCSEs. I then did a trans-Alp tour from Munich to Lake Garda off-road, which was absolutely amazing. I fell in love with bike touring and decided I needed to do something bigger. I read books by people who'd done adventures in the past and decided to do a long tour. I thought about Europe at first – a tour around Europe sounded good. Then I started thinking bigger, what about Asia, was that possible? I decided it was, so I thought, if I could cross Europe and Asia, I might as well try to cycle around the world. I thought I might as well do it properly, so I set myself the challenge of cycling every inch of the distance, no public transport was allowed!
Tell me about the charity and how you came to be involved with it?
I wanted to do it for a charity that helps children, particularly in the countries that I visited. After searching around, I found SOS Children's Villages, who I contacted and found more about. I was planning to visit two of the villages on the way around, but unfortunately a route change and a problem with the Chinese government not giving me permission meant that I couldn't. They were very supportive and helped me with my planning. They're a great charity and the way that they help the children by giving them a foster family is really effective and successful.
I know people that spend a month planning a weekend vacation. How long did it take you to plan out everything as far as route and logistics?
I did a lot of planning on the route, although visa issues meant that it changed quite a lot from my original plan. I had planned certain sections meticulously, like the Pamir Highway in Tajikistan, but some hardly at all, like America. I only knew my start date two months or so before I left, so I didn't have time to get visas sorted out – in fact I left with my passport still in the Azerbaijan embassy in London, and that was the only visa I set off with. All-in-all I think I was planning it for about a year beforehand, but I only really started thinking about the serious bits (kit, visas, flights, timings, spare parts…) about three months before I left.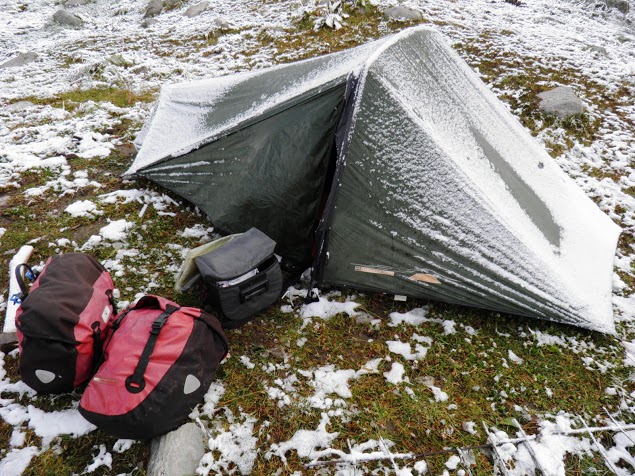 What kind of accommodations did you stay at along the way?
I mainly wild camped in my vango helium tent (very lightweight 1 man). It was well camouflaged, being a dark green colour, so I could hide away almost anywhere. I camped in fields, forests, beaches, cities, deserts, mountains and many other amazing places. I didn't always use the tent, there were often other places to sleep, like drainage tunnels or pipes under the road. I often slept without the tent, if there was no chance of rain, like in the desert. I was frequently invited into other people's houses in Central Asia, the Caucuses, as well as a few times in America. Now and again, when I needed a wash, or when I was staying in a city, I stayed in a cheap hotel or hostel, some of which were pretty grotty!
How hard was it crossing borders? Was there any particular place that gave you a hard time?
I was fairly lucky with borders, although I did my research as I went along. Two of my potential border crossings were closed in Central Asia, but luckily I knew about it beforehand and made plans to cross elsewhere. The worst problem I had was when I crossed into Georgia from Turkey and they thought my passport was a fake. They thought I had added a photo because it was so creased, in the end they let me in after I showed them my driving license too. Other issues were that the "24 hour" Kazakh-Uzbek border post was closed for a morning and I had to argue with the Kazakhs for a long time to allow me to cycle into China – I didn't want to miss out on riding the kilometer or so distance in no-man's-land (Every Inch of the Way and all that!).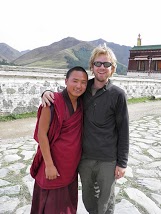 Along those same lines, how did the various people and countries react to your trip?
Very varied reactions! People in the UK and France generally thought I was mad and reacted with incredulity, however I think they respected what I was trying to do. The Germans got the idea more, because cycle touring is so popular there. In Eastern Europe, people reacted differently, they accepted it as more normal and were more hospitable as a result. In Asia, it was similar, with the hospitality only getting better, the further into Asia I got. People still thought I was mad but got over the fact I was doing something which seemed odd very quickly, then they relaxed and I was able to interact with them easily and I learned a lot about their cultures. In China, it was different. People were nervous approaching me and it was very difficult to interact. I don't think it was because I was on a bike though – I think the cultural difference is deeper than that any Westerner would experience the same.
Besides the obvious physical strain it took on your body, did you have any injuries along the way or did you ever think of just giving up?
No – I was very lucky on the injury front, really no problems at all. The worst parts were when I got ill. Nothing major, just serious tummy problems, but they really sapped the strength out of me. This was particularly difficult in the desert in Kazakhstan and the mountains of Tajikistan because of the isolation. I can honestly say that I never thought of giving up – I loved it too much – although I definitely had some low points.
What was the worst thing that happened to you or the worse experience you had on the trip?
The worst thing I saw was a church in Texas that flashed the following message past thousands of commuters every day in LED lights:
"Christ has died, Christ is risen, therefore Islam is false"
There was a mosque down the road. I had experienced nothing but kindness from all the Muslims I met and it really wound me up so I emailed the church but got no reply (I'm not having a go at Christianity by the way, just this particular church).
The hardest experience was when my girlfriend, Laura, who had come to visit me in Turkey, flew home. It was so difficult to get me head back into the ride after that.
Did you ever find yourself in any dangerous situations? What did you do?
Yes – I had a close encounter with a bear on a campsite in Florida. My friend Harry was with me at the time. Perhaps unwisely, instead of running away, I got a torch and went to look at it! Then we both made a load of noise and it ran off. It was difficult to sleep night
The most dangerous part of the trip was probably entering Istanbul on a crazy motorway, where I had to negotiate 5 lanes of crazy Turkish traffic, passing junctions and flyovers. It was stupid to have attempted this and I wouldn't do it again, I'd get a bus next time.
I am sure there were many memorable moments and people on the trip. What are some of the best moments you had?
The hospitality in Georgia stands out. A feast with a man called Jarji and his wife, was wonderful. I was given course after course of amazing cooking, fish, pork, chicken, beef, all in delicious sources. Azerbaijan was a close second hospitality-wise, and Arif, a guy who lived at the Caspian Sea port in Baku put me up for two nights, fed me, gave me clothes, helped maintain my bike and asked for nothing in return. Seeing the photo album of an ex-Soviet soldier in Kyrgyzstan was amazing, as was camping with nomads in yurts in the same country.
The Pamir Highway was undoubtedly the highlight of the trip. It had everything, high passes, beautiful mountain scenery, with everything from lush green valleys, to snow capped peaks and high-altitude deserts. It was a fantastic experience – and possible for anyone to do in about a month.
It may be a long time, if ever, someone does this again but what advice can you give someone planning a long bike trip?
This is probably best answered by a webpage I have written on my website .
In summary though, plan in detail how far you think you'd like to go:
50 miles: A pretty easy distance on a bike for a fit person to cover in a day. If this is your average target, you'll probably have enough time to stop when you want, look around, have longer evenings off and not get up at the crack of dawn.
– 70 miles: A very do-able distance but a difficult average. This is about what I did and if you plan it well you'll still have time for evenings off and lunch in a cafe or two. You may do an 85 mile day one day, then a 55 mile the next. This is a good target for someone who doesn't have an unlimited amount of time but wants to see the places they travel through.
– 90 – 100 miles: Possible for very fit people. I did these distances a few times on a few days back to back, but it isn't really sustainable for a long tour if you want to take time off, sightsee and relax. If you're just up for racing through a country though, it's possible for sure.
– 100 miles + per day: You have to be a bit of a nutcase, prepared to spend a bit more on food and accommodation because you wont have time to cook and you'll need comfort. You'll also need a lightweight bike and you'll have very little time to see anything other than the main roads you'll have to ride along. Either that, or superhuman… It's possible though, and many people who've gone for the round the world record have done so for months on end.
Other than that, don't get too tied down with the planning process, just make sure you have the right kit, know roughly what the weather will do in the countries you are going to and think about what visas you'll need, where you'll get them and where you will cross borders. The hard part is getting going, after that, the trip will look after itself, providing you have the desire to continue.
Okay Tom you wrote a book about your adventure. Why should people buy it and what do you hope they take away from reading it?
The book is an insight into a bike tour, but it's also much more. It's definitely a good aid for expedition planning, but it's also (I think) an interesting read. I've included bits of history about the countries I went through, as I went around. I've commented on the people I met, the food I ate, the scenery I saw and the cities I visited. I've also talked about the mental and physical battles and described the feelings of triumphs when the landmark achievements came. I've been told that the book is easy to get lost in and that the reader is there. I've not used any pretentious language and I've been as honest as possible, so that it's an easy read. I just want to tell my story, it's not an attempt to gain fame or admirers.
I certainly hope that it will inspire people to do a bike touring trip (maybe not of the same magnitude, but possibly). If I inspire one person to get on their bike and pedal off to a distant land, I have succeeded. More than that though, I want people to see the world in a different way. I hope that some of the amazing experiences I had in Muslim countries will show people that these countries are not dangerous and that their people are incredibly friendly. Recent events are stirring up tension and I hope to show people that it would be much better if everyone just got on! Finally, my main ambition in writing the book; to show people that a normal person (questionable!) can experience an extraordinary adventure providing they have the courage to leave their front door.
Do you have any plans for another long trip?
Not anything of the same magnitude. My next adventure is getting married! Laura waited for me for a long time and I couldn't ask her to do so again. I will definitely be doing more bike tours in the future, but for a few weeks at a time, rather than months. On my list are the Indian Himalayas, Mongolia, Scandinavia and Patagonia. I am doing an Ironman Triathlon in July, which is taking a lot of my time up at the moment, but after that, I'll start thinking about another tour. I will definitely be writing books about these adventures, but probably with more focus on having a photo-illustrated book, and perhaps more as a guide, than a travel commentary.
One last question.
Knowing what you know now, would you do it again?
Hell yes! It's without a doubt the best thing I've ever done.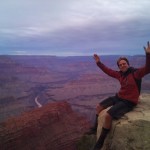 You can check out his website and order a copy of his book.
You can also connect with Tom and follow his journeys through Twitter and Facebook.
Twitter: T0m_Bruce
Facebook@ https://www.facebook.com/tom.bruce.188
(Visited 17 times, 1 visits today)