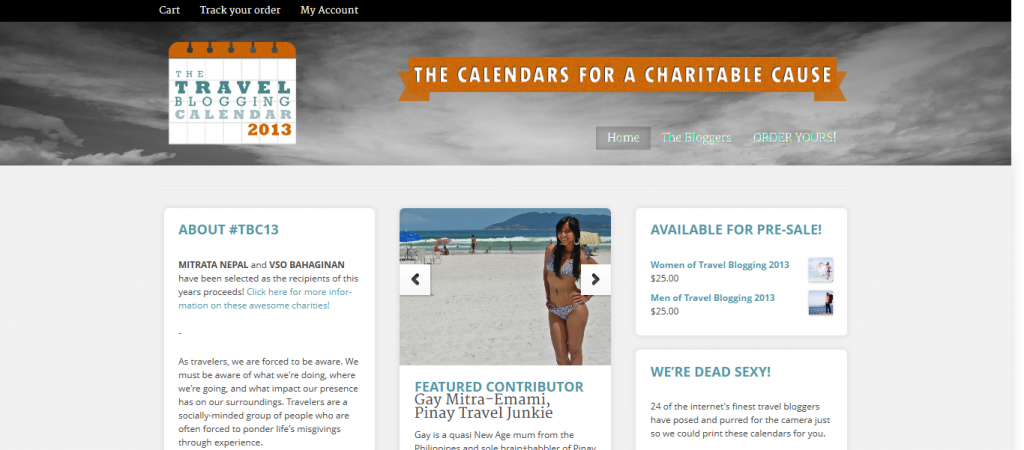 Once again the self-appointed righteous are out in force. I see this happen a lot. Travel bloggers as a whole are a pretty generous lot. When it comes to helping each other out and donating to causes I have seen them do some amazing things. There is, however, a small group of people that always seem to find fault in what others do. Some time back there was a heated discussion on advertising, with some saying that is was akin to selling out. There have been other such ongoing spats from time to time. It seems that some people are not happy when a blogger finds success or they don't like their viewpoints, method of travel, who or what they take photos of or something else.
Recently Kobi and Gabi Klaf of The Nomadic Family were openly attacked by a newspaper in Israel saying they were abusing their children for having them travel and not be in school. My personal opinion is that the kids are probably getting a world class education. They are traveling and experiencing people, places and cultures that most others will never see. What a fantastic education.
Another such disagreement happened on Twitter between a few travel bloggers over the Travel Bloggers Calendar. I won't mention the names of those involved but one blogger basically said that it was vain and ego driven for those that participated. A few sites have even jumped on the bandwagon dismissing the idea as silly and futile. I won't mention those sites either because there is no need to give them the publicity. But let's see here, New York Firefighters have been posing for calendars for years. Airline crews, Farmers, Sports Teams have all participated in Charity Calendars and who can forget the lovely ladies of Calendar Girls who bared all for Charity. I guess they all did it because they were vain and ego driven.
It seems that there will always be someone that wants to openly disagree and cause a problem where none exists. I think it might be because they read somewhere that if you cause a controversy people will flock to read what you have to say and then leave tons of comments on your blog. That does work but only for a short time. No one really wants to put up with loud mouth, complaining jerk in person and after a while no one really cares what they write either.
As far as the Travel Bloggers Calendar goes, I say good for those that participated and I hope they earn a boat load of cash for charity.
UPDATE 3 Feb 2013
Today I received an update from Jeremy Foster, one of the bloggers behind the calendar.
"Our numbers are small and our sales have not exceeded 100 calendars. Myself and many of the other participants have felt great frustration and disappointment with the rest of the travel blogging community. They were our target audience. We were hoping that the other travel bloggers throughout the world would be happy to support some other people in their industry who were trying something new, and literally baring their insecurities for the sake of charity.
Instead, people were more focused on slinging mud. The whole project was for the sake of charity and that aspect of this project was almost entirely overlooked by the travel blogging community.
We realize that we are not celebrities, but it was nice to feel like it for a short while. We realize that you are not dying to buy this calendar so that you can hang some no-name bloggers on your wall. What we hoped is that you would support your fellow bloggers and friends and donate to two causes which are tirelessly in need of assistance.
We marketed the living hell out of this thing. Our efforts did not fall short. What fell short, ultimately, was the backing we received. At $25 a pop, with free worldwide shipping, it was not a big ask. I now find myself feeling disappointed and I wonder if I can even call this a community anymore.
If you'd still like to purchase a calendar, we have stock left. Please visit http://www.TravelBloggingCalendar.com."
I have learned that for the most part Travel Bloggers are a generous group. Whether it is helping other bloggers or supporting charities. There is no shortage of charities that various bloggers have supported over the past and will continue to do so. Most that have read this blog for awhile know I have a soft spot for the Philippines so I searched and found a charity that gives a majority of funds donated to the cause and not to administrative fees. I have supported the charity and encouraged my readers and others to do so. That being said I think what Jeremy and others did is commendable and they thought outside the box and came up with a new idea instead of others, me included, that have just stated a need and asked others to donate. However it is done, whether my way, a group of bloggers banding together, personal fund raising or any other way I believe the intention is good and should be supported.
The Calendar caused an uproar with bloggers and others, some aghast at the idea and others in total support. I didn't see anything wrong in the calendar and still don't. I have tried a lot of things in the past that I was convinced were great ideas but for whatever reason didn't pan out. I would suggest to those involved with the calendar not to feel too bad about the success of their efforts and continue to do whatever they can to find causes they can support in whatever way they can.
(Visited 290 times, 1 visits today)