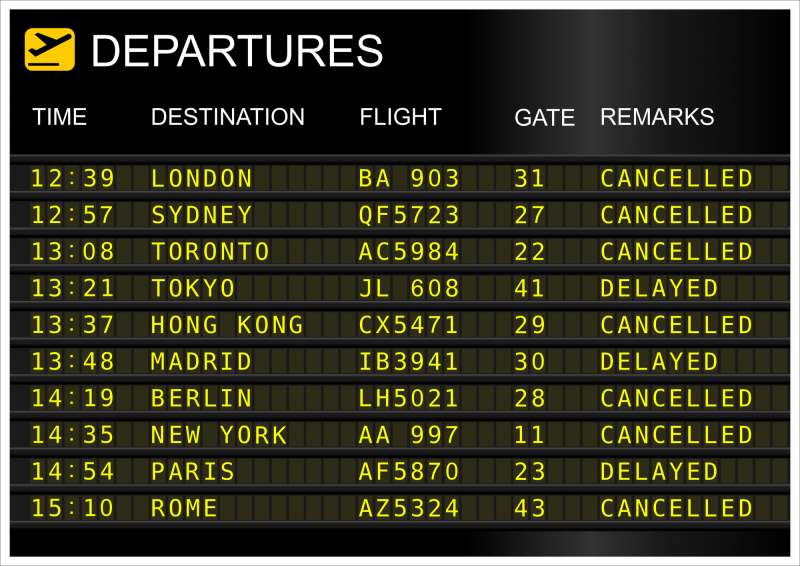 I recently had the trip from hell where in a four day period I faced 3 flight cancellations, 2 flight delays and lost luggage. According to American Airlines, a work slowdown by mechanics trying to leverage their bargaining power was to blame. Whatever the reason Thousands of people were stranded at airports, delayed and inconvenienced. This appears to be happening a lot more frequently and American Airlines isn't the only one.
There are a few things you can do when your flight is delayed or cancelled that might help in finally getting to your destination without being totally stressed. There are also a few things you need to do in order to file a complaint and seek some type of remedy. There are some helpful links at the bottom of the article as well.
Before I go any further this mainly pertains to US domestic flights. Flights within Europe fall under EC 261 rules .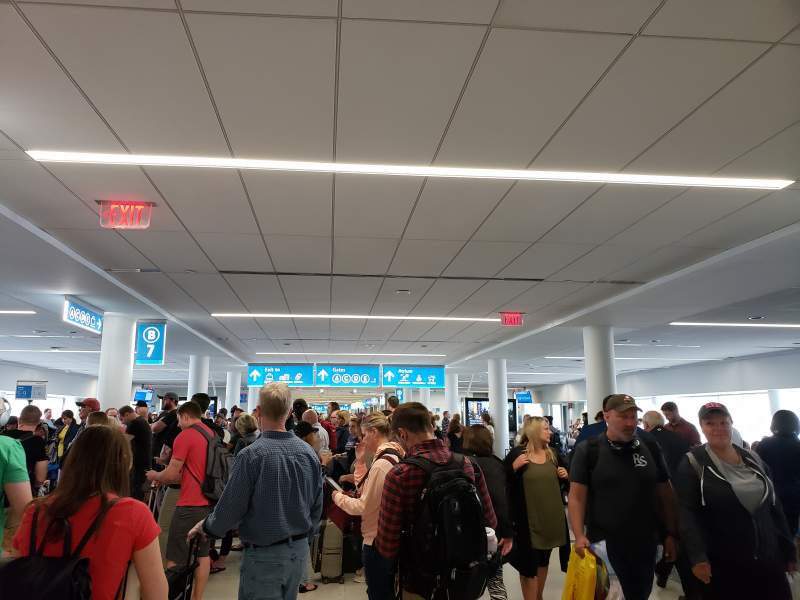 Things to do when your flight is delayed
Here are a few travel tips that may help when your flight gets interrupted.
Whether you use paper boarding passes and tickets or digital it is always a good idea to take a photo and keep it on your phone in case you need to refer to it later.
When you are sitting at the gate and you hear your flight is delayed there is not much you can do about it. If you have a connecting flight however it could put your entire trip in jeopardy. If you have a short window in getting your connecting flight you might be stuck in another airport for quite some time. Immediately go to the agent at the gate and inquire as to whether you will be able to catch your connecting flight. You might need to take a different flight at this point or make arrangements for a later flight in your connecting airport.
In the US, policies vary by airline. If your flight is delayed for an extended time period ask if you can receive a meal voucher or airport lounge. If your delay will result in an overnight stay ask for hotel accommodations. As expected, those flying business or first class will always get better perks.
Keep track of your flight delay. If you booked with a credit card, the card might offer certain benefits.
Things to do when your flight is cancelled
If you have the airlines app installed on your phone, which you should, you will get an alert about delays and cancellations. If you don't have the app installed then keep an eye on the departures board for any updates.
Immediately upon hearing your flight is cancelled make your way to the airline's customer service desk. At the same time, check the airlines app for possible alternate flights and call the airlines customer service line. Even while you are waiting in line at the customer service desk, if you get in touch with the airline by phone, they might be able to book a different flight a lot more quickly. Look at alternate routes and airports to get to your destination.
Realize that the flight cancellation is not the fault of the person at the customer service desk. Whatever your complaint about the airline or ow you will never fly that airline again will make no difference and they are just doing their job in trying to get you rebooked. In fact, being nice goes a long way in this case as they will work with you to try and get the best alternative to your situation.
Although it may not help ask for an upgrade on the next flight booked or a better seat. Just realize there are a couple of hundred people trying to rebook which means most of the upcoming flights will be fully booked.
As mentioned before take a photo on your phone of all boarding passes and tickets this will come in handy later. Also make sure you keep track of your baggage receipt.
Use social media to your advantage. Tweet and use Facebook to notify the airline social media team of your situation, they might be able to get you a better flight or help in rebooking you to your destination.
How to get compensation for your flight delay or cancellation
The customer service desk at the airport will be busy trying to get people rebooked and don't have a lot of time to address compensation other than give vouchers for accommodations, lounges and meals. Once you are done with your trip file a complaint with the airline regarding your trip.
This is where those photos of boarding passes and tickets come in handy. You will need to detail the flights that were delayed or missed.
Take the time to write out a detailed account of what occurred and how you were affected. Don't rant and rave but clearly state your case and what type of compensation you would like as a result.
You can ask for vouchers for future flights, miles added to your frequent flier account and maybe even complimentary lounge passes for use in the future.
Check your credit cards for benefits. If you used a credit card to purchase your ticket, you might be entitled to monetary compensation for delays, cancellation and lost luggage.
Travel Insurance also reimburses these occurrences.
Contacts for US Airline complaints
Alaska Airlines
Allegiant Air
American Airlines
Delta Airlines
Facebook
Twitter
Frontier Airlines
Hawaiian Airlines
Jet Blue
Southwest Airlines
Spirit Airlines
United Airlines
Other airlines both regional US and foreign carriers all have complaint forms you can use as well as social media. Use them to file your complaints.
As for my trip from hell, after filing a complaint and I wasn't satisfied I filed another one and was awarded vouchers for future travel and miles to my frequent flier account.
(Visited 963 times, 1 visits today)