Bandung is known as the Paris of Indonesia because it is a fashion and food mecca.
While Western travelers just pass through Bandung as they cross Java, Indonesians come here for the food and hundreds of thousands of tourists from neighboring Asian countries visit Indonesia specifically to go shopping in Bandung.
What To Do In Bandung
Shopping. Bandung is home to several giant malls and even more markets. Paris Van Java is the most well-known of them all, and as such is an obligatory stop — even if only for window-shopping or people-watching.
In addition to shopping, there are plenty of other activities to do in and around Bandung that make it a notable destination. One of my favorites was Villa Isola, or Bumi Siliwangi as its now known. This villa turned hotel turned office has an intriguing history.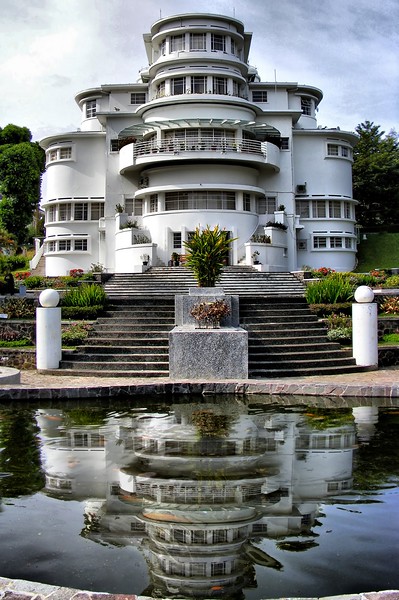 Built in 1933 for a Dutch media tycoon, he died unexpected after living there for only a few months. The building was transformed into a hotel but then during World War II it became the Japanese army's headquarters in Bandung. Nowadays this architectural beauty is the head offices of the Indonesia University of Education, however tours of the grounds and the gardens still daily.
What To See In Bandung
One of the most popular and interesting ones is the Tangkuban Perahu volcano. This semi-dormant volcano has erupted 16 times in the last 200 years, with the most recent being on October 5th, 2013 — just a couple of months after I visited it!
Kawah Putih (the White Crater) is a sulfuric crater lake that is also wildly fascinating and surprisingly beautiful. Leave Bandung early in the morning and it is easy to visit both before the heat of the day.
Catch a traditional music and dance performance at Saung Angklung Udjo. The shows last two hours and most of the performers are kids who have been studying the traditional Sudanese forms of art, music and dance after school. It is one of the best cultural performances I've seen anywhere in the world and a must not miss event.
Catch a ram fight. These are an old part of Indonesian traditions in West Java and still take place every two weeks. You will need a local to show you where to go, as venues change often. More information and photos can be found on Wander With Jo's blog post on ram fighting.
What To Eat In Bandung
Bandung is a culinary city. From street food to high end restaurants and everything in between, there is something here for everyone regardless of their tastes. However, when it comes to unique Bandung foods, there are two dishes which stand apart from all others.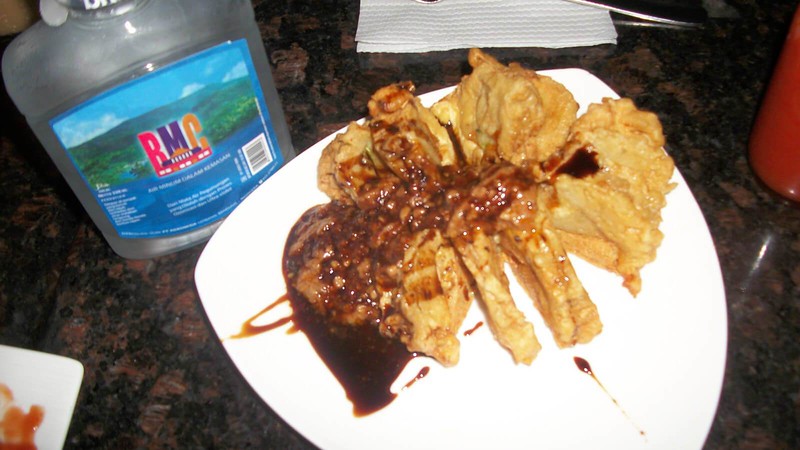 Ask any Indonesian what food to try in Bandung and they will all give you the same first response: Batagor. Invented in Bandung during the 1980's, Batagor is comprised of fried meatballs and tofu (bakso tahu goreng in Indonesia). There is no better place in the country to try this iconic dish.
A second, equally popular Bandung dish is Siomay. The only difference between the two is that Siomay is steamed and Batagor is fried. Although there are countless restaurants and street vendors throughout Bandung with Batagor on the menu, the most popular restaurant by far is Batagor Kingsley.
Where To Stay In Bandung
Bandung has lodging accommodations to fit every budget and desire, but at the end of the day it all comes down to comfort and convenience. Planning on spending a lot of time shopping? Might be easiest to stay in central Bandung. However if you came to the city to enjoy the mountain air and relax in peace, the best hotels for this are nestled among the hills of north Bandung. Regardless of which you're craving, it's always best to shop around on Traveloka to see what is available at the best price. Of course if I had to pick one place that is both relaxing and budget-friendly, it would have to be Grha Ciumbuleuit Guest House. Despite an unpronounceable name, they have clean rooms, an amazing pool and a delicious restaurant — all delivered at a surprisingly low price. Cannot beat that! 😉

Derek Freal is a perpetual nomad and cultural enthusiast who loves exploring quirky, offbeat and downright unique locations all over the world. Off the beaten path? Even better! Checkout his Offbeat Travel Guides for more interesting ideas to make your travels a little….different 😉

(Visited 197 times, 1 visits today)