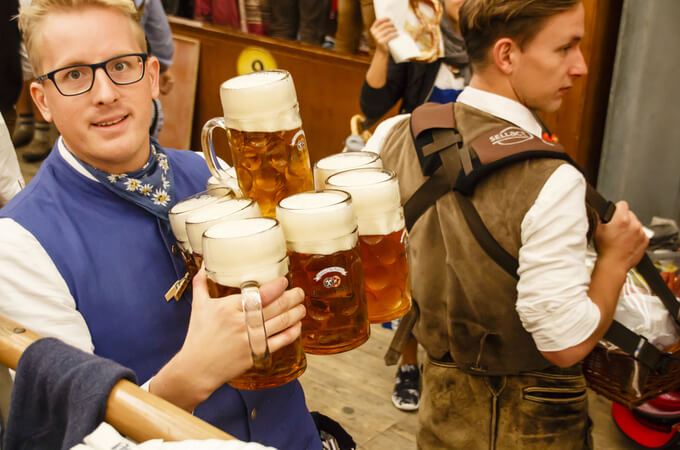 While the mother of all beer festivals is Oktoberfest, held each September in Munich Germany, there are a lot more held around the world.
If you have never been to a beer fest you might think it is nothing more than a whole lot of drunken people walking around sampling beer but it is much more. From carnival rides, beer tastings, music, contests and vendors there is something for everyone.
You may not be able to make Oktoberfest but that doesn't mean you have to miss a killer beer fest. For beer drinkers, anytime throughout the year is a good time to enjoy a brew but Spring, Summer and Fall offer some great beer festivals. A search of local beer festivals is sure to bring up at least one in your area that you can visit but here, in no particular order, is a list of 10 Beer Festivals well worth a visit.
One of the nation's longest-running craft beer festivals is held each year in Portland. Craft brew is defined as small batch, six million barrels or less per year, with most brewing much less than that. While that sounds like a lot consider Anheuser Busch will brew around 125 million barrels per year. This year somewhere around 80,000 people are expected to visit the festival and sample beers from the 80 vendors. In addition, there is entertainment, food and vendors selling merchandise.
When: 27-31 July 2016
Where: Tom McCall Waterfront Park, Portland, Oregon
How Much: While there is no admission fee there is a fee to consume beer. A one-time purchase of a 12-ounce souvenir mug for $7 and tokens for the beer at $1 per token. One token will get you a tasting while 4 tokens will fill up the mug
Upset for missing Oktoberfest in Munich and the big party? Well don't be, head to Berlin instead. Talk about a party, 340 breweries from 87 countries offering 2,400 unique beers and 22 beer regions presenting their culinary specialties spread out over 2.2km. That's 1.3 miles of beer goodness for the metrically challenged. Add in international bands playing on 20 stages and you have a recipe for one heck of a good time.
When: 5-7 August 2016
Where: Along Karl-Marx-Allee between Strausberger Platz and Frankfurter Tor, Berlin Germany
How Much: Free Admission, pay for what you drink, eat and buy
Billed as the biggest beer fest in the UK, the Great British Beer Festival celebrates limited edition brews from some of the best known real ale breweries along with award-winning favorites from microbreweries across the UK and even an American Cask beer bar. The event is sponsored by CAMRA (Campaign for Real Ale). Expecting to draw over 55,000 people the event held in London also offers bottled beers from Belgium, Germany and the Czech Republic along with food and merchandise vendors.
When: 9-13 August 2016
Where: Olympia Exhibition Center, London, England
How Much: Day tickets CAMRA Members £9 Non Members £11 There are also VIP tickets and entire event tickets available.
This 3-day festival specializes in rare, hard to find exotic beers from around the world. Beers from over 16 countries will be available for you to sample. Everything from Barley Wines, Imperial Stouts, Double IPA's, Barrel Aged Strong Ales, funky Farmhouse Saisons, and Sour Ales will be offered along with some tamer brews like $3 pints of Pilsner Urquell. Food vendors, pub games and live entertainment round out the festival. The festival is pet friendly so bring your dog but leave the kids at home, no kids allowed.
When: 8-10 July 2016
Where: Seattle Center Fisher Pavilion and Lawn, Seattle Washington
How Much: Entry is free but you buy tickets for the beer
Certainly not the largest or among the most well know beer fests however one worth mentioning. The Pilsner beer fest is held where else but the town of Pilsen in the Czech Republic, a short train trip from Prague. Home to the Pilsner Urquell Brewery, across the street from the train station, the Pilsner fest celebrates the day the first batch of Pilsner Urquell was made. Which for those that do not know, was the very first Pilsner beer brewed. The brewery is open for tours, and well worth it. I can attest from personal experience. You can visit the beer cellars and learn about how it is made. Live music, the Pilsner Urquell Master Bartender contest and beer dough pretzels are on tap.
ps: visit the George S Patton Museum while you're there
When: 4 October 2016
Where: Pilsner Urquell Brewery, Pilsen Czech Republic
How Much: Entry is free pay for your beer
Founded in 1982, the Great American Beer Festival bills itself as the premier U.S. beer festival and competition in the United States. With over 3,500 American beers, from over 700 breweries to sample, it is the American brewing industry's top public tasting opportunity and competition. Sponsored by the Brewers Association it is like one huge bar serving samples poured in one-ounce tasting portions. There is a week-long schedule of events at local breweries, restaurants and pubs leading up to the festival and one of the highlights is the beer judging competition where judges award the best beers. According to the Guinness Book of World Records®, there is no other place you can find more beers on tap.
When: 6-8 October 2016
Where: Denver, Colorado
How Much: In 2015 the tickets were $80.00 per day and includes a festival program, a commemorative tasting cup, unlimited one-ounce samples of your choice of more than 3,500 beers, and a festival guide to help you navigate the floor.
Canada's largest beer festival averages 30,000 people attending every year. Celebrating Canada's brewing history, the festival has more than 120 brands from around the world and many Ontario craft brewers. The festival includes well known musical acts, barbecue demonstrations and exhibitions from some of the world's largest brewers. Classic BBQ, exotic foods and local food vendors are on hand. There is even a grilling tent where chefs demonstrate grilling and BBQ techniques.
When: 22-24 July 2016
Where: Exhibition Place, Toronto, Ontario, Canada
How Much: $40-$80
Beerfest Asia is a place to sample and taste over 400 different kinds of commercial and craft beers and ciders. With a showcase of 500 different kinds of beers and ciders at Beerfest Asia 2016, beer enthusiasts can look forward to tasting a variety of beers at one of Asia's largest beer festivals. Tribute Bands will be entertaining the crowds, there is a comedy club on site and a beer pong tournament is scheduled. There is even a day care on site where the kids have a recreation room and the parents can enjoy the festivities. Food vendors and merchandise sellers will be on hand so you can pick up some souvenirs.
When: 16-19 June 2016
Where: Marina Promenade at the Grand Prix F-1 Tracks, Singapore City, Singapore
How Much: Various Prices a Standard 1 day pass is S$30.00
The Qingdao Beer Festival is an annual event which started back in 1991 as the 100th birthday celebration of Qingdao City. To honor of the nectar of the gods, the festival usually starts the second week of August, lasts 2 weeks and is held at two locations, The Golden Sands Beach and Century Plaza. Starting with a grand concert and ceremony there are beer tastings and drinking competitions, carnival events and daily live entertainment. The festival is capped off with a huge closing ceremony. Billed as Asia's largest Beer Festival, you will find beer from Germany, Japan, Denmark, Mexico, Holland, Singapore, the United States and of course China, to name a few.
When: 2nd week of August 2016
Where: Golden Sands Beach and Century Plaza, Qingdao, China
How Much: RMB10-RMB20 (Which translates to $1.50 – $3.00)
Hosted by The Knighthood of the Brewers' Mashstaff and the Belgian Brewers Association this annual event is held in Brussels. With pedigree like that hosting a festival, well, you just have to go. Several small, medium-sized and large Belgian breweries will be on hand to showcase their products and allow you to discover the different kinds of beers that Belgians are proud of. You know you are in for some great beer since the national drink of Belgium is what else but beer. There is also the Bar National adjacent to the festival area where Belgian beers are sold by the bottle in a lounge atmosphere, with music and info sessions with key figures of the brewing world.
When: 2-4 September 2016
Where: Grand'Place of Brussels, Brussels, Belgium
How Much: Entrance is free, special chips are sold for the beer.
Have you ever been to one of these Beerfests?
(Visited 437 times, 1 visits today)