My trip to College Station was sponsored by Visit College Station and may contain affiliate links
Whether you call it a boutique hotel or theme hotel Cavalry Court by Valencia Group is a cool concept hotel in College Station. The hotel sits on about 4 acres in the back portion of Century Square and across the street from its sister hotel The George.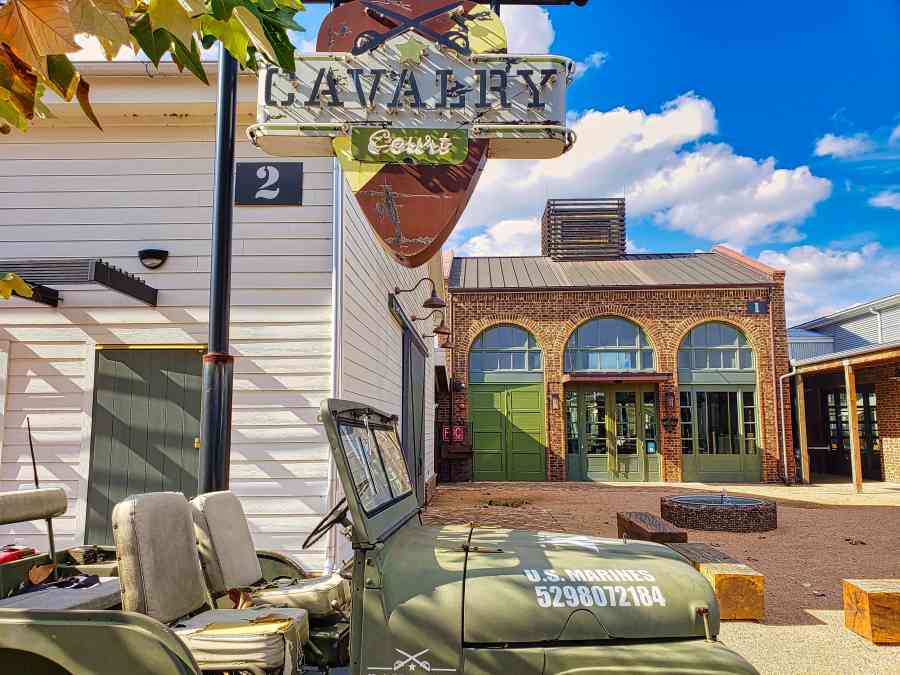 The Cavalry Court in the heart of Aggieland is an urban retreat with all the modern amenities in a relaxed atmosphere. The hotel is laid out like what you would imagine an old west cavalry fort to look like. From the office check in building to the rooms laid out like a barracks with covered porch and rocking chairs outside the rooms. Even the restaurant, aptly named "The Canteen" Bar and Grill, is reminiscent of a military style facility.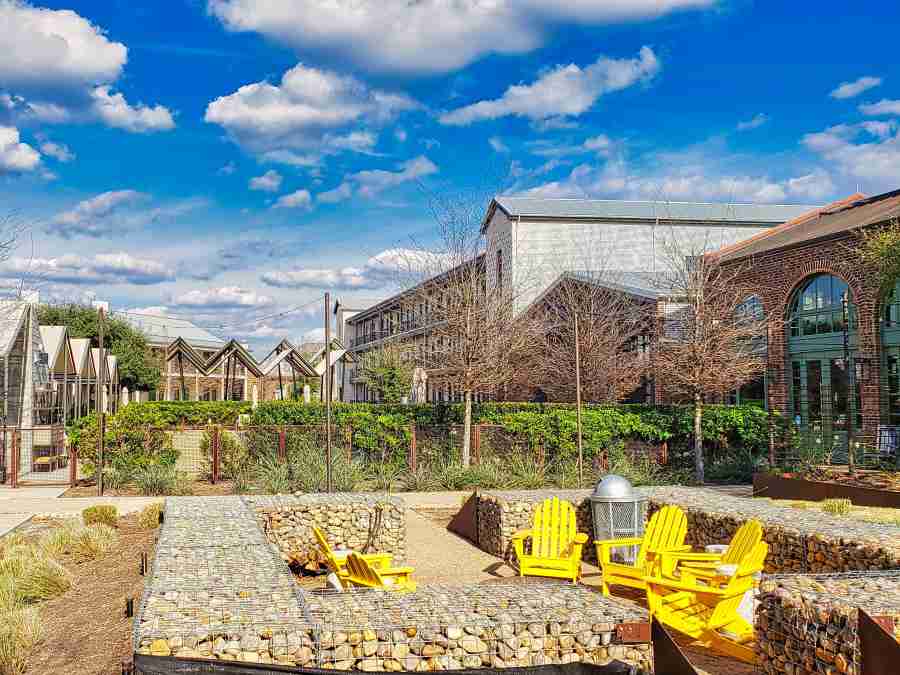 Valencia Hotel Group, which is the parent company has a lot of experience in these theme or concept type hotels. They own three luxury hotels including The George in College Station as well as Hotel Valencia on San Antonio's Riverwalk and Hotel Valencia Santana Row in San Jose California. They also own the urban retreat hotels like Cavalry Court, Lone Star Court in Austin Texas, Texican Court in Irving Texas and Cotton Court in Lubbock Texas. Each one of the Courts have their own theme and all have great outdoor areas and amenities.
Century Square is a premier shopping and dining destination in College Station and a short walking distance from the Texas A&M campus. That makes the Cavalry Court a great place to stay when visiting Aggieland, whether you are in town for a football game or just visiting.
The rooms are spacious and modern with and as I said earlier have rocking chairs outside the rooms so you can sit and relax. The hotel also has live music on Fridays and Saturdays at the Canteen Grill which makes it nice to sit outside your room with a drink and listen to the sounds.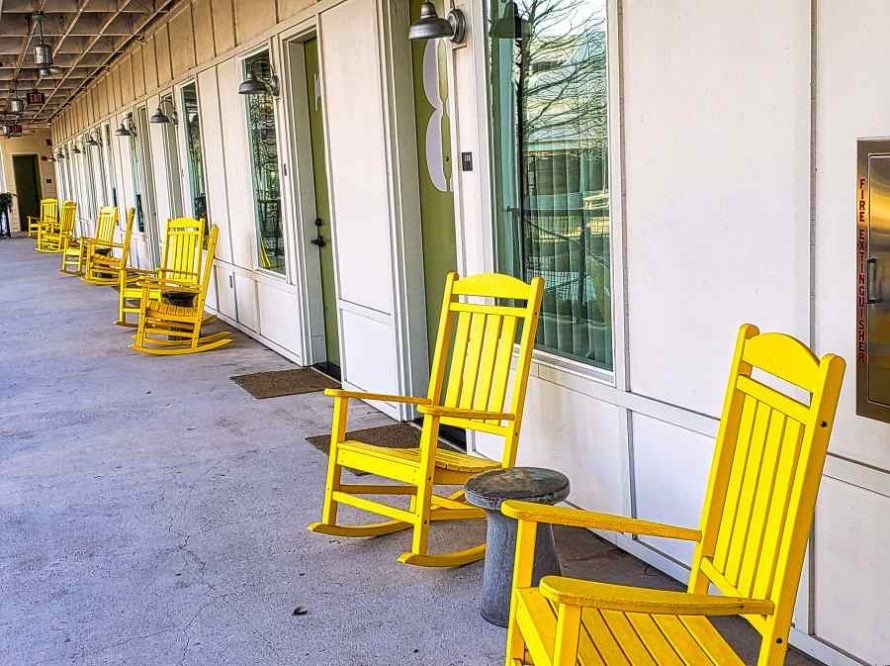 The Cavalry Court also has complimentary bicycles, lawn games, a great pool with covered cabanas and fire pits along with several outside seating areas.
The landscaped courtyard reminded me of the parade grounds at an old fort except it has been transformed into a great outdoor gathering area.
The rooms at the Cavalry Court have complimentary Wi-Fi, in room safe, comfortable layout with a really cool, retro looking, SMEG refrigerator.
The hotel also is pet friendly, has lots of free parking as well as valet service, room service, a business center in the lobby and meeting facilities.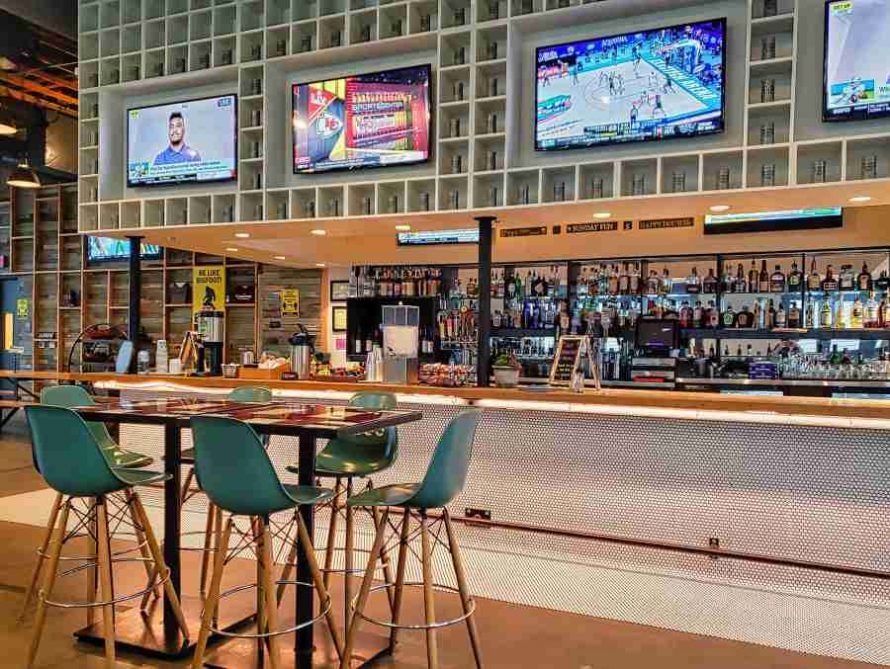 I have stayed in a lot of places over the years and always enjoy something different. I don't know about you but I get kind of tired with the large chain hotels. They seem to me to be just sterile and boring. That is why I always enjoy staying at a bed and breakfast, boutique hotel or old historic hotel. It makes the trip a little more fun and memorable.
The Cavalry Court in College Station Texas fits that bill. Modern, and yet retro, fun, great service and close to everything.
The next time you are headed to College Station give them a try I think you will be pleased. I know I had a great stay and would definitely stay there again.
Reccomended Posts
(Visited 1,028 times, 1 visits today)