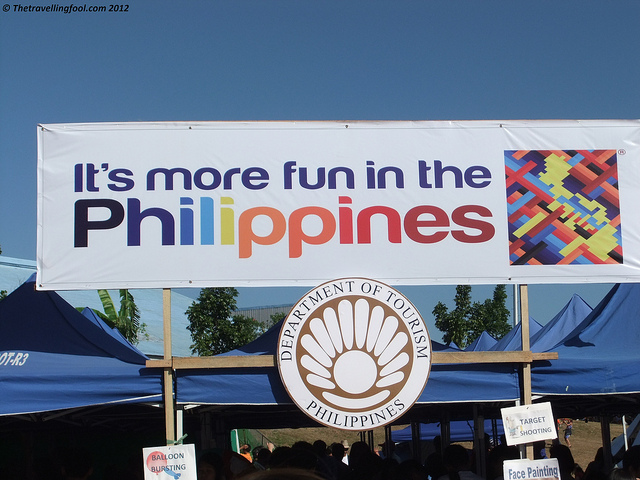 It's more fun in The Philippines. That is the new slogan rolled out this week by the Philippine Department of Tourism. Complete with a Twitter hashtag #ItsMoreFunInThePhilippines, the hope is to drive more tourists to the islands.
I have always regarded The Philippines to be the Rodney Dangerfield of Asia, they just get no respect. Travelers to Asia flock to Thailand or lately Viet Nam and Cambodia but The Philippines has never quite captured the same allure.
Personally I love the Philippines and always found it to be a great place to visit. For one, the majority of Filipinos speak English and all the signs are in English so it is easy to get around. The people are friendly and with over 7000 islands there is a lot to explore.
With its new slogan and efforts to enhance the tourist experience the Tourism Department is hoping to increase travel to the islands. The goal is to attract over 4 million visitors in 2012 with a target of 10 million in 2016.
Some involved in the Philippine tourism industry feel that the Department needs to concentrate more on the Safety and Security of visitors. I have never felt unsafe while traveling there. However like anywhere else there are dangers. The Philippines does have its problems, from kidnappings to the ongoing battles with Islamic separatists in the Southern part of Mindanao. But a little situational awareness can go a long way. In other words don't put yourself in a bad situation by backpacking in rebel territory and don't be flashing money in Manila's China Town.
There are some things that need to be improved in order to make The Philippines a more tourist friendly location. Arriving at Ninoy Aquino International Airport (NAIA) is not the most pleasant experience. The airport is dated and it is a pain getting transport after arrival. People meeting incoming passengers line up by the hundreds behind a fence outside the airport. Unless you arrange a pickup you are at the mercy of airport taxis which charge a whole lot more than a normal taxi. This is being addressed in part with airport renovations and money being put into other airports such as Clark just North of Manila.
While a lot of Hotels and Resorts understand customer service and trying to provide a great experience the Government is still trying to figure it out and when they do, the slogan It's More Fun in The Philippines will be true. Once that happens then maybe The Philippines will finally get a little respect.
(Visited 26 times, 1 visits today)