I recently visited Scottsdale Arizona for the Travel Writers Academy Mastermind and Experience Scottsdale was generous enough to provide a short media trip While we were there. Of course, there were no stipulations and all views are my own.
I had never been to Scottsdale and was unaware of all the great things to do in the area. I didn't realize that Scottsdale is basically part of the greater Phoenix area, I just never bothered to look on a map. From the Phoenix airport it took me about twenty minutes by Uber to get to our rental home.
I should have known this was going to be a good trip when I arrived at the house our group had booked. The Platinum Experience has several vacation rental properties in Scottsdale and the surrounding area. The home we rented was a massive 4,662 sq ft home with a pool, in ground hot tub, outdoor cooking area, putting green, ping pong and other activities. Inside there was a beautiful master bedroom with 4 other bedrooms, two with private baths, game room with pool table, and huge kitchen. I can definitely say if you're looking for a great rental property check out The Platinum Experience. They were great to work with and if you don't need a home as big as the one we stayed at, they have a lot of others to choose from.
Scottsdale Arizona has long been a destination for sports enthusiasts. With three major league baseball teams conducting their Spring training in Scottsdale, and another twelve teams in the surrounding area, the Cactus League draws thousands each year. Scottsdale is also home to TPC Scottsdale and the PGA Phoenix Open golf tournament. Scottsdale is a great golfing destination with 22 courses located in the area.
Now don't get me wrong it's in the desert and it's damn hot most of the year but being in the desert it does cool down in the evenings. If you want to cool off while you are in town then head to the Salt River and go tubing, rafting or kayaking. Arizona Outback Adventures offers ½ day tours where you can paddle board, raft or kayak down the river surrounded by majestic mountains and wildlife.
Scottsdale has a great downtown area including the original town site being in "Old Town" with boutique shopping, souvenir shops, jewelry stores and art galleries. There are a lot of great sports bars, nightlife venues and restaurants.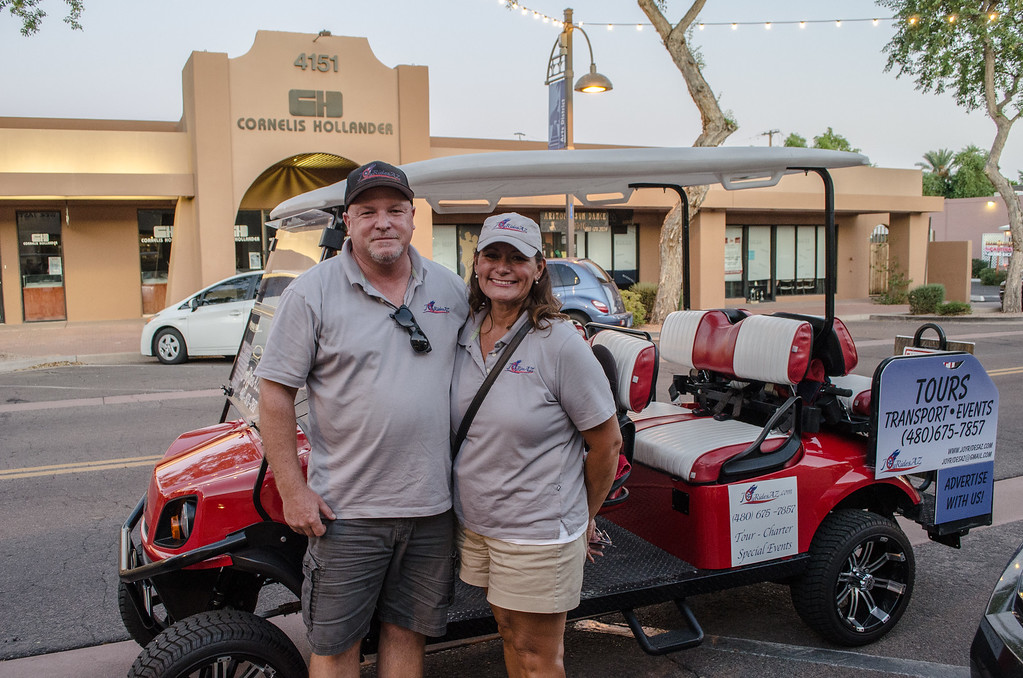 We had the opportunity to explore the downtown area with Joy Rides. The owners Kirk and Monica Nicodemus run golf cart tours of downtown along with food tours and pub crawls. They were very informative about the area, giving the history and some of the lesser known facts about the area and didn't rush anything so you had time to stop and enjoy various parts of the tour.
Scottsdale even has something for the wine lover. Wine in Arizona? Yes, Arizona has vineyards. I know, you wouldn't think that a state with hot summers and mild winters actually has wineries but they do and one, Carlson Creek Wines, has a tasting room in downtown Scottsdale.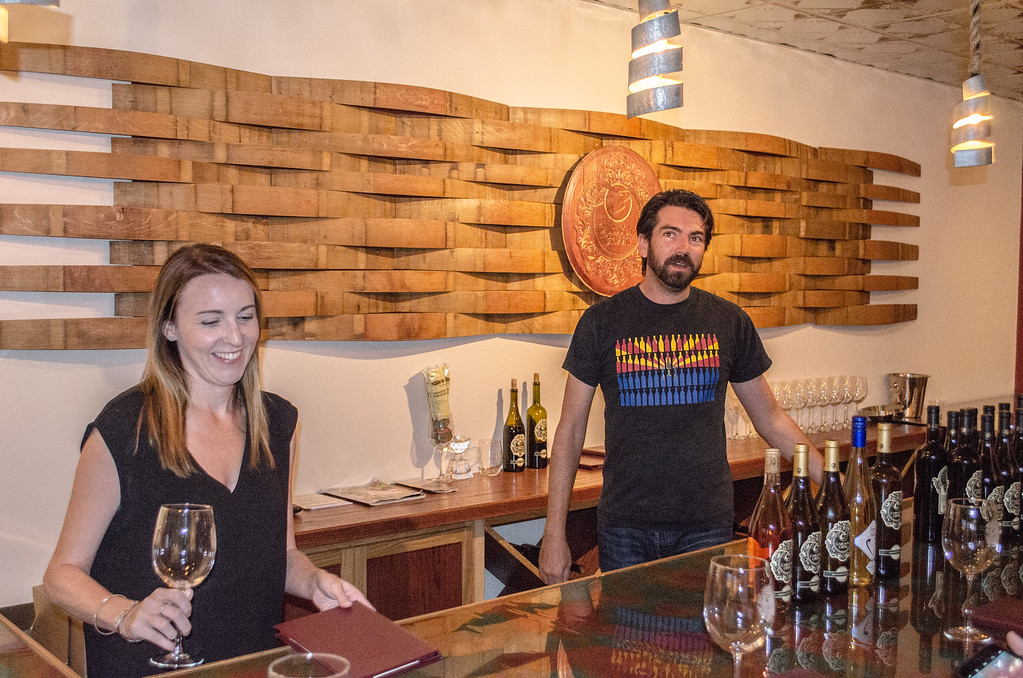 Carlson Creek vineyards are located in Wilcox Arizona about 200 miles away but you can sample their award winning wines at the their tasting room in historic old town Scottsdale located on the art walk. What started with 40 acres in 2009 has now grown to 160 acres and the family run vineyards have established themselves as one of Arizona's premiere wineries.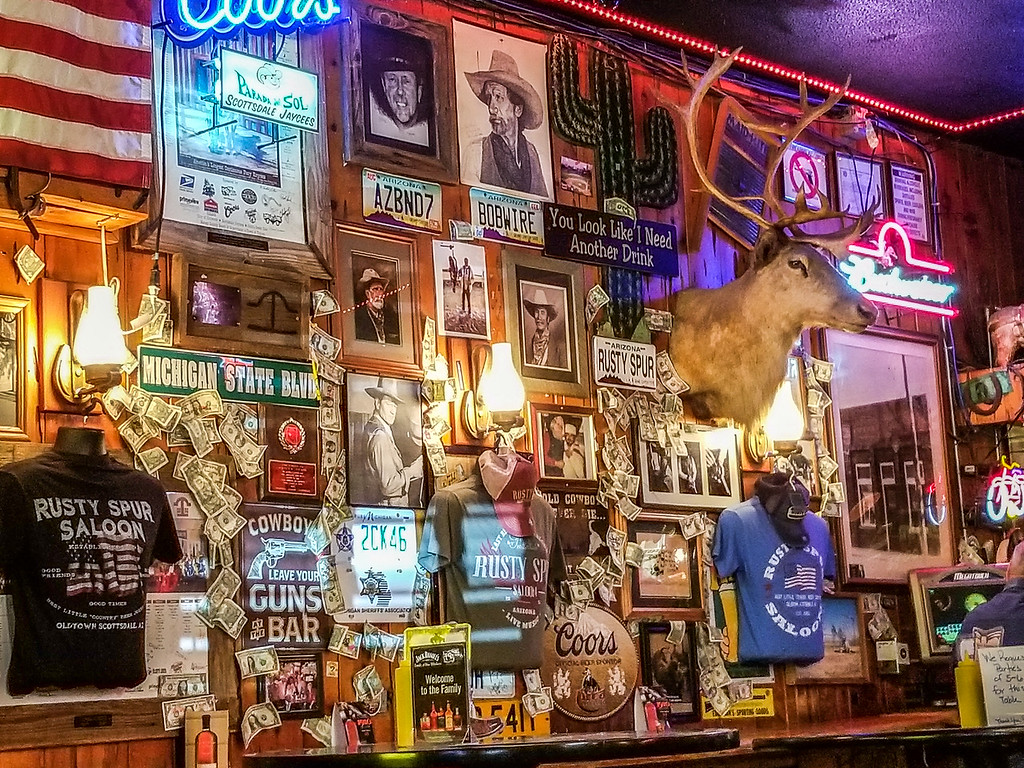 If you just want to relax, have a drink and maybe grab something to eat then stop by Scottsdale's oldest bar. The Rusty Spur Saloon is located in historic old town and is a favorite watering hole for tourists and locals alike. To be honest you are more likely to find a tourist than a local cowboy sitting at the bar but a few still stop by from time to time.
The bar is pretty small and decorated with everything from dollar bills tacked to walls to big butt bar stools. A small, I do mean small, area is set aside in a corner for live music entertainment 7 nights a week. It's not often you can grab a beer in the same bar people like Clint Eastwood, John Wayne, Vince Vaughn and Jennifer Anniston have.
Scottsdale has a lot of great restaurants and we had the opportunity to try a couple. Hand Cut Burgers and Chophouse is located adjacent to Fashion Square and offers up grass fed beef burgers sourced from Arizona Grass Raised Beef Company. Guests can see the food being prepared, which is always nice. In addition to some killer burgers they also serve up steaks, pork chops, salmon and chicken along with some decadent desserts. Try the lobster mac and cheese and the salted caramel butter cake, you won't be disappointed.
The Hash Kitchen has two locations, the one we went to was in Gainey Village Shopping Center. Open from 7 am to 3 pm 7 days a week, the Hash Kitchen is the go to place for breakfast, brunch and lunch. I had the chicken and waffles and it was fantastic. Huge portions and tasty as hell. I couldn't eat it all and you have seen me, I'm a big guy.
With food such as a breakfast cannelloni, a paella hash with shrimp, chicken and sausage and lunch burgers and sandwiches, I can tell you the owners, executive chef Joey Maggiore and wife Cristina Maggiore, are doing it right. Like they say in the commercials "But wait, there's more!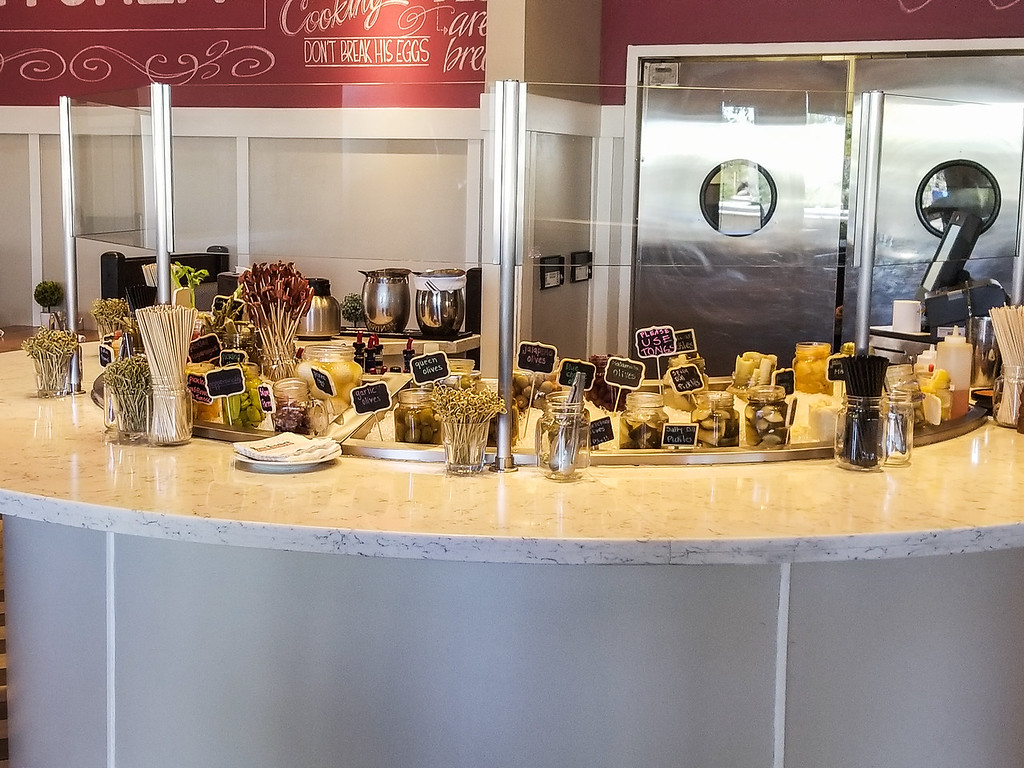 The Hash Kitchen is home to Scottsdale's largest Bloody Mary bar. You can build your own Bloody Mary by starting off with infused vodka, I had the bacon infused of course. After you choose the vodka and the base drink is made you hit the bar and load it up with whatever garnishes you want. Pickles, olives, bacon on a stick, celery, baby corn, you name it. Hell, that is a meal in itself.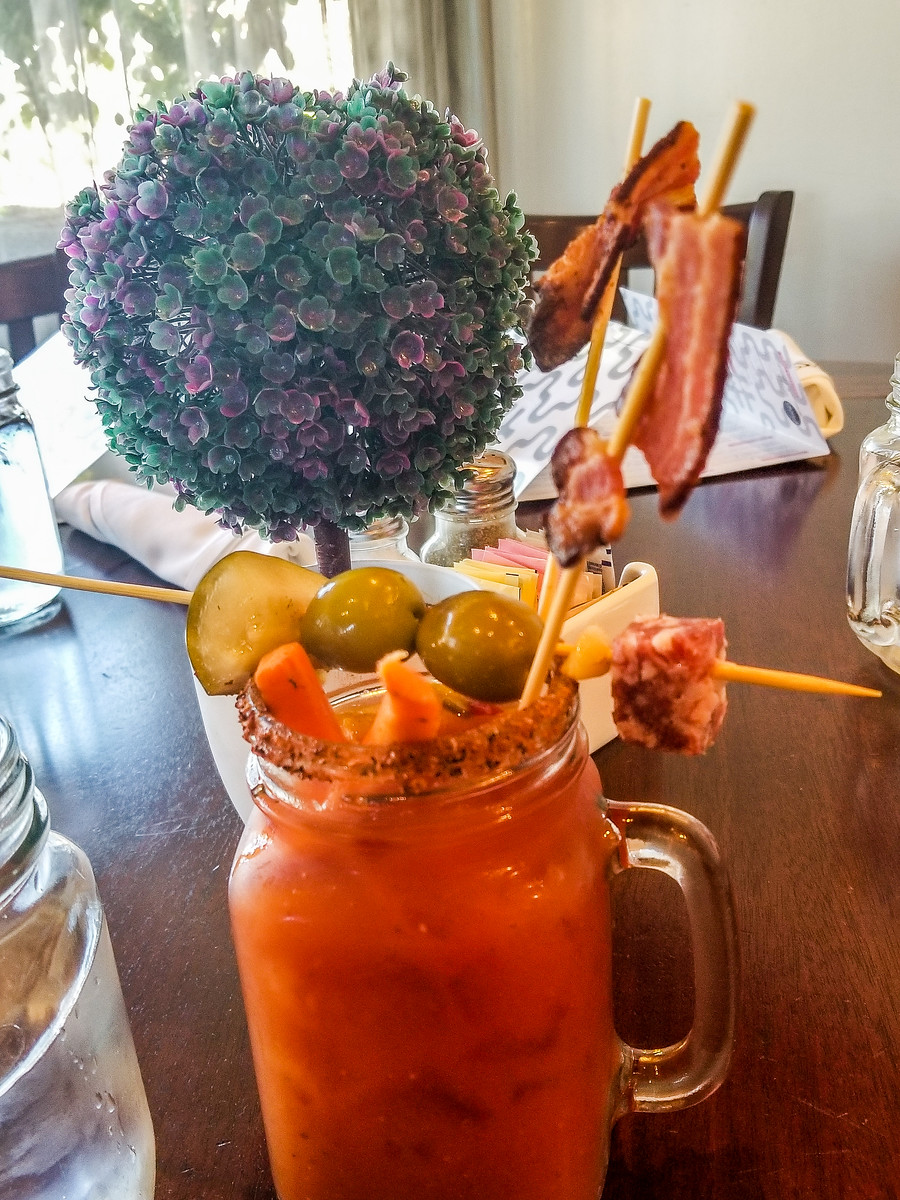 Scottsdale is full of things to do and see and places to get great food. With art galleries, museums, wine tastings, outdoor activities, nightlife and much more, Scottsdale is a great place to visit.
My only complaint was I didn't have enough time to see everything and explore the area more. I guess I will just have to go back.
I want to thank Experience Scottsdale for showing our group a great time and giving us a sample of Scottsdale hospitality.
(Visited 814 times, 1 visits today)