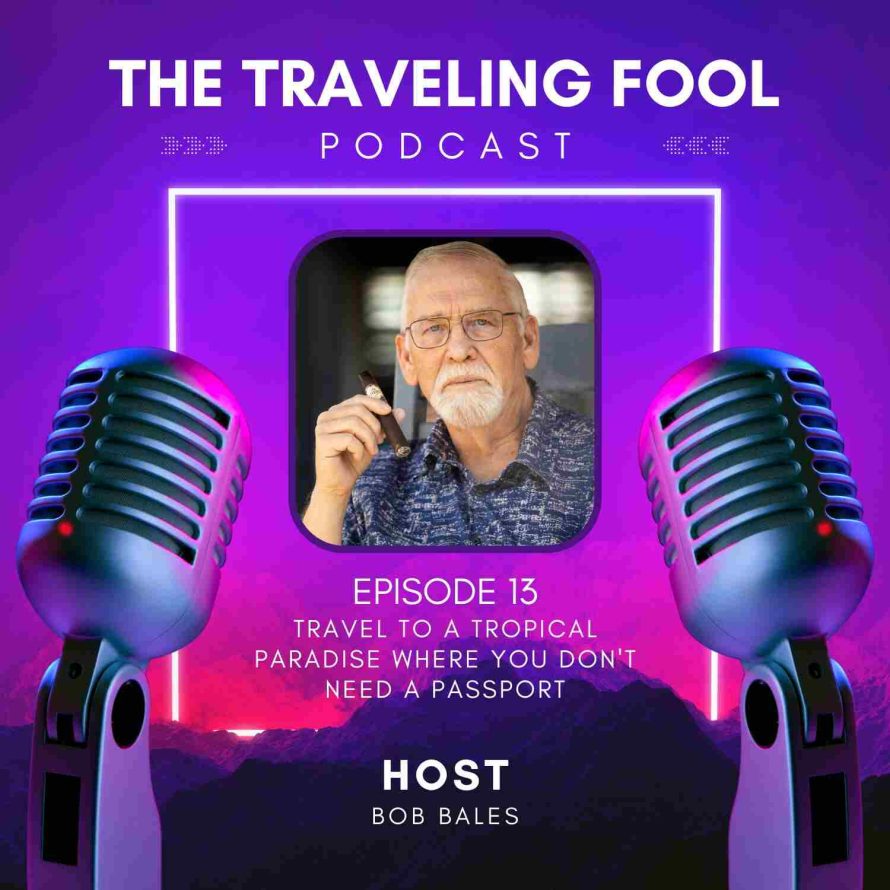 Ever dreamed of escaping to a tropical paradise that requires no passport for Americans to visit? Your dream is about to become a reality as we journey to the United States Virgin Islands, the overlooked treasure often eclipsed by Hawaii and Puerto Rico. Join your host, Bob Bales, as he peels back the layers of the islands' rich history, from Christopher Columbus' discovery to its interesting ties to figures such as Alexander Hamilton and the infamous Caribbean pirates.



Transcript
Hi and welcome to another episode of the Traveling Fool podcast. I am Bob Bales your host, and today I'm going to talk about a tropical paradise where you do not need a passport to visit, at least if you're an American. Now I live in Texas. Texas has some nice beaches we're on the Gulf of Mexico but they're not quite as good as what you think of when you think of a tropical paradise. So most Texans, myself included, will grab a quick flight head Cancun . It's cheap, you get there, the beaches are gorgeous, but you do need a passport to get to Cancun. In not just Mexico, mind you but Cancun, averages about 9 million visitors a year. The place I'm talking about averages around 2 million. A place where celebrities, politicians and royalty have all lived and visited there.
So what am I talking about? Hawaii yeah, good guess, but wrong. Puerto Rico Another good guess, but not right. I'm talking about the United States Virgin Islands. But before we get into why you should go there, let's talk a little bit about the history and a few facts about the Virgin Islands.
Now, Christopher Columbus has been credited with discovering St Thomas on the US Virgin Islands during his second voyage to the New World. He actually named it after St Ursula. For those of you who are not familiar with St Ursula, she was the daughter of a Christian king of Brittany who was betrothed to a pagan prince in exchange for his conversion to Christianity, and they both made a pilgrimage to Rome. On her way back home to Cologne, she was martyred, or in other words killed by none other than Attila, the King of the Huns, along with 10,000 virgins who were accompanying her home. So, shortened version the Virgin Islands. But apparently Christopher Columbus was not too impressed with the islands. He didn't stay too long. Instead he sailed on the Puerto Rico and the island was left unguarded by the Spanish. And soon it was called upon by ships from other nations captained by men that the Spanish might consider pirates. St Thomas's existence would continue to be home to pirates and small settlements along before European power ever decided to colonize it.
The Virgin Islands was divided into two parts in the 17th century, one English and one Danish. That's why we have the British Virgin Islands and the US Virgin Islands Now. Present day US Virgin Islands has been under control of Holland, France, England, Spain, Denmark, the Knights of Malta. They all saw colonies there. The islands remained under Danish rule until around 1917 when the US purchased them for 25 million dollars in gold. They were trying to improve their military position during times of World War I. St Thomas, St Croix and St John three of the main islands there became the US Virgin Islands. Now a little history and facts about the USVI. It's the only place in the United States where you drive on the left-hand side of the road.
A lot of famous people have lived there or visited. English actor Eric Idol, actors Kevin Bacon, John Travolta, Robert De Niro they've all visited there or have lived there at one time or another. Actress Maureen O'Hara lived on St Croix, had a house there, and country music's Kenny Chesney he has a nice place on St John. They've all either visited or lived on the island, bought a home there. Alexander Hamilton he lived on St Croix, as a teenager did Sir Francis Drake. Drake used St Thomas is a lookout for ships to plunder. Pirates Blackbeard and others are said to have used the islands as well. Queen Margaret of Denmark has visited the islands, as well as President Hoover, president Franklin Roosevelt, first Lady Eleanor. President Teddy Roosevelt visited a couple of times before and once after he was elected. Captain Morgan Rum and Cruzan Rum are distilled on the islands, and they have other distilleries and breweries as well. But here's a little tip pick up a bottle of small batch Botany Bay Estate rum. It's fantastic In fact I'm having one now as we're speaking, really good rum.
In 1956, a fellow by the name of Lawrence Rockefeller the grandson of John D Rockefeller gave the US National Park Service a very generous gift of 5,000 acres of land that he owned on the island of St John Now St John's only 20 square miles in size. So 5,000 acres is a pretty good chunk of land. In the late 1600s, the Virgin Islands were home to some real life pirates as well. Local governors became rich when they got paid off by pirates who were looking for a safe haven to lay low for a while. Some of those were Captain Kidd, pirate James Hamlin, Stead Bonnet, Tempest Rogers, Bartholomew Short and Black Sam Bellamy. So they have a varied history and a wild history of pirating going on in the Caribbean, and the Virgin Islands definitely saw its share.
Now the US Virgin Islands consists of three main islands St Thomas, St Croix and St John. I know some of y'all that have been there going. No, that's not true. They got islands all over the place. Those are the three big main islands that everybody goes to. Now, St John has some of the most beautiful beaches in the world, but in 1996 Water Island, which is located in St Thomas's Charlotte Amalie Harbor, was officially returned to the Virgin Islands from the Department of the Interior, making it the fourth official US Virgin Islands. So yes, there are four islands comprising the US Virgin Islands and there's a few little small islands here and there that may be outcroppings, but those are the four official US Virgin Islands. Water Island is very small. The only way you can get to it is by taking a ferry out of the harbor of St Thomas and cruising over there. It's a semi-private island. Mostly it's residential. There's a few restaurants and it's a beautiful island, but there's just not really a lot to do and it is very small. Each of the islands has its own vibe, so to truly experience the Virgin Islands you really need to spend some time on each one.
St Thomas is the capital, the easiest to get to. It has major flights from the, coming them from the United States and other places, and daily cruise ships docking at Amalie Harbor. The town itself where the capital is Charlotte Amalie is named after the Queen of Denmark, who is the wife of King Christian of Denmark. There's a lot of historic sites on St Thomas, attractions and several duty-free shops. The restaurants range from high-end to local favorites. A few island bars, a couple of really nice beaches. With all the visitors, the beaches are going to be crowded. The best way to see the entire island on St John is and all the main attractions of course is to take an island tour on one of the tourist taxis. Now the taxis on St John well, us Virgin Islands and whole they're converted pickup trucks and they have bench seating in the beds of the trucks and overhead covers. Comfortable rides and very nice. They give you a guided tour of the island, show you all the sites, stop everywhere where you can get off and look around, take photos.
To get to St John you need to take a ferry from St Thomas, or a private boat and upon arrival at Cruz Bay Port. There's a little small town there. It's got some great shopping, some bars and restaurants. The St John's Brewery has a brew pub there and there's a rum room that I visited that they offer tastings. It's located in the main shopping area called Mardus Junction. The rum room has over 100 different runs, mostly from the Caribbean and the owners are highly knowledgeable. You'll have a great time. St John is pretty laid back and the island attracts a lot of high-end visitors, people who own luxurious villas. St John, like I said, is about 28 square miles in size and two-thirds of it is the US National Park. It's kind of strange because it's one of those places. I've been to a lot of national parks and state parks and when you drive up paying interest fee you go in the park. Not so her, where you can go in the park anywhere you want to go. There's hiking trails everywhere you just drive on in, and dispersed within the park are private-owned lands, so it's not one continuous area of property that's the park. There's actually people that live in the park on their privately-owned property. It also has some of the most beautiful beaches in the world. In fact, the island has over 40 beaches that you can visit, all on 28 square miles. But a lot of these beaches aren't real easy to get to. The only way you can get to it, because some of them are surrounded by private land and hard to get to, is to arrive by boat. But if you sail up to one of these little beaches it's a public beach. You can get on the beach and enjoy it. Now there are, however, close to 20 or more that you can get to by driving or hiking. The beaches are absolutely gorgeous, and while one or two might be a little bit crowded, there are many where there's hardly anyone there or no one at all, and to say it is a beach paradise is definitely an understatement.
Now, St Croix is the largest of the three main islands and it has an airport as well and a cruise terminal. There are two main towns on St Croix Fredericksted and Christiansted, and it has a lot to offer from bioluminescent bays, historic forts and buildings, great dining, shopping. It's a fun place to visit. Christiansted has a boardwalk on the bay with shops, restaurants and bars. You can also go boating or fishing, but whatever you do, get out and meet some of the locals. Everyone I met on all three of the islands was extremely friendly, welcoming and eager to chat.
Now, when it's time to leave the island and fly back to the mainland, you can catch a flight from either St Thomas or St Croix. You will go through US Customs and Immigration when you leave. Even though it's a US territory, it is out of the customs territory of the United States. That's why you have to go through US Customs and Immigration. Now, while you don't need a passport, you do need one of the newer real IDs at the state's issues, but a passport's helpful and makes things a lot easier and, unlike traveling from one state to another, when you leave the Virgin Islands, there's regulations on what you can bring back. Now this is according to the US Customs website. The duty exemption for travelers returning from the US Virgin Islands is $1,600. Now that can include, for those of you that smoke, 1,000 cigarettes as part of the exemption, but 800 of them must have been acquired in the Virgin Islands, so you've got to keep your receipt. You can also include five liters of alcoholic beverages, but one of those must be a product of the US Virgin Islands, Guam or American Samoa other US territories.
Now, the US Virgin Islands is a melting pot of people from all over the Caribbean, has a long and interesting history, and I think it's a place that everybody should visit at least once. I was only there for about three and a half days, and in three and a half days I visited all three islands, took tours of St John on a taxi, took tours of St Thomas on one of the taxis, visited all the sites, had a blast, went to St Croix and I stayed at a gorgeous historic hotel right on the beach Fabulous hotel, it's been around for years. I met some fantastic people while I was there. Those of you that know me know I love to smoke a good cigar. I was introduced to one of the local cigar clubs while I was there and had a great time just hanging out with those guys, talking to them and smoking cigars and chatting about the island and what they did. One thing I found interesting is when you ask a lot of people where they're from, a lot of them were not born there. They come from all over the Caribbean and mainland. I went to a restaurant where the chef is an award-winning chef from South Carolina. He moved there years ago. So you find people that are attracted to the Virgin Islands for various reasons. They make it home and it is truly a melting pot of all of the Caribbean. It's a great place to visit.
If you ever have a chance, you really ought to go there. You'll have a lot of fun. Next time we're going to talk about something, maybe not destination, but stay tuned. I think you'll find it interesting In the meantime, subscribe. Hit the little subscribe button, tell your friends about it. We'll see you next time on the Traveling Fool.
CHECK OUT THE FULL POST ON THE USVI ON THINGS TO DO AND SEE
Please subscribe and leave a review on I-Tunes.
You can sign up for my email list
Follow me on social media
(Visited 58 times, 1 visits today)