To me, travel is all about the memories and having traveled a lot in my life I have some great memories and travel stories.
Some are wacky, some travel stories are funny, some are frustrating and others just plain crazy. In my travels I have been chased by Japanese police, all a big misunderstanding, spent time with a Nepalese family, had drinks in a bar with a few famous individuals in Dubai, eaten a lot of weird stuff and a few others that I would rather not divulge right now.
Everyone that has traveled has a great travel story to tell. you know the one when you are at a party and someone tells a story and you respond with "Let me tell you about something that happened to me in___".
I decided to reach out to a few travel bloggers who have traveled extensively to find out what kind of travel stories and memories they might want to share and here are a few of some of the most memorable travel stories they had.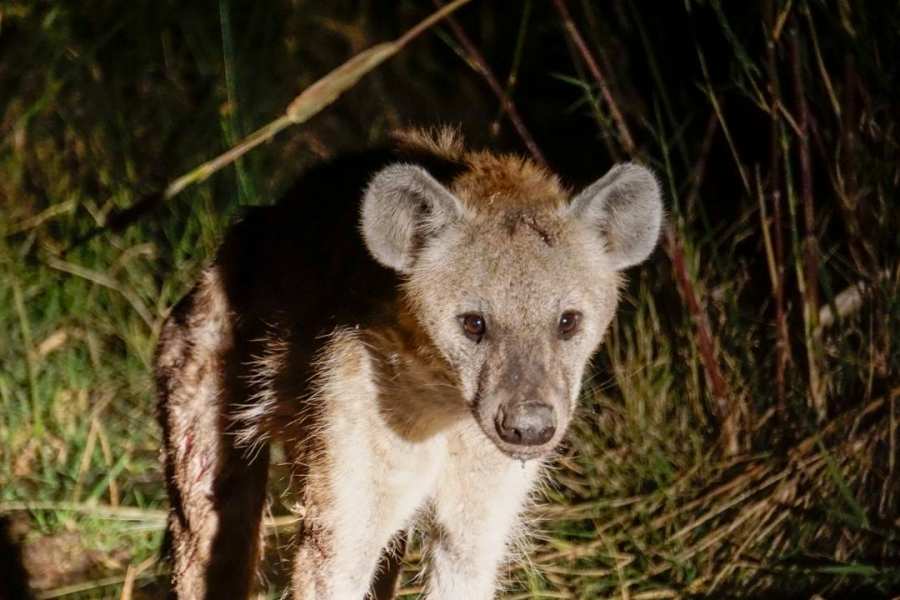 Dining with a Hyena
On Safari in South Africa, we spent a fair share of evenings dining under the open sky. We would sit around a roaring bonfire, enjoying delicious local food and exchanging stories with our guide and other like minded travelers. On one such evening, we received a special guest.
The rustic bush camp was only sporadically fenced and we'd often see antelopes walking through. We were told that, one time, there had even been a leopard. The kitchen staff, which were all locals, had the utmost respect for the wild animals of the bush and it soon became clear to us that they hadn't yet forgotten about that visit.
Suddenly, our waiters disappeared inside the nearest hut and shut the metal gate behind them. The rest of us were sitting around the fire, feasting on roast chicken, and sipping a glass of Merlot, not paying any attention to the commotion. That's until we discovered what was lurking in the shadows.
Into the bright light of the bonfire, just about a meter away, stepped a full grown, male, Hyena!
We all froze…
What do you do in such a situation? Do you play it cool or go for full blown panic?
Luckily, the guy sitting closest to the hound-like-beast knew just how to behave. He was our experienced Safari guide and he, it turned out, was no stranger to stray Hyenas begging for food scraps. He simply looked him in the eye, raised his voice and told him to bugger off. In not-so-nice words.
That was the end of that. We finished our dinner as if nothing had happened and didn't actually feel particularly intimidated by the experience. Maybe we should have, though, because we didn't see any sign of the local kitchen staff for the rest of the evening!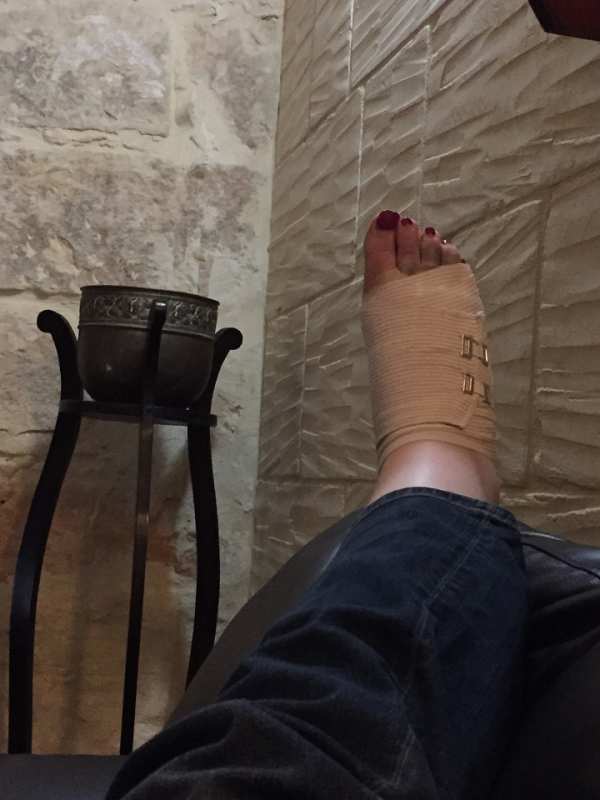 The house won in evicting us on day three and we fled to the island's only five star luxury hotel. We had earned the little luxury if only for one night. We were the walking wounded with a crazy story of mishaps on this, our first real vacation together. A twenty year friendship across the pond – he in London and me in Philadelphia – was now becoming the stuff of travel nightmares.
It began when his flight was late, we missed the ferry to the island and checked into the airbnb in the dark. We would crash from the long travel day. He woke up covered in unknown bug bites on day one while I found dirty, moldy, broken and rusted items throughout the house. We shopped for cleaning supplies and tried to make the best of it staying out of the house as much as possible. On day three, I tripped on a loose step and landed hard with a popping sound from my right foot. We decided we had to flee this place and didn't care about losing money. When we checked out of the hotel, the car battery was dead. We could only laugh at that point. When the folks at the rental car shop saw us and heard our story, they sent us to the clinic and then the ER for x-rays of my fractured not broken foot. Thankfully the next two weeks on the island was the stuff of blissful movie montages. Memorable trip – absolutely.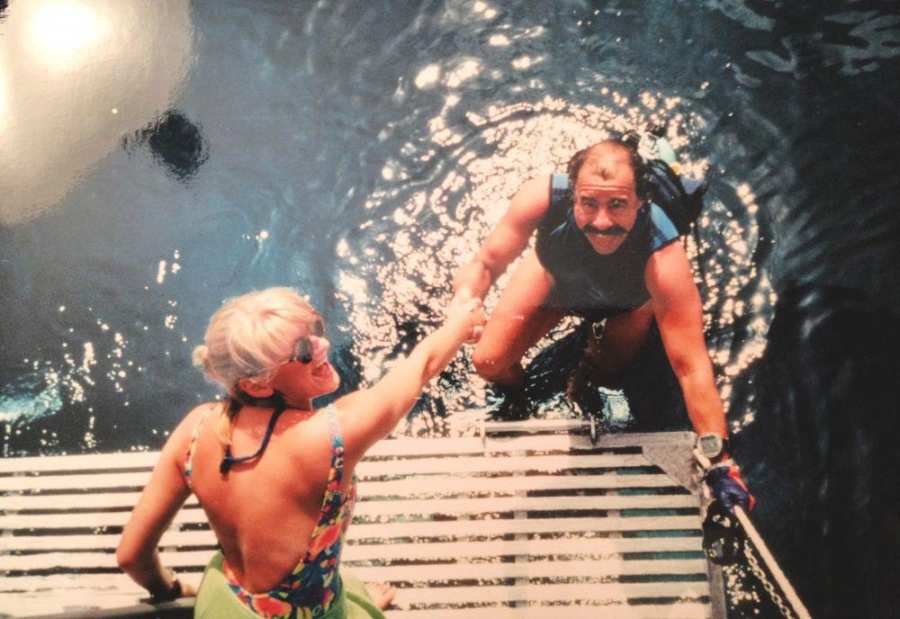 The experience that led me to a life of travel started with a seat sale from Vancouver to Miami in 1992. My boyfriend and I flew down and went out on a liveaboard dive boat, the Sea Fever, that he had worked on before we met. I finished my SCUBA certification in The Bahamas, on the edge of a blue hole in the Cay Sal Bank, doing fin pivots and mask clearing while the rest of the group was in the blue hole feeding sharks. It was a sensational week at sea, and when it was over we were staying in Miami Beach for another week. The boat had gone back to the Bahamas for another week with another captain and we were hanging out in South Beach with Tom, the owner.
We kept asking him about the Hurricane that the news was reporting about. He reassured us that hurricanes don't head due west, and that it would veer north and miss us. Except it didn't. While South Beach was under evacuation and we were deciding where to go, Tom called to say he had told the captain to bring the boat back, and asked if we would meet him at Jones' Boat Yard up the Miami River and help shuttle the passengers back to their cars so they could evacuate. Then one of the draw bridges broke. The boat tied up in a spur canal against a cement dock on an empty lot owned by a friend and we got everyone off and to their cars. At this point we didn't have a hotel booked and the highways were jammed with people trying to get away. We decided to stay on the boat and help Tom and the one remaining crew member get it slung out into the middle of the canal, and ride out the storm.
This was Hurricane Andrew, one of only 4 Category 5 hurricanes to make landfall in the US. It hit us in the middle of the night, and because the forecast was for an 8-12' storm surge, we had planned on having to venture out to loosen the lines periodically. Thankfully the surge didn't come because we were clobbered by 165 mph palm fronds and pieces of the roof of a nearby townhouse. We didn't sleep at all. At first light we lowered a dingy into the water and went up and down the river surveying the damage. A couple of months after we had returned to Canada, Tom called and asked us we we wanted to come down and work for him. We didn't hesitate. I spent the next 15 years cooking on boats and yachts in the Caribbean, Dubai, Mexico, and Honduras.
Getting Arrested in Western China
On our very first trip around China back in 2009, my husband and I were very excited about visiting the Labrang Monastery in remote Gansu province. Located outside of the Tibetan Autonomous Region but still in a predominantly ethnically Tibetan area, Labrang is one of the most important monasteries and pilgrimage sites for Tibetans. Back then neither of us spoke any Chinese, so we couldn't understand why none of the bus drivers were letting us on the buses heading there. Eventually, one driver did let us on, but then he dropped us in the outskirts of a town that was still a few hours' drive away from our destination.
It wasn't long until two police cars screeched to a halt, and we were surrounded by half a dozen members of a Chinese S.W.A.T. team. We still didn't understand what was happening, but we were pretty sure we were in trouble. They took us to the office of the head of the prefecture, a man of Tibetan origin who spoke English well and explained that the Chinese government had recently closed his prefecture to foreign tourists. Luckily, he was quite friendly and understanding, and he even took us out to lunch before driving us back across the prefecture border in his own car. Ten years later, we returned to Gansu and finally made it to Labrang, which was everything we had hoped it would be and was definitely worth the wait.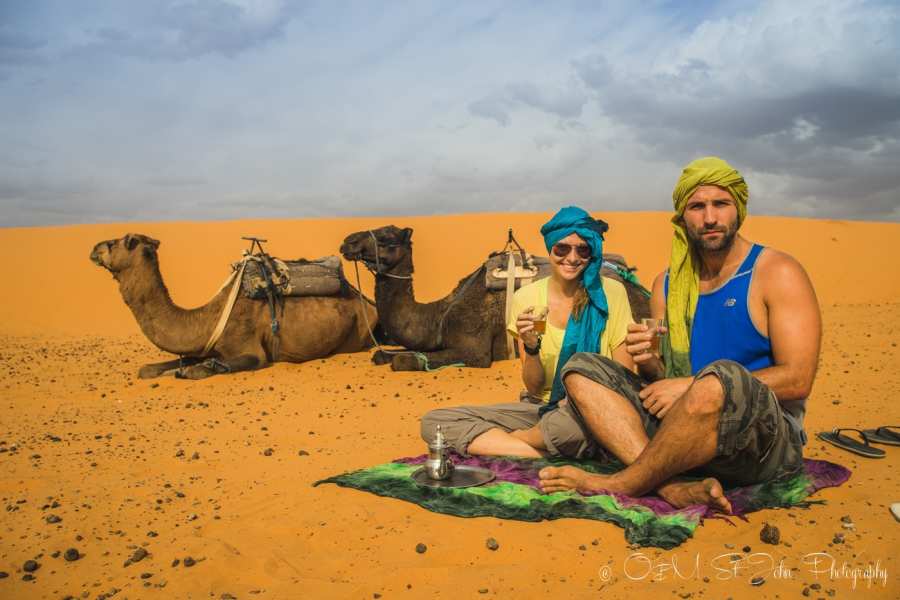 One of our most memorable travel experiences happened during our Sahara Desert trip in Morocco back in 2015. We were on a private 2-night trip with our guide and our two camels – Jimi Hendrix and Bob Marley. We spent the second day of the trip lounging in the shade in the Oubira Oasis, drinking tea, eating delicious food, playing cards, and chatting about life. Rested and relaxed, we were keen for another ride across the desert to our next campsite.
However, an hour into the ride Max realised that our rental car keys, which he had kept in his pocket, had gone missing. We searched our bags and all of our clothes but had no luck locating the keys. Our car was parked at a hotel where we started our tour, some 8 hours away from the closest town. We knew this problem was not going to have an easy solution.
When we reached our camp for the night, I stayed at camp while Max and our guide went back to trace our steps from the Oasis in an attempt to find the keys. He suspected that they had fallen out of his pocket en route to the camp.
It wasn't long after they left that a sandstorm started brewing and gusts of sand were making it impossible to see more than 1 meter ahead of you. Max and our guide were caught in it.
There was no way they were going to find a key in the sandstorm and I was more scared that they wouldn't find their way back either. Luckily, about 15 minutes into the storm they came back to camp. The keys were, of course, nowhere to be found, but at that moment, the keys didn't seem to matter that much. Neither did the fact that our passports and other valuables were locked in the car. That night, we were all just happy to be safe and not lost in the sand storm.
Upon return back to the hotel, we called our rental company who sent a tow truck to take us and our car back to the nearest town, located 8 hours away. It was a really long journey and in the end the loss cost us $250, but it was a small price to pay, considering that things could have ended much worse!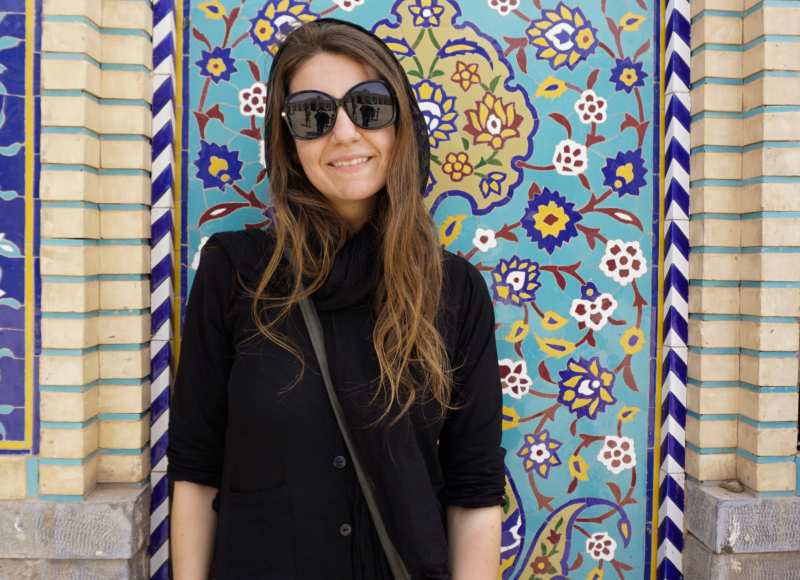 A wedding invitation in Iran
I spent a month in Iran full of memorable moments, but one of the most special ones was to be invited to a wedding. I was talking to an Iranian girl, trying to organize a camping trip to the desert, when she told me she was getting married. I wished her the best in her new life, and she replied with "do you want to come to the celebration?". I wanted nothing more than to say yes, but I refused out of politeness. She told me it'd be an honor for her to have me over, and my heart melted. I told her the honor was all mine, and that I'd love to be part of such an important day.
I arrived to the venue nervous because I didn't know what to expect. But from the first person I said hello to, I felt like I was part of the family. People went out of their way to make me feel comfortable –although most of them didn't speak English. Even the parents of the bride and groom thanked me for joining them. Can you imagine how much of an amazing travel experience that is? I made wonderful friends, with whom I'm still in touch, and while dancing the night away to the rhythm of Persian music, I learnt an essential travel lesson: the world is kind, and I'm beyond grateful for it!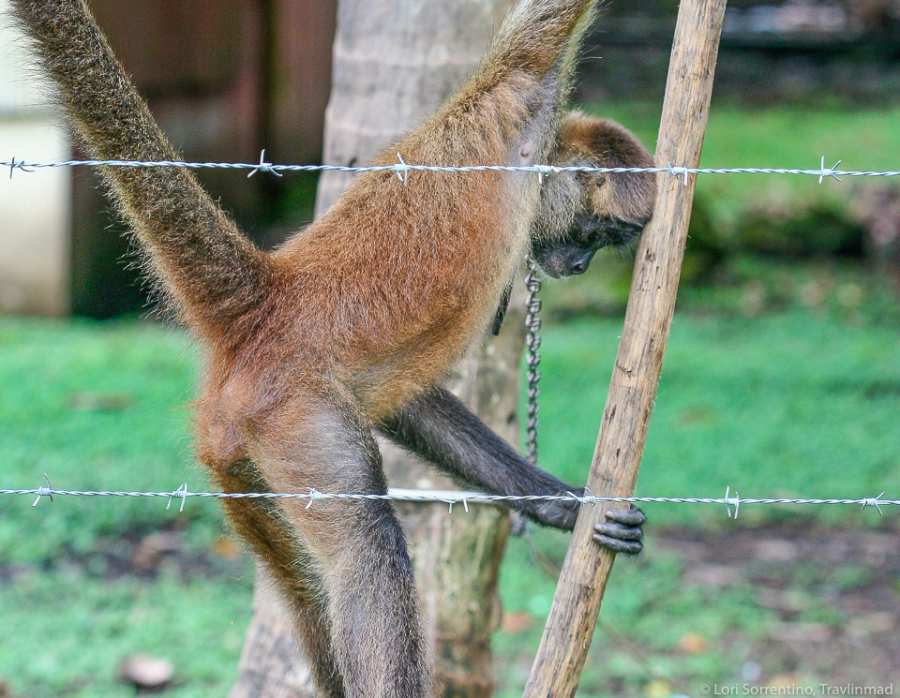 As we were driving from Puerto Viejo, Costa Rica several years ago on our way to the Osa peninsula, we stopped at a bright yellow "Sloth Crossing" road sign to snap a pic. I thought it would be the last of my photos from the Caribbean coast.
Suddenly, something caught my eye near a shack on the road and an animal on a tether came running toward me. I turned in slow motion, expecting a dog to bark at my intrusion but instead it was a spider monkey on the tether. When the line ran out, the leather collar around its neck snapped its head back, flipping it backwards on its belly. The monkey looked up at me as if pleading for me to help. No one from the house was around, and it was clear the animal was being held captive — an illegal act in Costa Rica. Trespassing into the fenced yard to free the monkey wasn't a good idea and we felt powerless to help.
All I could think to do was take pictures and jot down the GPS coordinates. I left promising her I would do all I could to help. The next day, I emailed the info to our friends at the Jaguar Rescue Center, an organization in Puerto Viejo that rescues and rehabilitates native wildllife. Nearly a month went by with no word, and I was losing hope. Finally, long after we were home we received the news.
They had rescued the monkey from captivity and brought it to the Rescue Center for rehabilitation. But that was just half the story. The most amazing part would come weeks later on the day of her liberation and reunion in the Costa Rican jungle, and an ending no one ever expected!
Twenty five years ago, I was travelling overland through Indonesia when I met a man from the Mentawai tribe from the remote island of Siberut, 150 kilometres off Sumatra's west coast. He was embarking on a project to bring small groups of tourists to Siberut to stay with local families and to experience living in a rain forest. Three backpackers and I joined him for one week on Siberut for his inaugural trip.
It was a challenging and sometimes confronting week that seared itself into my memory. We spent long days hiking through steaming hot rain forest, collecting sago with family members, tending crops and livestock, sleeping on bamboo mats in basic, raised, wooden homes. There were no toilets, running water or washing facilities. The isolated Mentawai people were warm and welcoming, allowing us to shadow their lives. The loincloth wearing Mentawai were as intrigued by us as we were with them. One day, we arrived at a wooden hut to find the homeowner was sick.
A group of heavily tattooed medicine men arrived and we were allowed to follow them into the forest to observe them collecting and preparing plants to be used as medicine. That evening, seemingly oblivious to us, the shaman performed a ritual sacrifice of a pig and an intricate ceremonial dance. It was a mesmerizing evening and a world away from any travel experience I had to date or have had since. Recently, I was tempted to return to Siberut on our family gap year but decided I wanted this memorable experience to remain untainted by change.
Often your most memorable travel experiences are because of beautiful nature or finally getting to see a popular attraction. Other times an experience is memorable for less than perfect reasons. One of my most memorable travel experiences is the latter and it happened when I got stuck in Zimbabwe.
We finished a tremendous safari tour in Victoria Falls, Zimbabwe after traveling through South Africa and Botswana. The plan was to fly from Victoria Falls to Cape Town and enjoy a few more days in South Africa before returning home. When I checked in at the airport I was told I could not board the plane. I thought it was an attempt to extort a bribe, but the reasons were legit. Even though I had blank pages in my passport, South Africa requires all travelers to have two consecutive blank pages. I did not have consecutive pages and even though I had plenty of room for a single stamp – I did not meet the required standards. This was partly because the countries I had just traveled to stamped blank pages and Zimbabwe issued a full-page visa. By the end of my trip – there was no more room.
When this occurred, I was of course very distressed, but it all worked out in the end. The problem was solved by rerouting our return flights to avoid South Africa. The only other option was to wait until the next business day and fly to Harare, Zimbabwe to visit the embassy for an emergency passport issuance. Instead, we rerouted and decided to enjoy a few extra days in Zimbabwe. We took advantage of some amazing Victoria Falls activities that we would have missed out on otherwise. It was an expensive mistake, but all's well that ends well and the memorable experience was also a good lesson to learn.
Several years ago while backpacking through India, we spent a few days in the gorgeous lakeside city of Udaipur. Located in India's northern state of Rajasthan, Udaipur has a strong muslim community and during our visit, one of the holiest Islamic celebrations of the year happened to be taking place.
The small, one-room guesthouse we stayed during our visit was the home of a friendly young Indian man. Upon hearing about our visit, his equally-friendly muslim neighbour asked if my wife and I would consider spending the day with he and his family for Eid al-Adha.
How could we say no to such a request?
Late the next morning, we arrived in their modest courtyard while children played with two young goats. Shortly after our arrival, the children and one of the goats were taken to another room. An Imam, or Islamic holy person, said a prayer and slit the throat of the animal with its head facing towards Mecca, honouring the traditional halal method.
I was asked to assist in the skinning of the still-warm animal while my wife helped prepare food with the other women. Together, we spent the afternoon with the family and their close friends. They explained to us the history of the celebration and their practice of sharing half of the meat and food with less-fortunate families nearby.
In the late afternoon, the whole group of us sat down for a multi-course feast of curried goat, stewed lentils, roasted vegetables and flatbread.
Not once during the experience did they try to preach or force anything upon us, they simply wanted to share their time-honoured traditions with their new foreign friends.
From the initial slaughter, through the deep conversation and shared meal, it was one of the most humbling and educational experiences of our travels.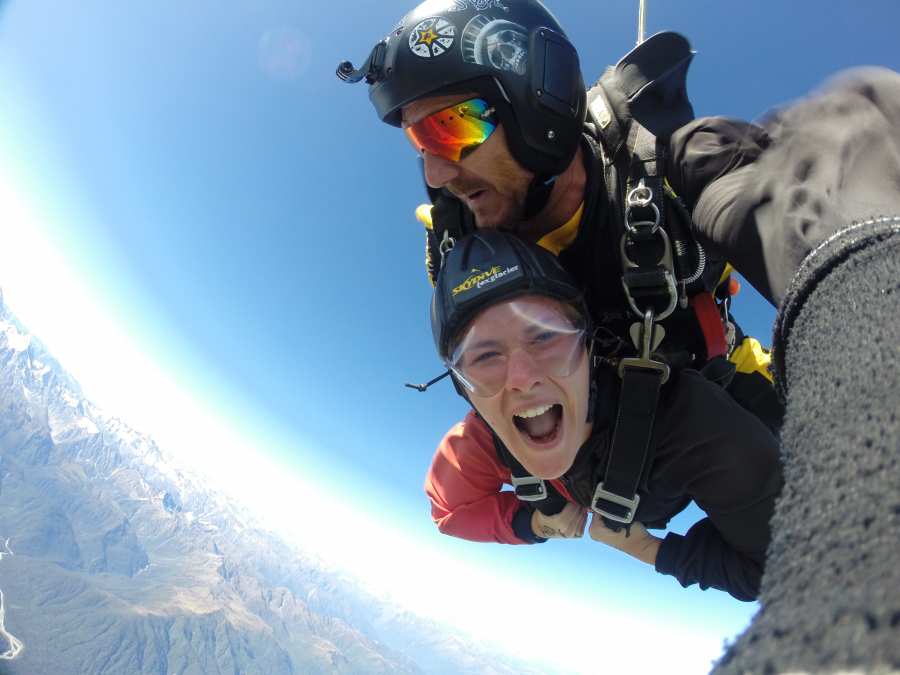 Changing Directions in New Zealand
I'm not usually a big risk taker. I say I'm down for any adventure, the reality is that I won't follow through. But on this occasion, I let spontaneity win.
I like to make plans and stick to them, which is exactly what I intended while travelling New Zealand. I'd planned to catch a long, scenic bus ride from Franz Josef to Wanaka. I was excited for wow-factor viewpoint stops and a relaxed journey ahead to reach my next destination.
Soon after we departed, the driver announced that we'd make a quick detour to drop off a couple of passengers at the skydive centre. He joked that any last minute requests to skydive could tag along. My friend turned to me with a mischievous grin and said "We're doing the skydive today."
It had been something we were interested in, but I had zero intentions to really commit to that idea… Until now. With the opportunity laid out in front of me, I simply couldn't refuse. Plus it was the best weather we'd seen in weeks so it felt like fate was intervening!
I wasn't even nervous. With a seasoned instructor strapped to my back, I slid out the door at 16,000ft. And wow, that minute of free fall over the Southern Alps was the most liberating, eye-opening, Pinch Me moment.
You really never know what experiences await if you take the risk and change direction. While I never did get to enjoy that scenic drive, I truly believe this moment changed my attitude towards travel for the better.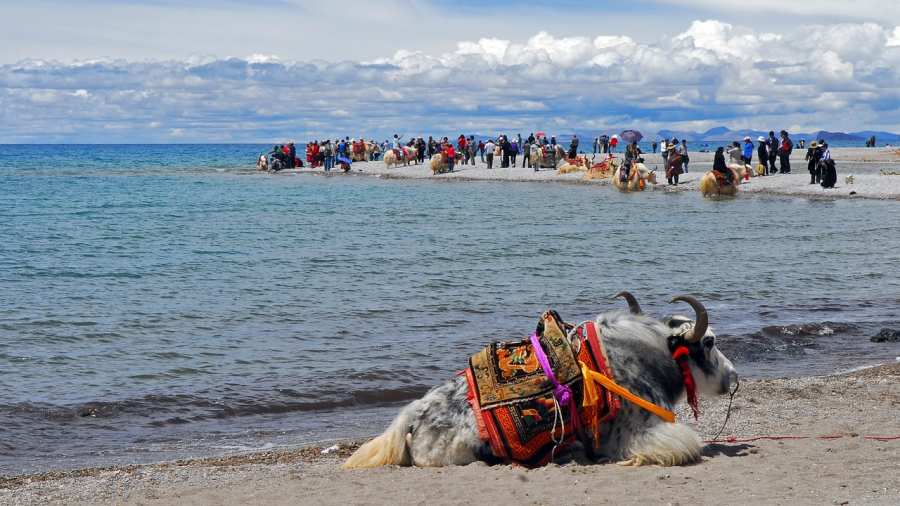 We were traveling in a convoy with a group of Chinese tourists across central China on the way to Tibet. One evening we camped next to Qinghai Lake. We set up the tents and prepared our meal for the evening.
Freshly killed sheep was on the menu that night. We accompanied the meal with baidu, a very strong Chinese alcoholic beverage. We lit a fire and, with full stomachs and a baidu buzz, we began to dance around the fire holding hands. I didn't know any of the Chinese songs so I mouthed the sounds.
After a few minutes of this revelry a very serious man accompanied by an equally serious couple came up to us and started asking questions. We were told it was the mayor of the city. He had come to see what the noise and fire was all about. I was concerned that we were going to be asked to leave. I thought perhaps we had broken some local law like, no butchering sheep or lighting fires on city property. We explained we were just on our way to Tibet and invited him to share our meal. He accepted and left happy.
All the tents were the same. We were a group of about 30 people so at night when someone went to relieve themselves they sometimes returned to the wrong tent and all night long we heard surprised people loudly complaining in Chinese at the intruder.
Travel really isn't about the selfies, or the mass produced souvenirs sold by street vendors. Years from now you won't remember any of that. What you will remember is that great travel story from "that time when___".
What are some of your more memorable travel stories? Leave a comment and let us know.
(Visited 1,140 times, 1 visits today)