Visitors from around the world have visited, and many have returned to visit, Bandera Texas, The Cowboy Capitol of The World. Bandera is small town about 40 miles outside of San Antonio on the edge of the Texas Hill Country and has a population of less than 1,000. So just how did this small Texas country town in the lone star state earn the moniker of Cowboy Capitol and especially the whole world?
CHECK OUT BANDERA TEXAS ACCOMODATIONS
Well, there are three towns that claim the title. Oakdale California, Stephenville Texas and Bandera. Now Oakdale California claims the title because of a few ranches in the 1930's and cattle were driven there for sale, and they had a few rodeos. Now I am sure they had a few cowboys, but California isn't the first place that comes to mind when you think of cowboys, except maybe the Hollywood cowboys. Stephenville Texas claims the title because they have held the Cowboy Capitol of The World Pro Rodeo every year since 1940. Okay I'll give them a pass, just because they are in Texas and have a bunch of rodeo cowboys. Now, let's look at Bandera.
The city of Bandera was an important stop on the western cattle trails in the late 1800s. In 1874, 3500 head of cattle passed thru Bandera from South Texas on its way to Nebraska on what would become the Great Western Trail. From 1874 to 1894 over 30,000 cowboys drove an estimated 7-10 million longhorns and a million horses through Bandera on the cattle trail. There are over 950 brands registered in Bandera from cattle drives passing through town. In the 1920's local rodeos began and today there are three yearly rodeos held in this small town. In 1948 a San Antonio paper proclaimed Bandera as the cowboy capitol of the world and in 2016 the State of Texas recognized and proclaimed Bandera as the Cowboy Capitol of The World. Not to mention, nine former Pro Rodeo champions hail from Bandera. Good enough for me.
So why do people from all over the world visit Bandera? Well, for one it is close to San Antonio and Austin, which makes for a really easy day trip or weekend getaway. Although Fort Worth has the stockyards and plenty of cowboy hats can be seen, Bandera is full of real cowboys with several ranches in the area. Bandera is in the Texas Hill Country, which for those that have never visited Texas, is a world away from big city life. Rolling hills, laid back living, small historic towns and just plain friendly people. Bandera has events going on throughout the year. From motorcycle rallies to festivals and rodeos, something is always happening. Bandera also has several RV sites and dude ranches in the area. It's a great place to enjoy the outdoors, check out small town charm, shop and just take it easy and relax. Plus, the people are friendly.
Let's take a look at some of the places in Bandera that brings tourists to the area.
WESTERN HERITAGE TRAIL PARK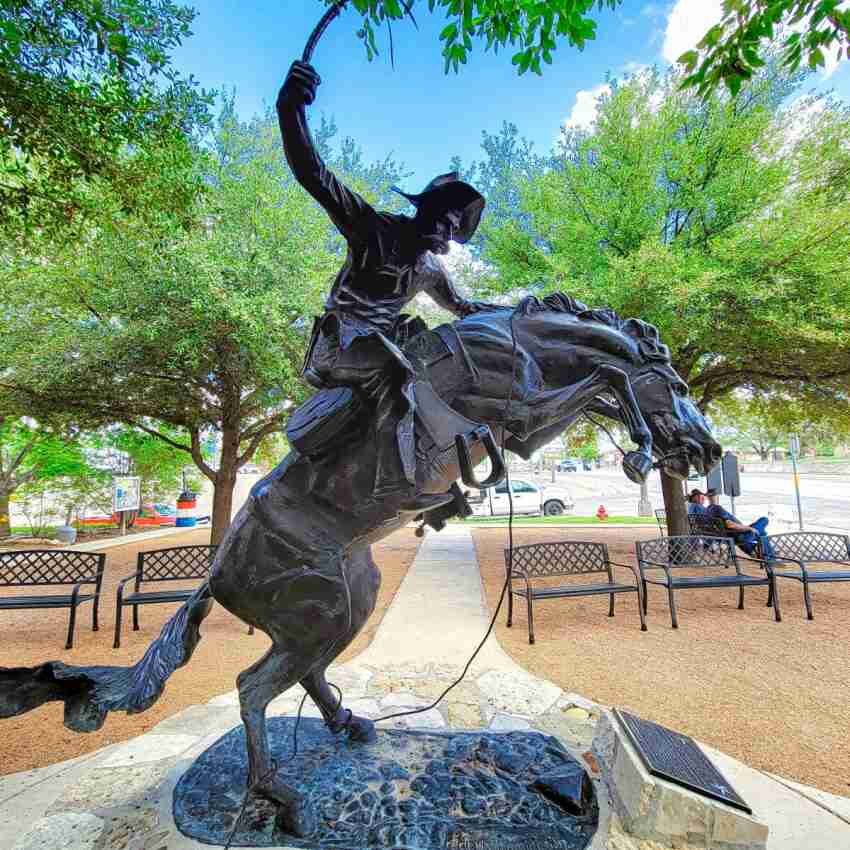 Located on Main Street, the Western Heritage Trail Park is a great little park to take a break and relax on one of the benches during your walk around the town. There are several plaques and a historical marker that tells the story of Bandera, its history and The Western Trail.
On Saturdays from 9am to 1pm you can see Cowboys on the Main with a western chuck wagon a saddle broke longhorn steer that you can saddle up and take a picture on and a skit or two from reenactors about Bandera, along with a gunfight.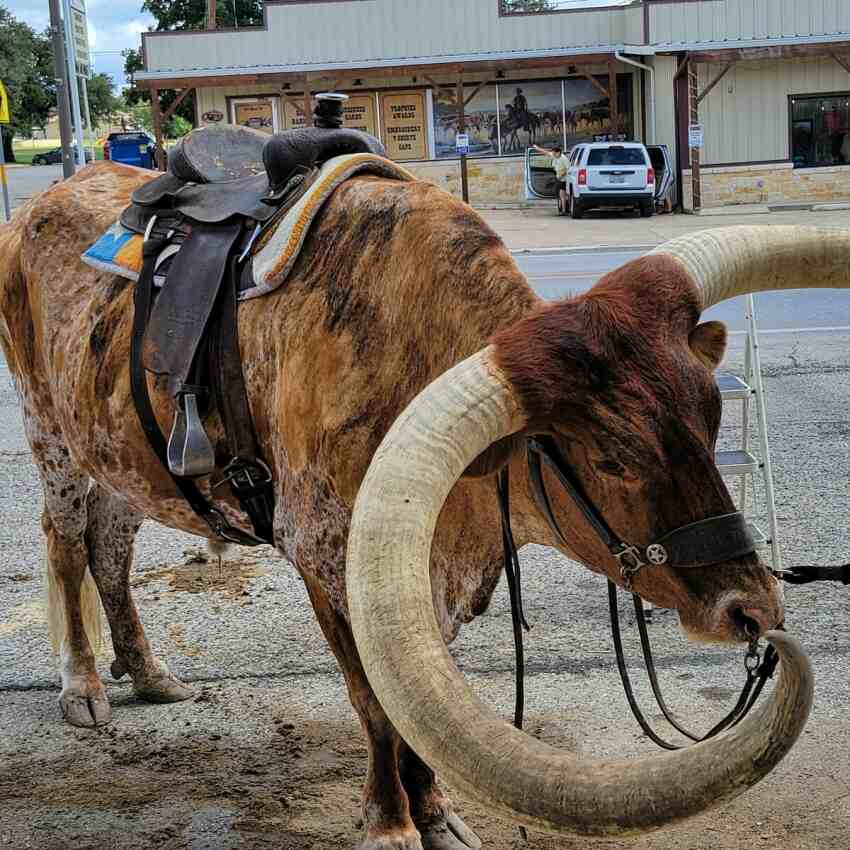 There is also a western wagon that takes people on a tour of the town and all of it is free. Donations are accepted.
BANDERA COUNTY COURTHOUSE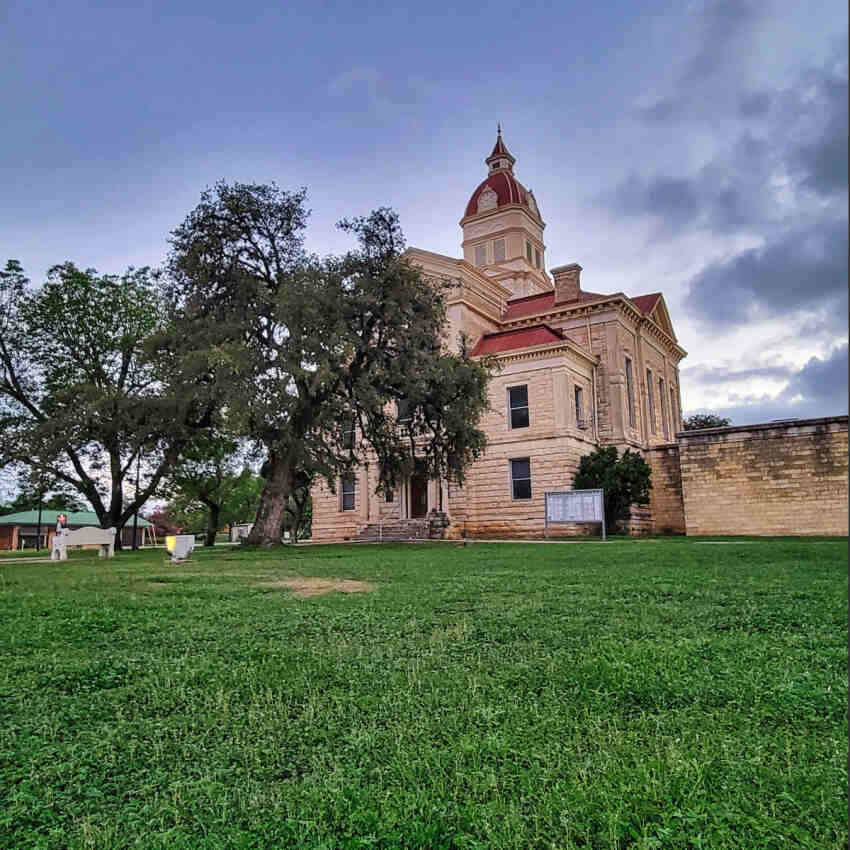 Okay, so why see a courthouse? I know a lot of people that do their best to never get close to one but that's another story. Texas has some beautiful courthouses and small Texas towns offer the best examples. In fact, many people travel to visit Texas Court Houses like some people travel to see birds or visit sporting stadiums. The Bandera County Court House was built in 1890 in the Renaissance revival style of native limestone. It makes for a great photo op and there are several plaques on the courthouse lawn honoring the locals who are rodeo champions, locals who died in WW2, military veterans, Mormon settlers who came to the area in 1854 and others.
BANDERA GENERAL STORE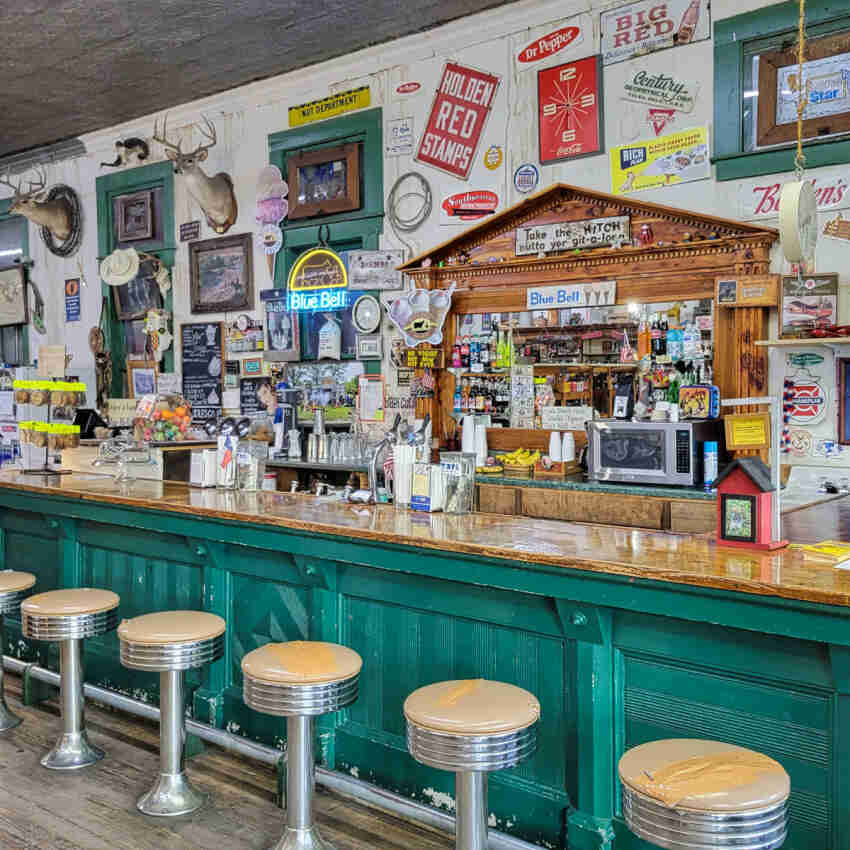 The Bandera General Store, located on Main Street, is a true General Store. Built in 1907 the building still has the original wood floors, tin tile ceiling, and has served as saddle shop, feed store and an appliance store. Stop in and shop for a cowboy hat, boots, various Texas gifts, jams and salsa. Grab something from the soda fountain or get a scoop or two of Blue Bell Ice Cream.
ARKEY BLUE'S SILVER DOLLAR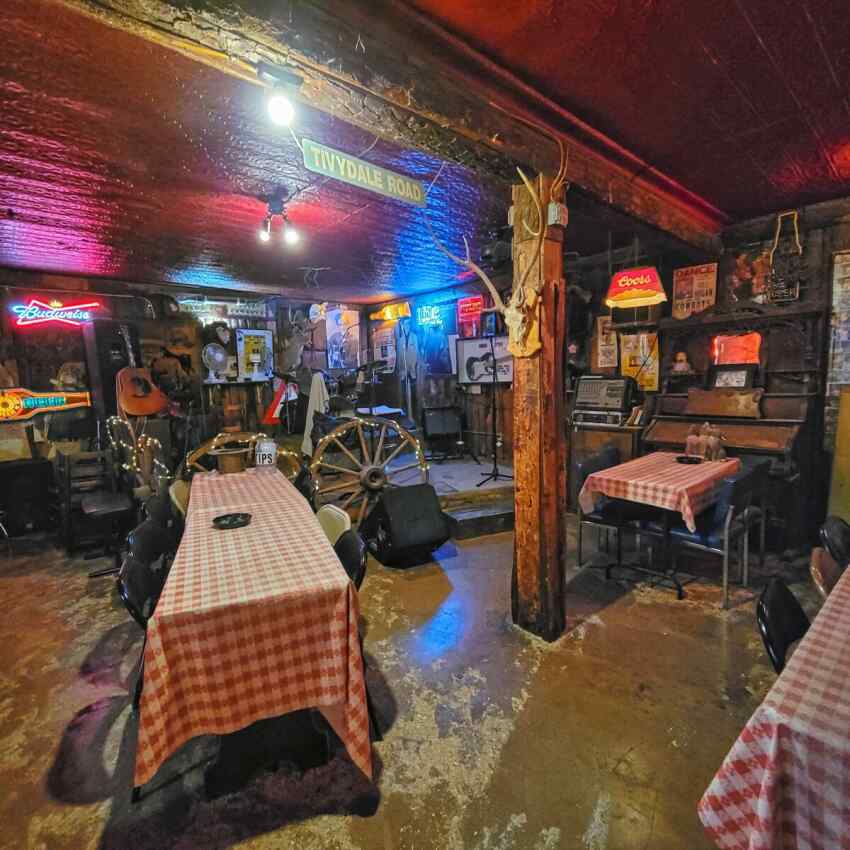 Arkey Blue's Silver Dollar is a Bandera and Texas landmark. The Silver Dollar is located in the basement of the General Store, but you access it by the red door on the street. Having the distinction of being the oldest continuously operated honky-tonk in the State of Texas, the saloon established in the 1930's with the name The Fox Hole, and has seen a lot over the years. There have been quite a few people play the saloon as well, including Ernest Tubb, Hank Williams Sr, Willie Nelson, Robert Earl Keen and many others. Singer/songwriter Arkey Juenke bought the place in 1968 and put his name on it. Arkey started using the last name Blue because his style of music was a mix of country and blues, and his German last name was hard to pronounce. Arkey has written over 100 songs and a couple appeared in movies as well as the saloon being used in a few scenes. Arkey still plays on weekends and the day I stopped in, a little after eight in the morning he was behind the bar. If you stop by you will see a throwback to the old Texas honkey-tonks with a juke box playing 45 rpm records, two pinball machines, photos from over the years as well as show posters from performing artists. Stop by and listen to some live music and on Saturday's hear Arkey himself.
11th STREET COWBOY BAR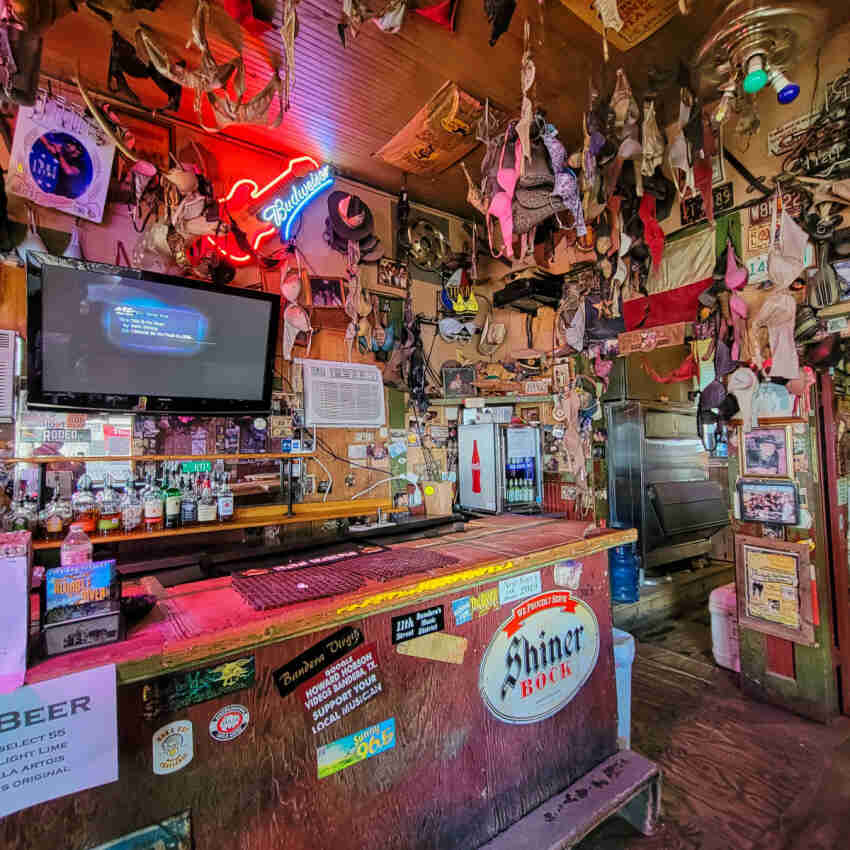 Another Bandera staple is the famed 11th Street Cowboy Bar. Founded in 2006 the bar is situated in an old wood framed building on where else but 11th Street. Once inside you will find a small bar with a couple of stools and hundreds of bras hanging from the ceiling left by previous female patrons. Once outside the side door you will see a covered area with tables and as you round the back, another bar with tables in a covered area.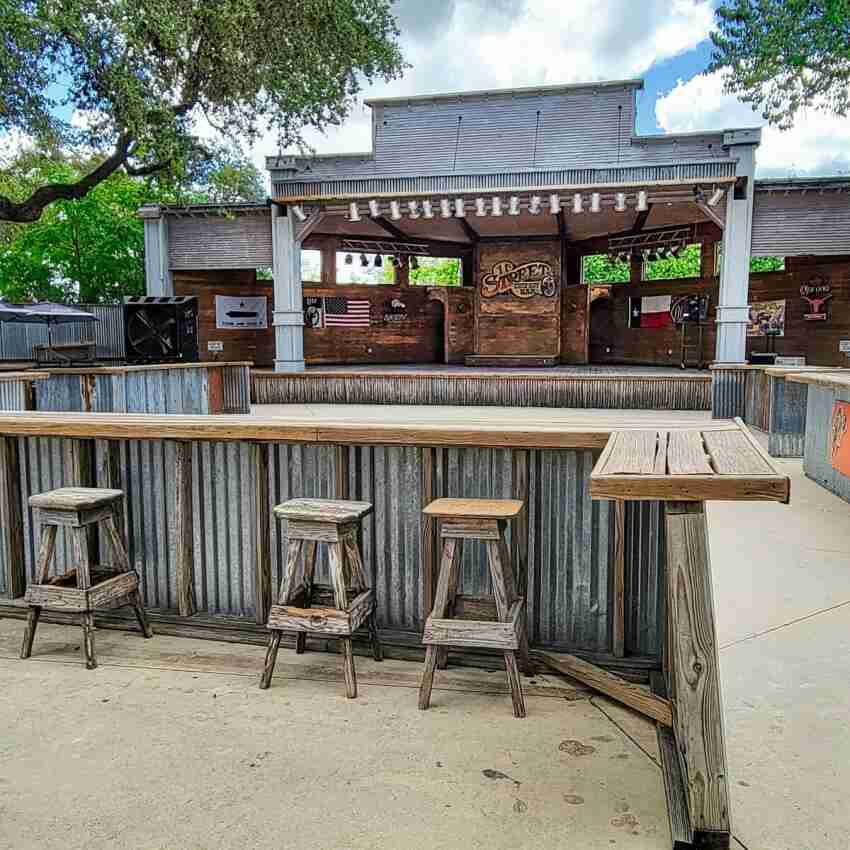 Adjacent to the bar it opens up to a large open air venue with stools and tables, all facing an outdoor stage that features the only jet cooled dance floor and patio in Texas. Featured in numerous magazines over the years it was even featured live on CNN for the Presidential Primary and elections in Texas. Over the years musicians such as Ray Price, Sammy Kershaw, Johnny Dee and the Rocket 88's and many more national and Texas based entertainers have played the venue. If you are there on Wednesday's, you can bring your own steak or other meat and grill it up on their Texas sized BBQ pits.
FRONTIER TIMES MUSEUM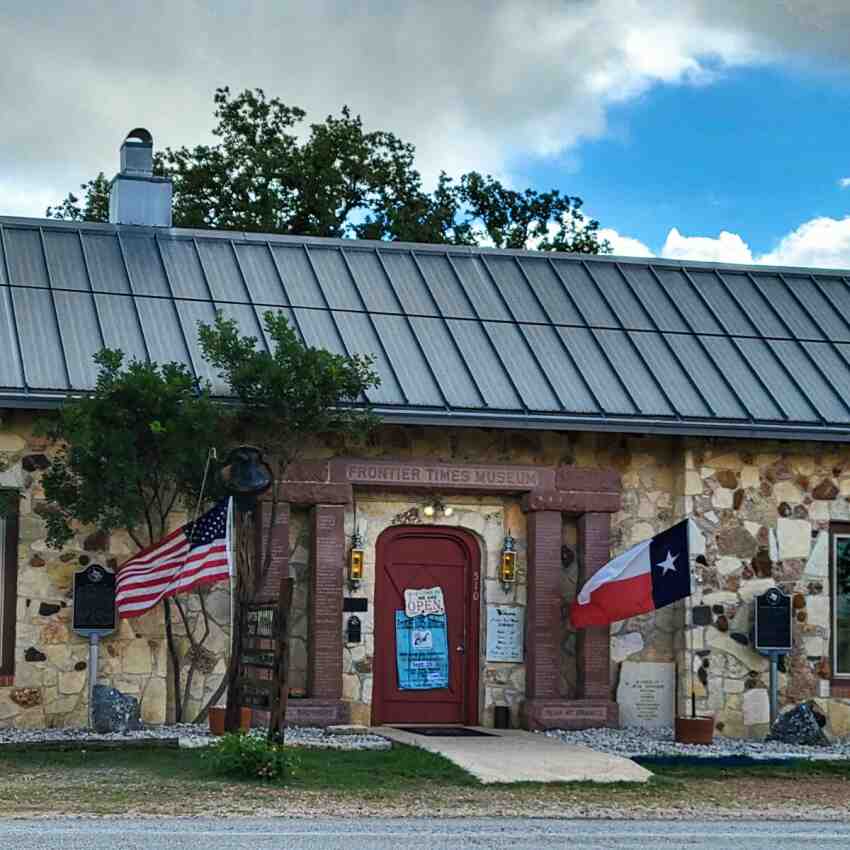 When J. Marvin Hunter moved to Bandera in 1921, he purchased the local newspaper. As an avid seeker of history, he was always interested in tales of Texas and the old west and in 1923 began publishing his own magazine, "Frontier Times". Until 1954 he published stories about early Texas settlers, cattlemen and the history of the old west relying on eyewitnesses, and people that had firsthand knowledge of the events, all told from the point of the eye witness or participant in the event.
People were encouraged to send in their own stories and as a result soon he was deluged with not only stories but artifacts and memorabilia. Hunter decided to open a museum to showcase all these treasures and in 1933 the museum opened. Today the museum is run by a foundation and showcases a wide range of eclectic oddities and history. Everything from old west and early Texas artifacts, western art, curiosities and is home to the Texas Heroes Hall of Honor which honors individuals that through their leadership, creativity and spirit help keep Texas, Texan. Honorees include Joaquin Jackson famed Texas Ranger and author J. Frank Dobie as well as others. Remember I said people from all over the world visit Bandera? Well, there are two display cases with money from all over the world left by visitors. Everything from Asia, Europe and elsewhere, of course small bills but it will show just how popular Bandera is with tourists.
BANDERA NATURAL HISTORY MUSEUM
The Bandera Natural History Museum is worth a visit. They have a permanent display of Spanish art with over 150 pieces of art dating from 1521 to 1820. They also have a superb wildlife exhibit.
ST STANISLAUS CHURCH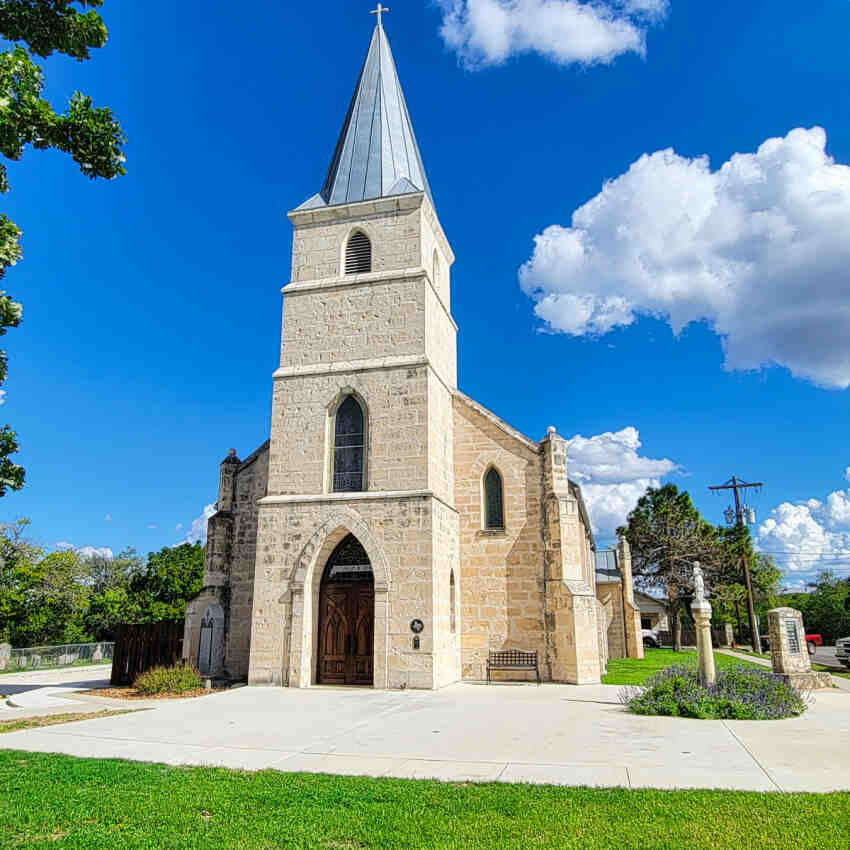 In 1854, several polish families arrived in Texas along with a Franciscan priest. Bandera had cypress trees, a working sawmill, a demand for cypress shingles, and the Medina River as a water source, so the immigrants decided it was a good place to set up their new home and make a living. In 1876 the St Stanislaus Church was built, using native limestone. St Stanislaus is the oldest Polish Catholic church in Texas and the second oldest Polish Catholic church in the United States.
The inside of the church is beautiful, but since services were being held when I visited, I wasn't able to take photos. You'll have to take my word for it and go see for yourself.
BANDERA CITY PARK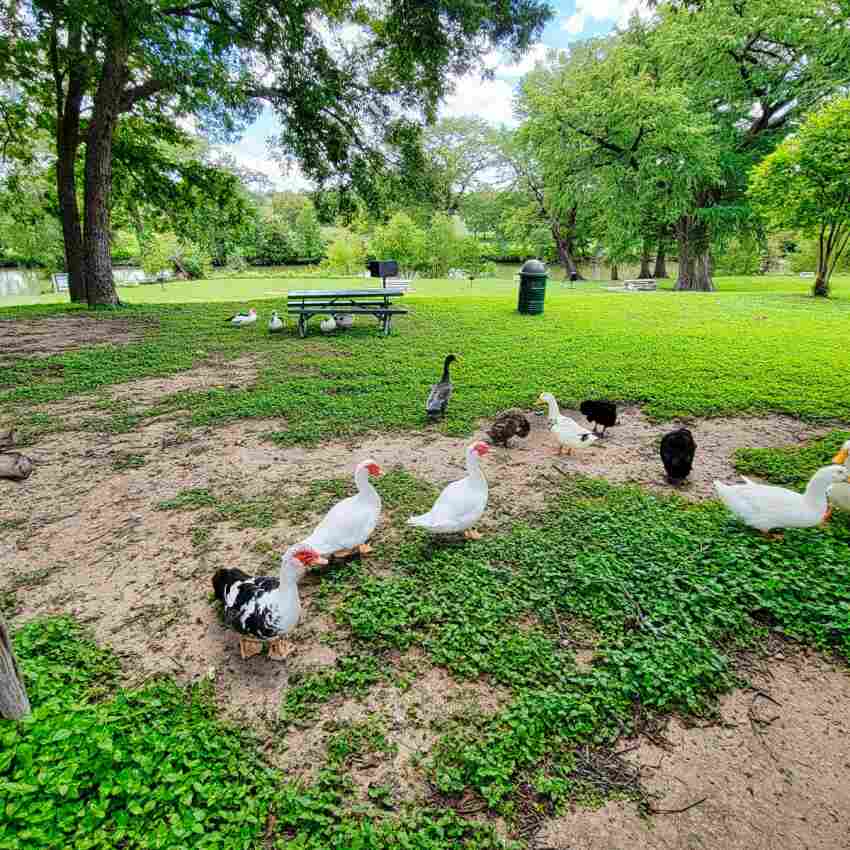 The Bandera City Park, located on the banks of the Medina River, sits on the edge of town and is a fantastic place to enjoy a picnic, BBQ or dip in the river. There are ropes hanging from the trees so you can swing out over the river, a few ducks roaming around and looking for a handout as well as plenty of room to walk or jog. It is also a pretty good place for fishing and there are pavilions you can rent for larger groups. You know you are in the country when horses have the right of way in the park.
HILL COUNTRY STATE NATURAL AREA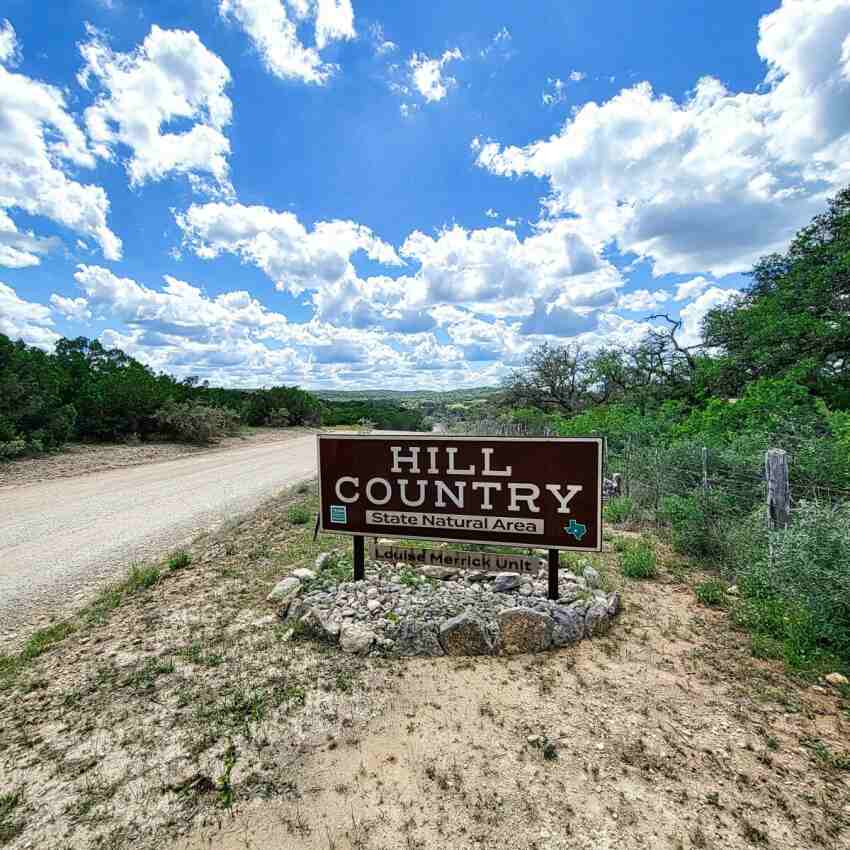 If you really want to experience being out of the big city and in the country, then you need to visit the Hill Country State Natural Area. In 1976 the owners of the 5,370 acre Merrick Bar-O Ranch donated the ranch to the state with the stipulation that it "be kept far removed and untouched by mod­ern civilization, where everything is pre­served intact, yet put to a use­ful purpose." In 1984 the area was renamed Hill Country State Natural Area and opened to the public under the supervision of Texas Parks and Wildlife.
There are minimal fees for entrance and fees for utilizing the facilities such as campsites, a group lodge that can sleep 12, and a group camp with hook ups, picnic tables and such for RV's. There are even horse troughs, and you will probably see people on horseback riding one of the many trails throughout the area. With rocky hills, seasonal flowing springs and deep canyons, you are truly in the outdoors.
SHOPPING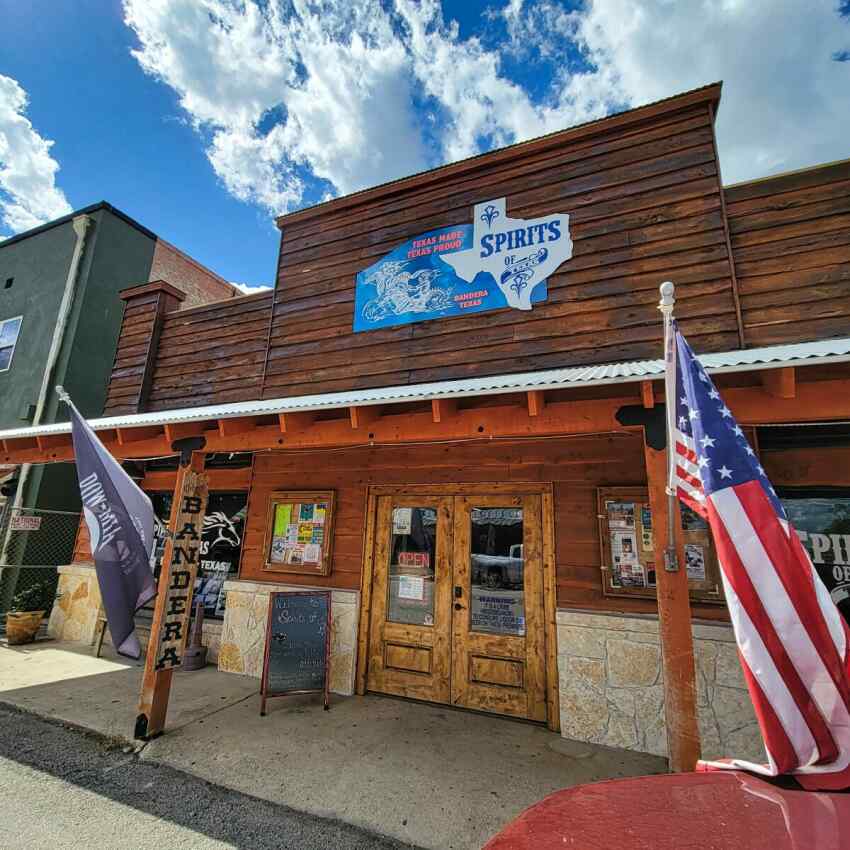 What is a trip without a little shopping or at least checking out some of the local stores? I already told you about the General Store, which is a great place, but Bandera has some great boutique shops. Check out the Cowboy Store for boots, hats, and all things western wear. The Cedar Street Market has women's clothes, consignments and vintage clothing. The American Indian Jewelry Store has a ton of authentic American Indian jewelry, handcrafted by members of the Hopi, Zuni, and Navaho tribes. SB Western Silver and Knives has custom silver jewelry and handcrafted knives for sale and you need to stop by Spirits of Texas. No, it has nothing to do with ghosts, it is a liquor store. Why a liquor store, you may ask? Well, they sell spirits distilled and bottled from Texas. Everything from vodka, to bourbons, whiskeys and wines. Plus, they have other Texas themed items for sale as well as clothing. The Western Trail Antiques Marketplace has a world of treasures. There are all types of collectibles, western antiques and clothing, Texas themed gifts and sodas made with pure cane sugar. You haven't had a soda until you have tried one of these. There are a lot more little stores to explore while you are in town, and all are well worth a visit.
After visiting Bandera, you will want to plan on returning. It is a great small town, full of history and always has something going on. It might be a bike rally, festival, rodeo, cook off or parade but you will always have a fun time in Bandera Texas, The Cowboy Capital of The World.
Reccomended posts
(Visited 1,724 times, 1 visits today)