My trip was hosted by the US Virgin Islands tourism bureau. The following post contains affiliate links.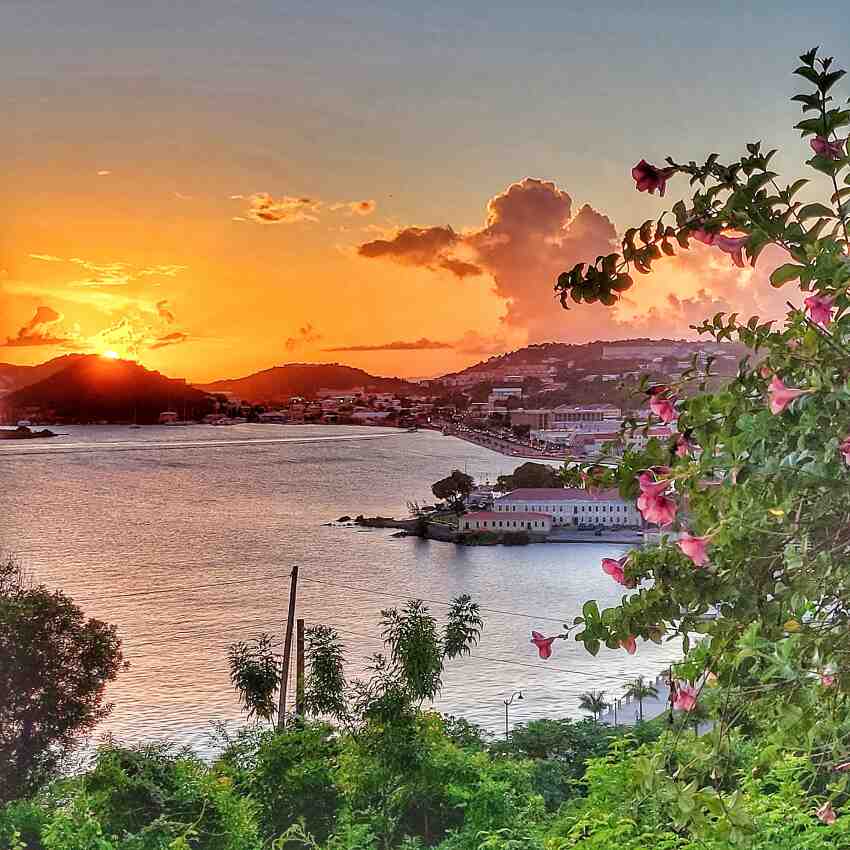 Thousands of Americans travel each year to relax and enjoy some tropical island paradise. Many go Asia, which I love and admittedly have beautiful beaches. Others head to Hawaii, while others opt for closer to home in the Caribbean. Unless you have been on a cruise ship, I would say most people have never visited the U.S. Virgin Islands. Look at the statistics. Ten million people visit the state of Hawaii each year, while fifteen million people visit the city of Cancun yearly. On average, two million people visit the Caribbean paradise of the US Virgin Islands each year, with about 1.5 million of those visitors being cruise ship visitors who spend a few hours at their port of call.
With those numbers you can see that a visit to America's Caribbean paradise can be a great experience. I recently made my first visit to these beautiful islands, and I wish I had visited long before. Some of the best beaches in the world. World class, duty free shopping, historic locations and fantastic food in a tropical setting made for a great visit. Not to mention the friendly people I met.
Things to know about the US Virgin Islands
As the name implies, the US Virgin Islands is US soil. As such, US citizens do not need a passport in order to visit. Although a passport isn't needed, I always travel using mine even on domestic flights. It just makes things easier. You do have to go through customs and immigration when departing, even though you are returning to the US mainland. Something about being out of the customs territory.
The US Virgin Islands belonged to Denmark and were known as the Danish West Indies from 1754 to 1917, when they were sold to the United States. As such there are a lot of historic buildings and forts dating from the Danish era.
While you can rent a car to get around, it is best to just get a taxi or hire a driver. First, the roads on St Thomas and St John are really narrow and some very steep. Second, they drive on the left hand side of the road. So, unless you are extremely comfortable driving in a place you don't know, on the opposite side of a narrow and steep road, I would just hire a car or take a taxi.
The US Virgin Islands is made up of three main islands. Each island has its own personality, and I had the opportunity to visit each one.
Visiting St. Thomas USVI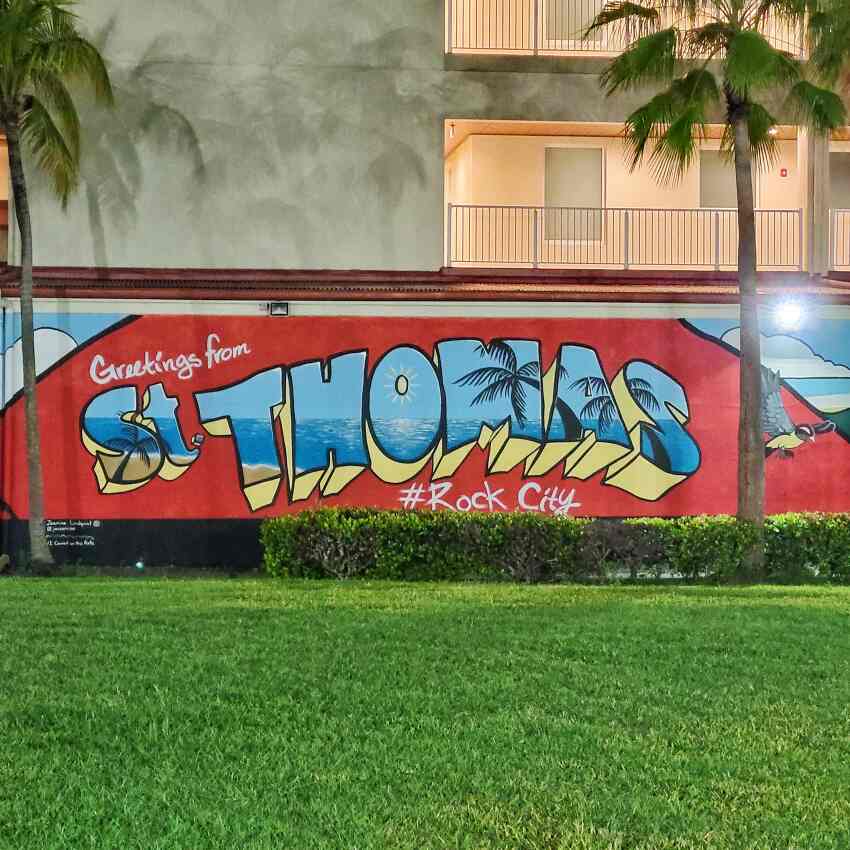 The nickname for St Thomas is "Rock City" because it is basically one big mountain. The roads are narrow, winding and steep. St Thomas has also been continually named as one of the best ports of call for cruises in the Caribbean.
How to Get to St Thomas USVI
Although a lot of people arrive on one the many cruise ships visiting the islands you can also fly into the capital, Charlotte Amalie. If arriving by plane, you will fly into Cyril E. King Airport in St Thomas. You can get direct flights from several US cities. There are also ferries that run from Tortola, British Virgin Islands to St Thomas.
St Thomas has a lot of interesting, historic and just plain fun things to do and see. I didn't get to see or experience all of them, but I did get to experience quite a bit in my short time there.
Things to See and Do on St Thomas
Shopping
Shopping in St Thomas is fantastic. With shops lining the streets of Charlotte Amalie, the capital, you can find just about anything you desire. One thing to remember, the price you see on the tag is the price you pay. There are no taxes added and your purchase is duty free. The US Virgin Islands is a tax free shopping mecca. US Citizens can bring up to $1600 worth of goods duty free the United States, including 5 liters of alcohol as long as one is produced in the USVI, such as Cruzan Rum. Some of the other popular items include, gold and diamond jewelry, watches and tobacco.
Visit Drake's Seat
For a great view of Magens Bay and the British Virgin Islands, take a trip up the mountain to Drakes Seat. Named after Sir Francis Drake, famed explorer or blood thirsty privateer, depending on who is telling the story. It is said Drake would use this lookout to spot invading ships in the area.
Skyline Overlook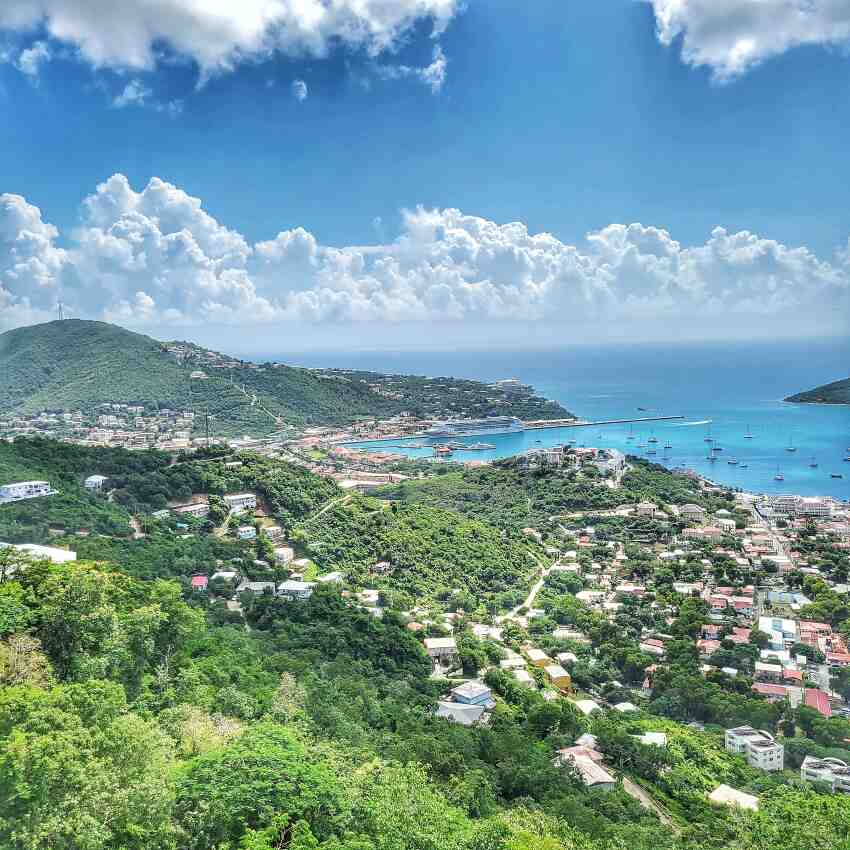 Skyline Overlook is another great spot overseeing Charlotte Amalie and the harbor. From this vantage point you can see the harbor, Hassel Island and Water Island. There are also vendors set up at the overlook selling typical souvenirs. When I was there one of the vendors was a steel drum musician and he was set up and playing and I must say, he was pretty good. I wound up buying a cd of his music.
Mountain Top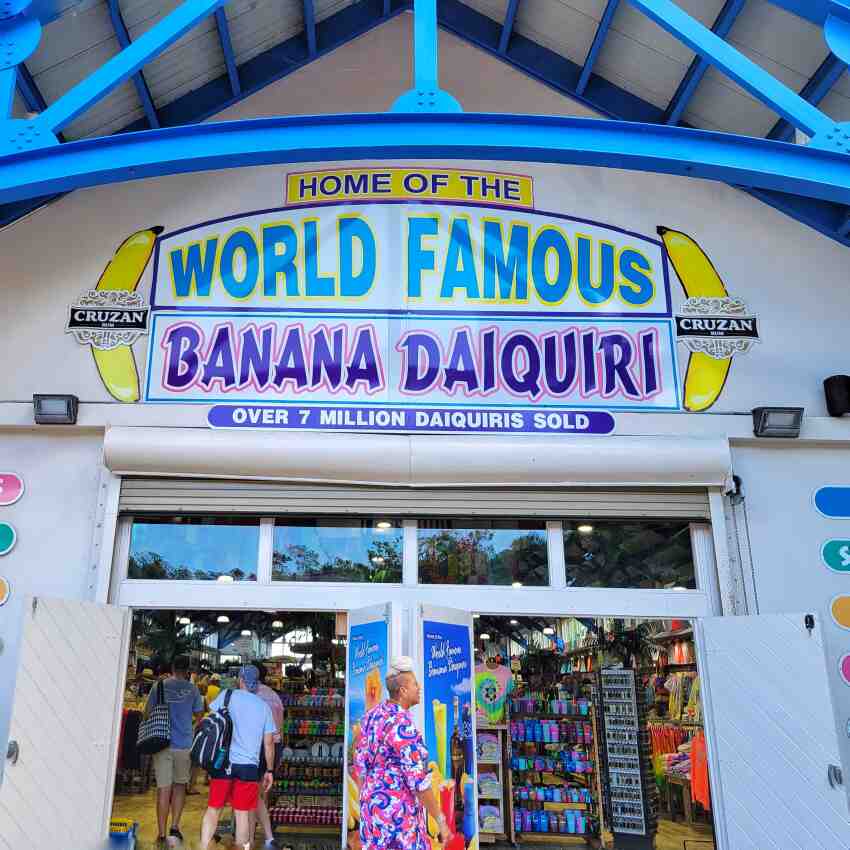 If you have ever been on a cruise to St Thomas and taken an excursion on the island, chances are you went to the self proclaimed Home of The World Famous Banana Daiquiri, Mountain Top facility. Located 1200 feet above Magens Bay, Mountain Top offers the very best views of the island along with the bay and nearby British Virgin Islands. It is also the largest duty free shop on St Thomas and offers up their world famous Banana Daiquiri's. The view from the outside pavilion is one of the best on St Thomas.
Paradise Point and Skyride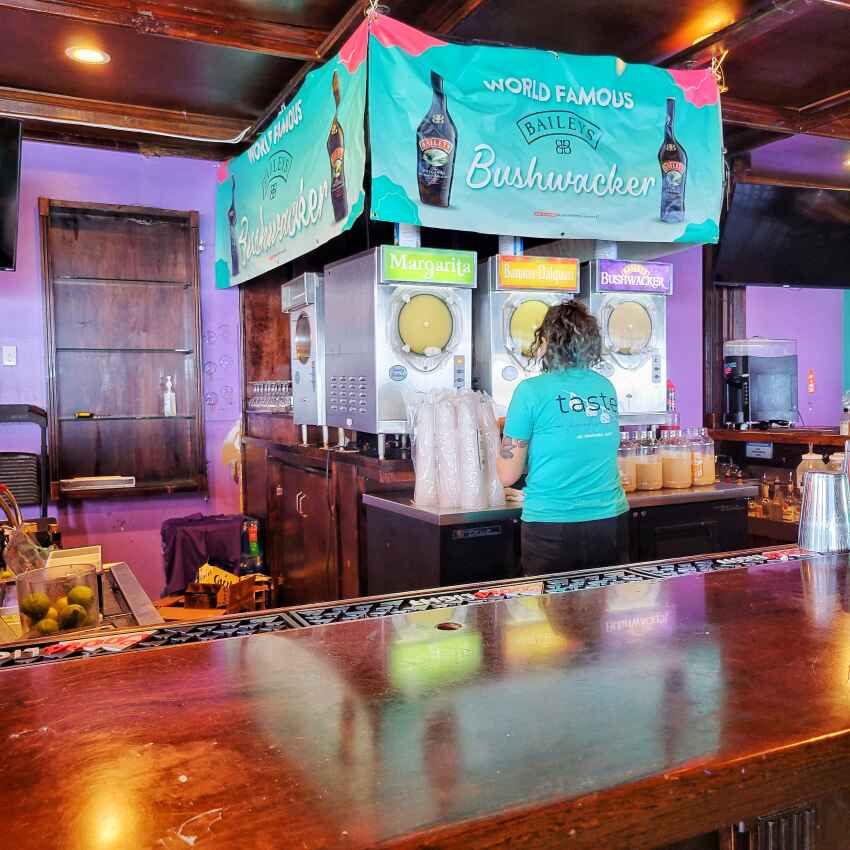 Paradise Point sits overlooking the cruise ship docks. The current owner purchased the property from the Queen of Denmark some years ago and has since been working to make it a premier destination. From Paradise Point you can see downtown Charlotte Amalie, the port and on a clear day Puerto Rico and St Croix. Once at Paradise point you can enjoy the bar and have one of their nice, cold Bailey's Bushwhackers. I can attest, it really hits the spot. Stroll around and take in the views, have a meal at the Bistro Restaurant or make a reservation ahead of time for the Prime Steakhouse. In order to get to Paradise Point you either take a car up the mountain or the skyride. The Skyrise is an 8 person capacity tram that takes about 7 minutes to make the climb and offers great views. The ride is located across from the port next to the Pirate Museum and costs $24.95 for adults and $16.95 for children for a round trip ride. It runs most days that cruises are in port.
Pirate Museum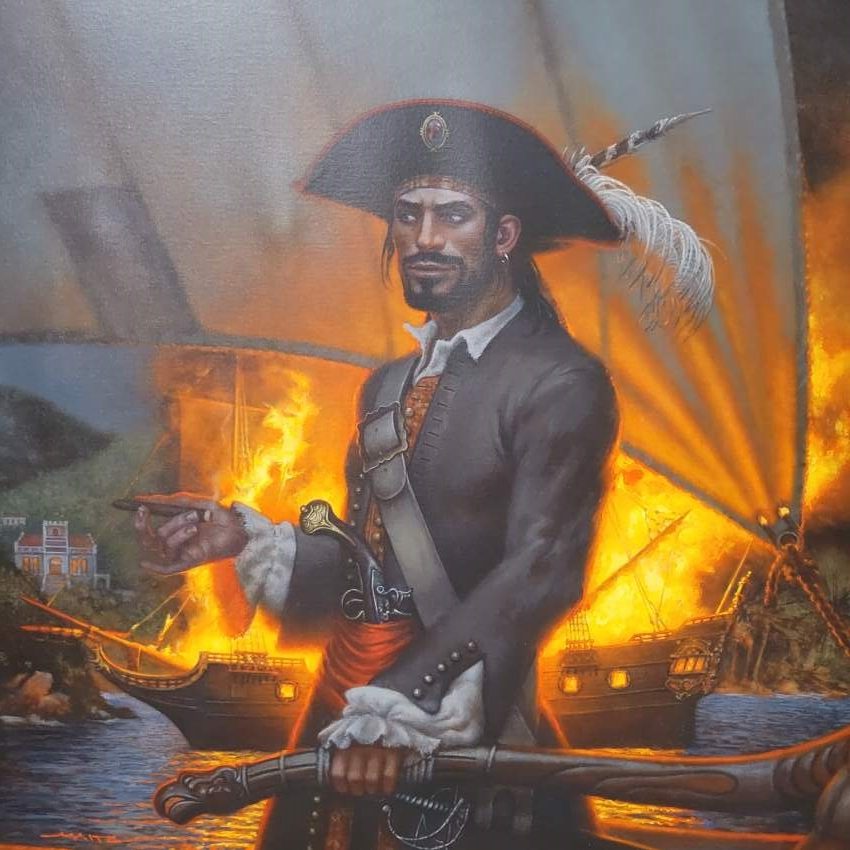 The Pirate Museum is located close to the Skyride and is a fantastic museum to learn about pirates, the role they played in the Caribbean and see some really cool treasure that has been found over the years. They have a few interactive exhibits as well. You can see some of the artifacts and treasures discovered from the Odyssey Marine Exploration.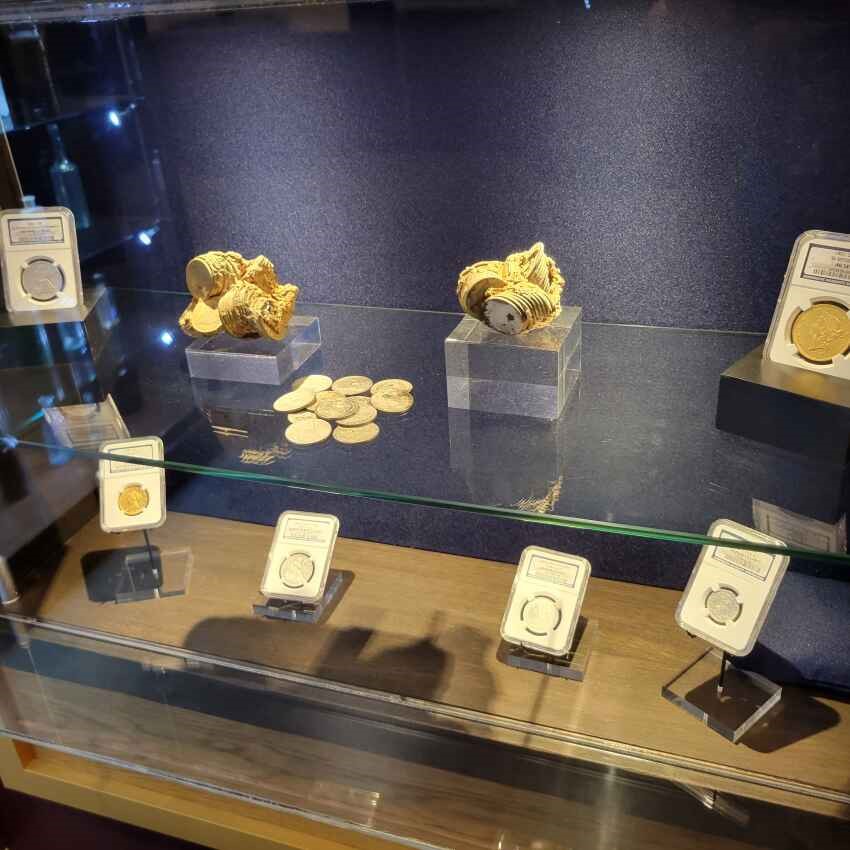 Once you finish touring the museum you can stop by the gift shop and pick up some real treasure finds on sale as well as other coins and souvenirs. The Museum is located at 17-1 Estate Thomas across from Crown Bay, cruise port.
St John Brewers on the Waterfront Tasting Room
After a long day of wandering around the island, checking out the sights and shopping, step into the St John Brewers Tasting room for a cold beer. While the beer is brewed on the nearby island of St John, and they have a great tap room there, you don't need to travel there to get a great craft beer. Located conveniently on the waterfront, near all the shopping, the tap room is located in a historic building and has a great vibe. The staff is friendly and knowledgeable, and they also sell some branded souvenirs to take home. In addition to the beer, they sell spirits as well. I picked up a really good bottle of sipping rum and they wrapped it in bubble wrap and put it in a box for me to put in my checked bag and take back home. The tasting room is located at 5332 Raadets Gade, Ste 4, St Thomas.
Pelican Cigar Shop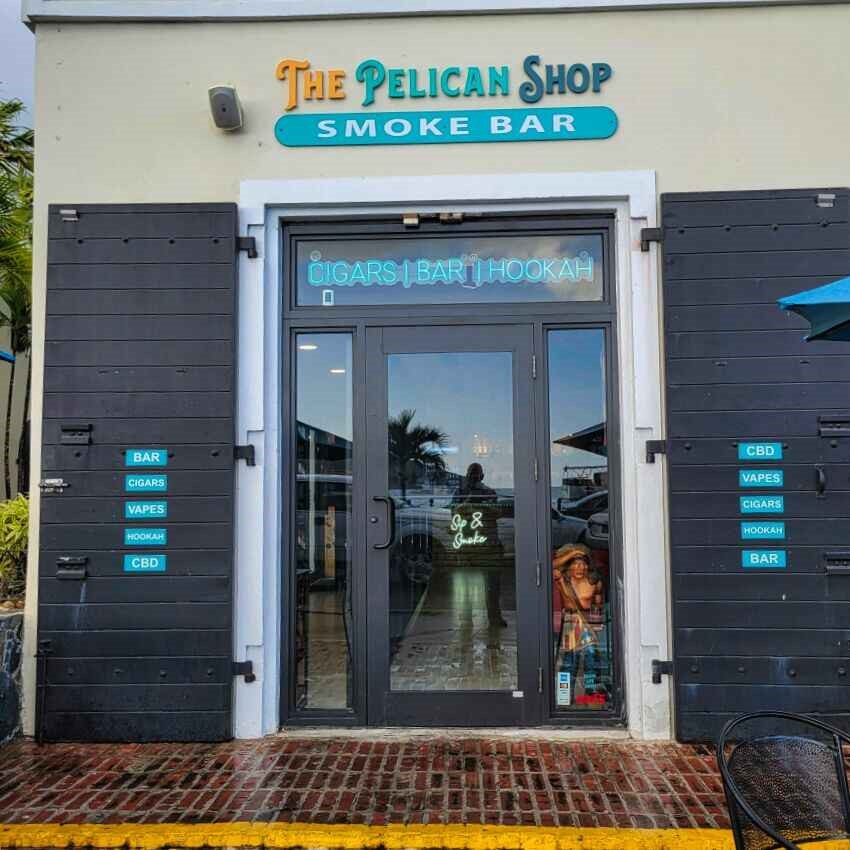 By now you know I love cigars and always try to find a good cigar shop when I travel. I found one in the Pelican Cigar Shop. It doesn't have the largest walk in humidor, but what they do carry are quality cigars. There is a good selection, and the owner and staff can recommend a good one if you are not sure what to get.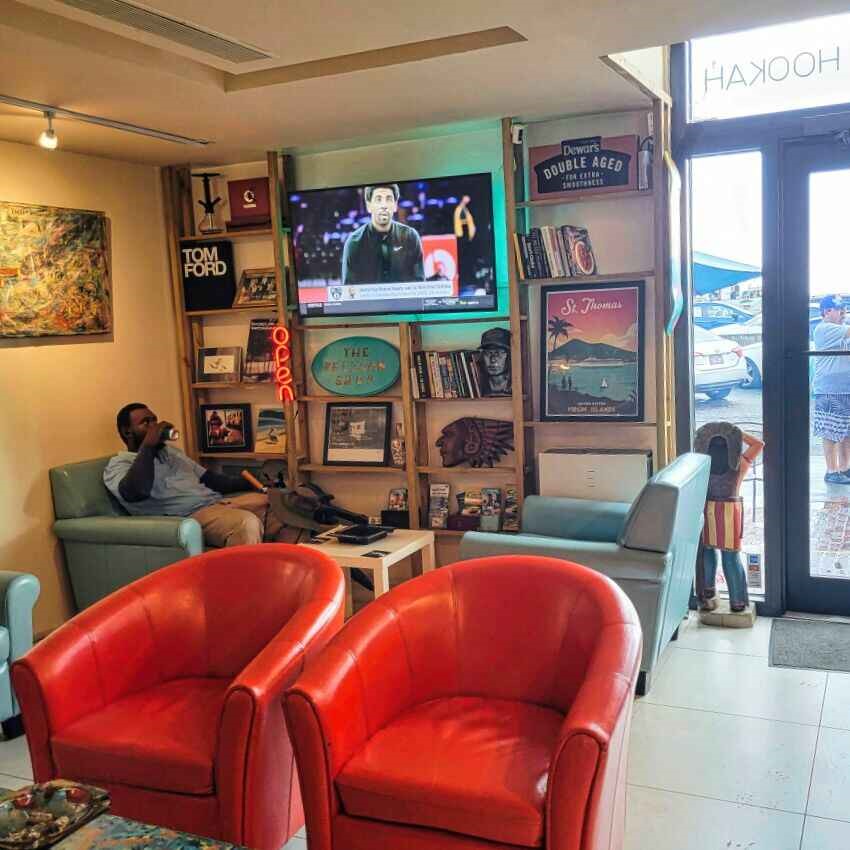 They have a nice lounge with a good mix of locals and tourists stopping in. Big comfy chairs, and a nice bar with a good selection of spirits. There is also a small side are outside to sit and enjoy your drink and cigar and for those so inclined they offer hookahs.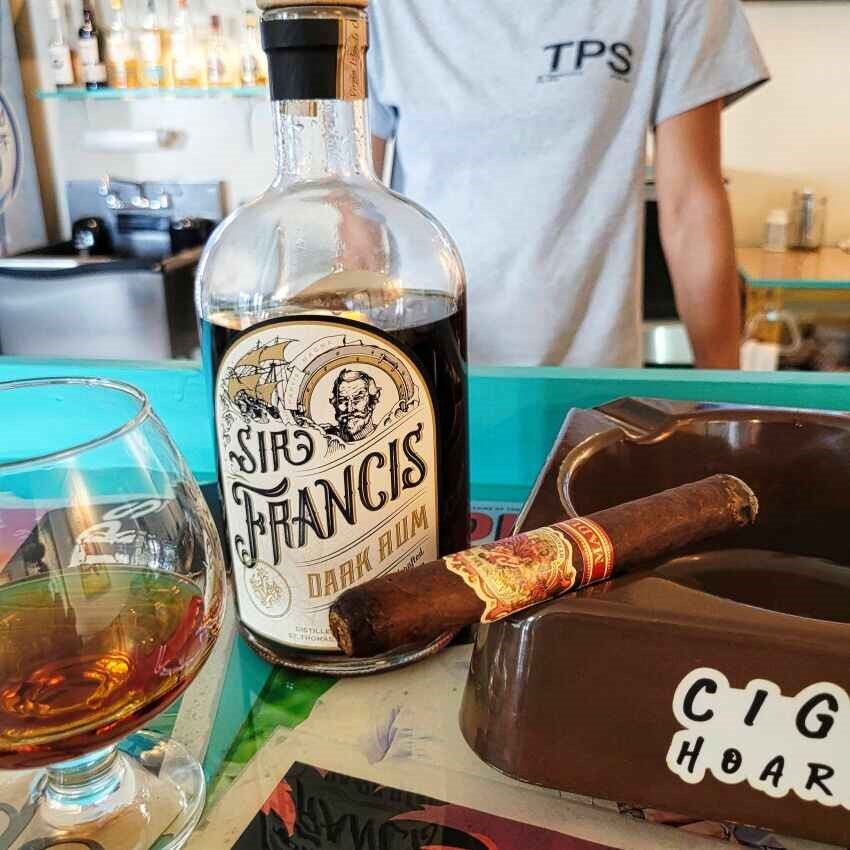 The shop is located right on the main street downtown in Charlotte Amalie and it makes for a good place to relax, enjoy a great cigar or hookah and do some people watching. The Pelican is located at 37A Dronningens Gade St, St Thomas and open from 12pm to 10pm daily.
Fort Christian
Fort Christian was built between 1672-1680 as part of the Dano-Norwegian and later Danish administration defensive strategy and as a government building. Fort Christian is a St Thomas National Historic site and is open for visitors to tour and see what early island fortifications looked like. Named after King Christian V of Denmark the fort has served as a town center, a government building, and a jail. The fort is open Monday thru Friday 8:30 to 4:30 and has exhibits on the history of the Virgin Islands from the Stone Age to the present, as well as a natural history section, a furniture collection from the Danish period and an art gallery.
Jewish Synagogue
Jews began arriving to St Thomas in the 1600's and an organized community has existed since 1796. The Synagogue of The Hebrew Congregation of St Thomas has occupied this area since 1803 but over the years the building has been destroyed by fire several times. The current building was restored in 2000 and is the oldest synagogue building in continuous use under the American flag. It is also the second oldest synagogue in the Western Hemisphere and one of only five synagogues in the world with sand on the floor. The significance of the sand is both to remind the congregation of the 40 years the Jews spent wandering the desert during biblical times and to pay homage to their Portuguese ancestors who fled the inquisition and found refuge in Holland. They would put sand on the floors to muffle the sounds of prayers and singing. The synagogue offers tours and has a museum holding historic artifacts.
Red Hook
Red Hook is an area on the East side of the island and is known for its marina, fishing and boating excursions as well as bars and nightlife and cool island style shops. Red Hook is also where the ferry to the island of St John is located. Most of the time the ferry runs from 5:30am to 11:30 pm and takes you to Cruz Bay on St John. The ferry is comfortable and takes about 45 minutes. Tickets are Adult: $12.00 | Adult Non-Resident: $13 | V.I. Senior Citizen: $6.00* | Child: $3.50 | Infant: Free | Bag Fee $4.00. There are also ferries from Charlotte Amalie and Crown Bay to St John.
Where to Eat on St Thomas
13 Restaurant
Not only did I have a great meal at 13 Restaurant, I had the opportunity to meet and chat with the Chef. Chef Tully Wilson hails from Nashville and is a graduate of the Culinary Institute of America. Prior to taking the helm at 13 Restaurant he owned Tully's Bistro in Tennessee and was the winner of the reality show, "Chef Wanted" in 2012.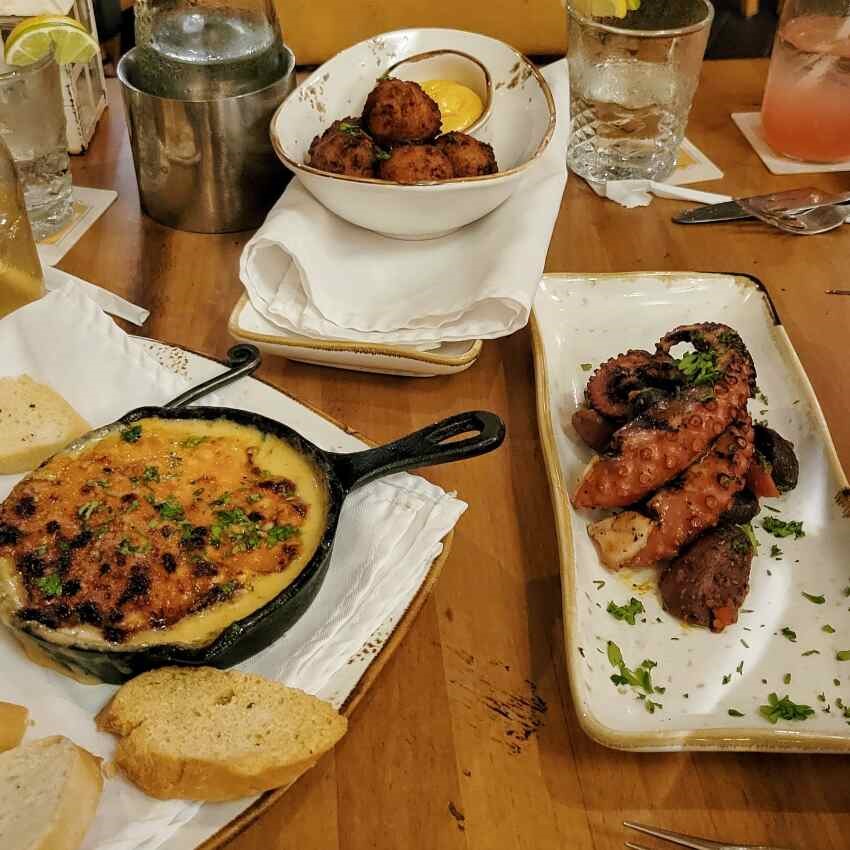 He serves up his own take on Southern Cuisine with an island vibe. Everything we ate was fantastic, from the appetizers to the dessert. Trust me, just go there and you will enjoy it. 13 Restaurant is located at 5304 Yacht Have Grande, St Thomas.
Oceana
Located in the area known as French Town, a historic fishing village in Charlotte Amalie, Oceana is one of the islands premier restaurants. The property sits on a historic estate originally settled by the first Danish Governor of St Thomas between 1672 and 1679 and just across the bay from Hassel Island and Water Island. The menu offers seafood along with amazing steaks, New Zealand Veal chops, and short ribs. For dessert try the bananas foster bread pudding or lemon cheesecake. Oceana is open Tuesday thru Saturday from 5pm to 9:30pm, reservations are highly recommended. The restaurant is located at #8 Honduras, Village Olga, Frenchtown, St Thomas.
Petite Pump Room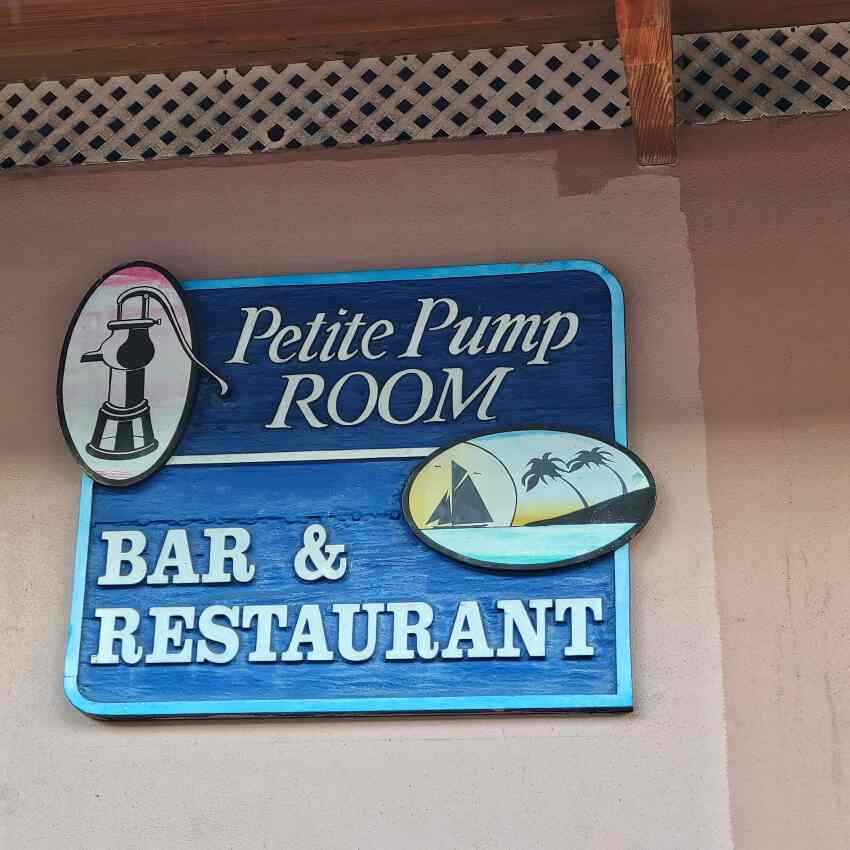 If you want to try true Island food, then the Petite Pump Room is a must. Located on the water's edge of Charlotte Amalie Harbor, the restaurant is popular with locals and tourists alike. Nothing fancy here, just good island cooking with all the favorites. Breakfast menus include hearty staples like bacon, eggs, potatoes and French toast as well as lobster, Conch, Salmon and breakfast sandwiches.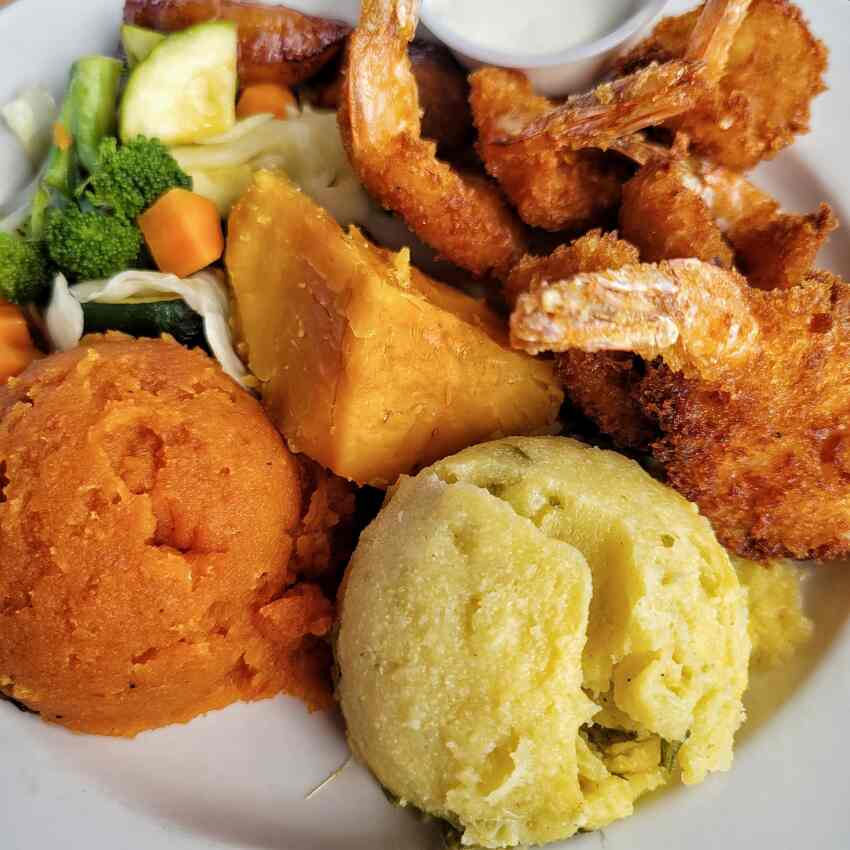 For lunch try some coconut shrimp or one of the other many offerings such as fried conch, sandwiches and burgers and soups. You have to get some fungi and potato stuffing, just trust me on this one. They also have daily specials. The Petite Pump Room is located at the Edward Wilmoth Blyden Building on Veterans Drive on the waterfront near the seaplanes and ferries to St Croix. The Pump Room is open Monday thru Saturday 7:00 to 5:30 and also Sundays during season.
Where to Stay on St Thomas
Blue Beards Resort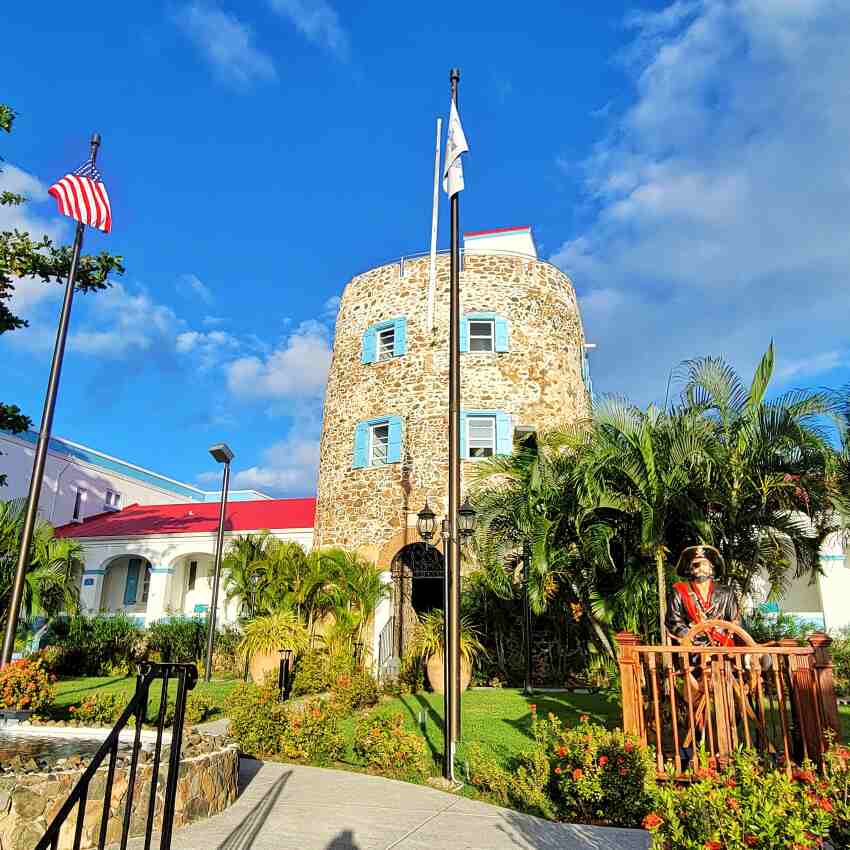 I stayed at the famed Bluebeards Hotel, a historic property dating to the 1600's. The property includes an old fortress tower named after the pirate Bluebeard and the main check in area is located in the former residence of the Danish Governor of the island. Bluebeards sits perched on a hill overlooking downtown Charlotte Amalie and the port, offering stunning views of sunset and sunrise over the bay. The hotel offers studio rooms as well as one bedroom suites with mini kitchenettes and balconies. The hotel also has a gastropub open daily from 11am to 11pm, coffee shop, deli and small convenience store open 8am to 11am, Sunnyside Café and poolside bar, as well as a swimming pool and large deck area for lounging or taking in the views. Bluebeards is a fantastic hotel and the only one I had the opportunity of staying at but there are a lot of options for lodging on St Thomas, from hotels to resorts and rentals.
Check out some of the best accommodations on St Thomas
Visiting St. John USVI
The island of St. John, also known as "Love City", is about 20 square miles in size, with two thirds being a National Park. With that, St John is home to some of the most beautiful, pristine beaches in the world. In fact, there are over 35 beaches on this small island and while all are public, many are only accessible by boat, with no roads accessing them.
How To Get To St John USVI
To get to St John, head to Red Hook and take the ferry, which takes about 45 minutes and arrives at Cruz Bay. Once you arrive at Cruz Bay you disembark to the main town on the island, Cruz Bay. There are other places on the island where you see homes and places to eat but for shopping or restaurants the majority are located at Cruz Bay. A smaller town, Coral Bay is located on the eastern side of the island.
Things to See and Do on St John
Rent a Safari Truck
The absolute best way to take a tour of the island and see the sights is by renting a Safari Truck. You can rent a car, but why take on the hassle of trying to figure out where you want to go and navigating steep unfamiliar roads when you can have someone that knows the island and its history and can take you to the best places? You can find Safari Trucks around the ferry landing and trust me, they are your best bet for taking in the sights. I reccomend Kenneth's Taxi Service (pictured above). You can reach him at (340) 513-2438.
Shopping
There are a lot of little island shops all around the port area as well as vendors set up in the park, which is close to the ferry landing. You can pick up all kinds of stuff or just do a little window shopping and browsing. Chances are you will find something you want to take home with you.
Visit Mongoose Junction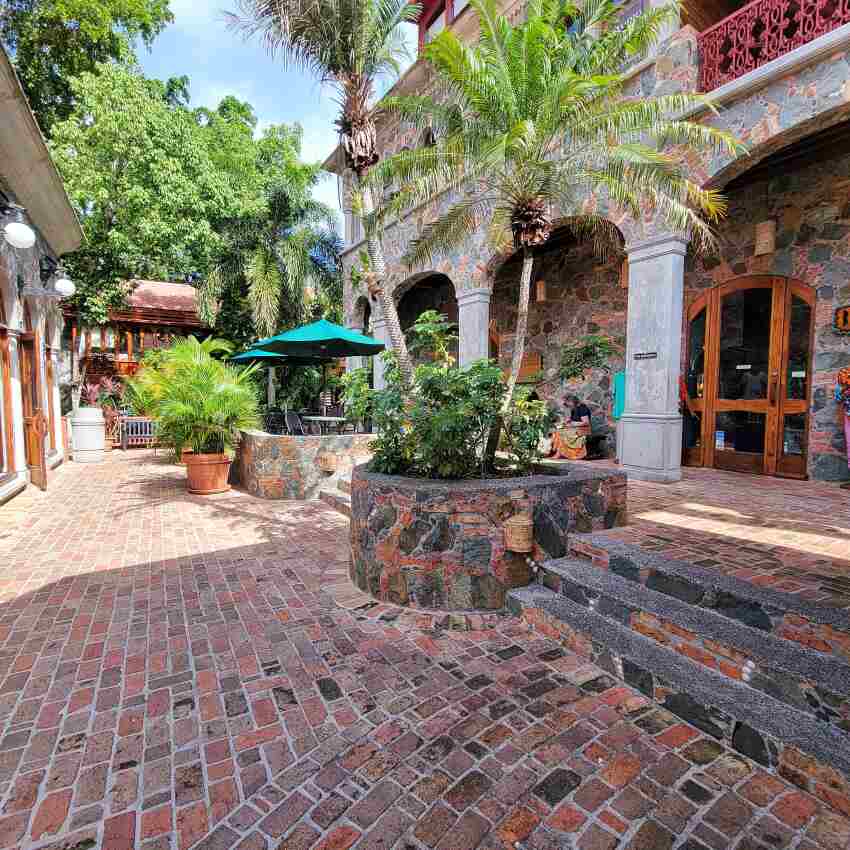 Mongoose Junction is a multi shopping and dining retail space located on the road headed out of town heading to the National Park. Only a five minute or so walk from the ferry you can spend all afternoon exploring the shops, having a drink or chowing down on some really good food. With around eighteen shops and eight bars and restaurants, it is a great place to relax.
St John Brewery Tap Room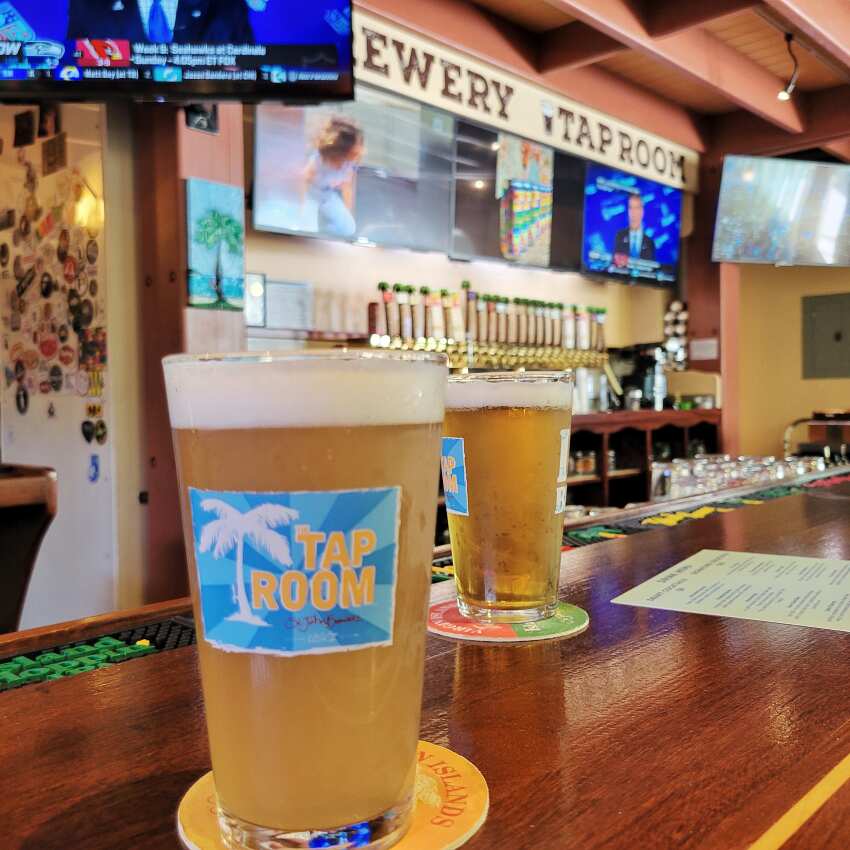 While they have a tasting room on St Thomas, the St John Brewery is located at Mongoose Junction. In addition to making the beer here they also have a pub and serve up food. You can stop in for a cold brew, watch some sports on TV have a snack and just relax with friends, or make new ones. They have a wide variety of craft beers, and the staff is friendly and knowledgeable.
Bajo El Sol Gallery Art Bar and Rum Room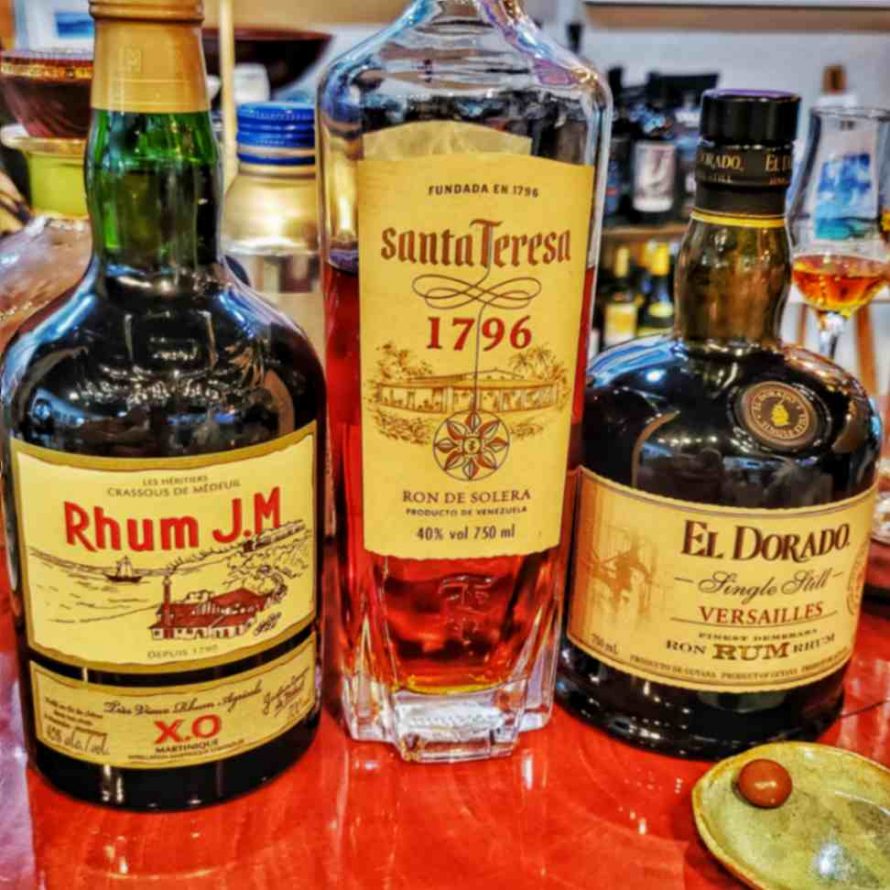 This one unique place. The Bajo El Sol Gallery Art Bar and Rum Room is a combination bookstore, art gallery, café, rum and cocktail bar. Run by Priscilla Rivera and David Knight, you can pick up locally made jewelry, art or a good book. Everything is from local artists. They also have the largest selection of rum on the island. Over 200 different rums, mainly from the Caribbean, but also from other parts of the world as well.
If your idea of drinking rum is a rum and coke, you are in for a surprise. They have some excellent sipping rums and in case you can't make up your mind, sign up for a tasting. They are extremely knowledgeable in all the rums and can point you to a good one. The Bajo El Sol Gallery and Rum Bar is located in Mongoose Junction on the ground floor.
Tour the National Park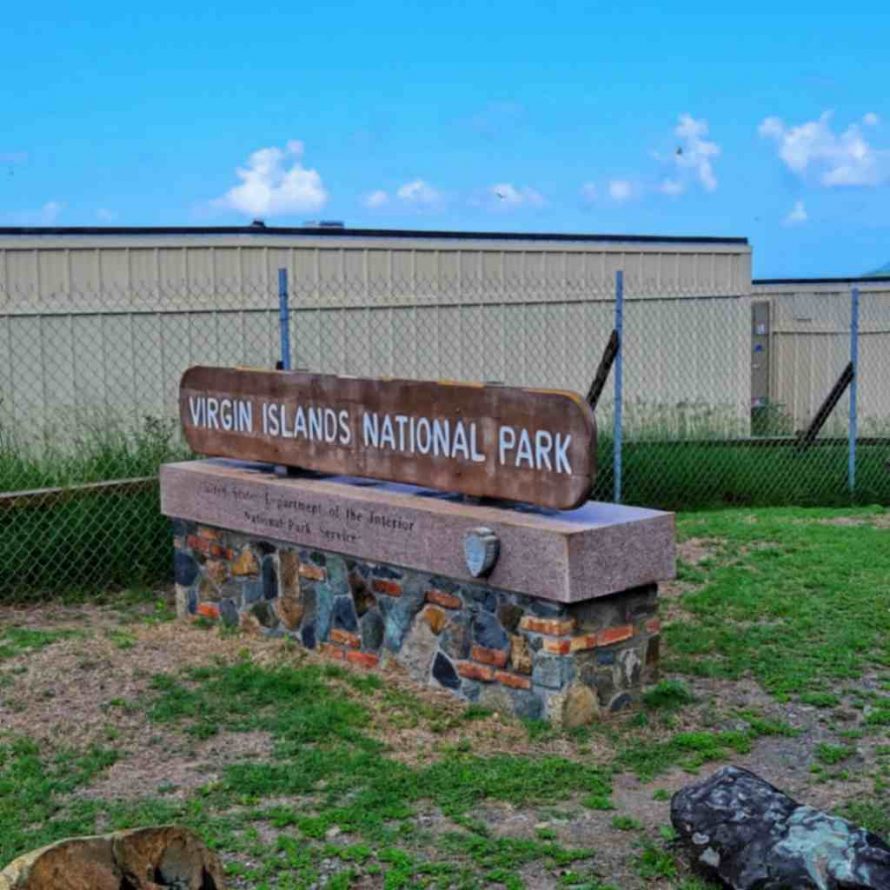 Two thirds of the island of St John is occupied by the US Virgin Islands National Park. Unlike other National Parks you may have visited, this one does not have any gated entrance, or a ranger collecting fees to enter. You can drive through the park, get out and hike areas, or stop along the way. One reason for this is that private individuals own land and property scattered throughout the park. When driving you might see a road with a sign stating, "Private Property" or "Private Road". The National Park consists of over 7,200 acres and you can see goats, donkeys, mongoose and wild pigs. There are also over 800 plant species.
Visit Sugar Mill Ruins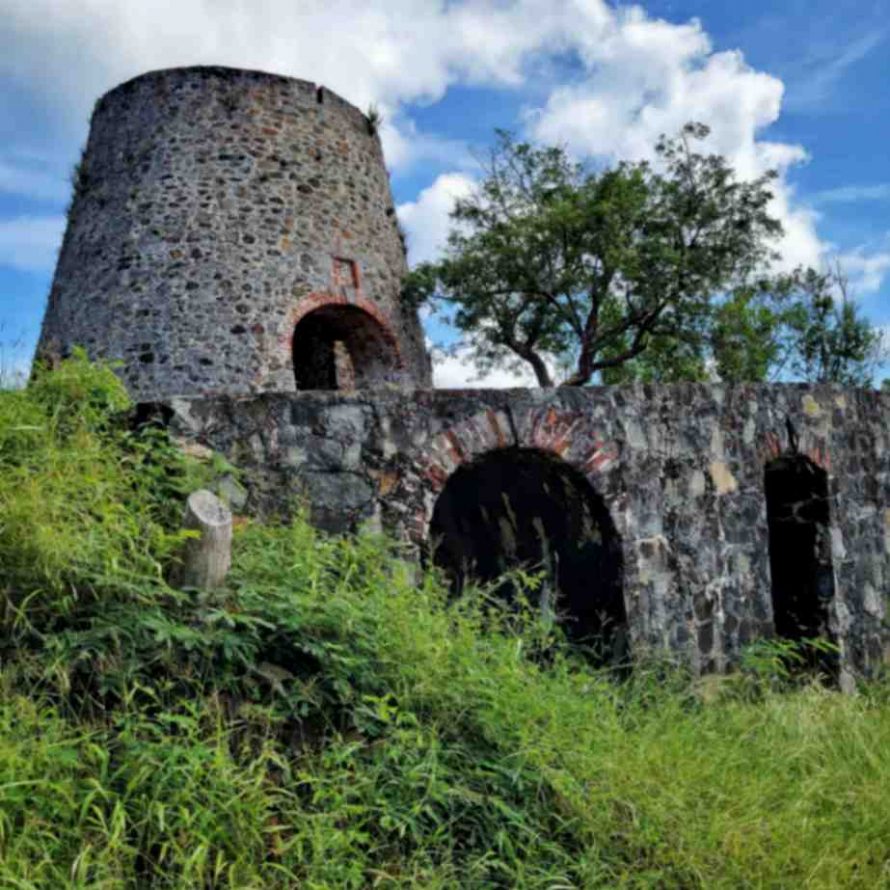 Driving through the National Park, as well as other parts of the island, you will come across the abandoned remains of sugar mills. Sugar cane plantations throughout the Virgin Islands was a main component of the economy from the 1600's to the 1800's and St John was no exception. Annaberg Plantation was established in the late 1700's and the ruins of the plantation can be toured. Throughout the National Park you can see remnants of sugar mills and walk through them to get a glimpse of what it was like.
Hit The Beaches
St John has some of the most beautiful beaches in the world. In fact, there are over 35 beaches on this small island. From small pristine sandy beaches to rocky beaches, all are open to the public. Only one beach charges an entrance fee, Trunk Bay. Probably the most photographed beach in the US Virgin Islands, Trunk Bay charges a $5.00 entrance fee and has been voted one of the top 10 beaches in the world. One look will tell you why. Over one quarter mile of beautiful sandy beach overlooking blue waters with towering coconut palms welcome visitors. They have excellent facilities to include showers, chair rentals and a snack bar.
Where to Eat on St John
The Roti King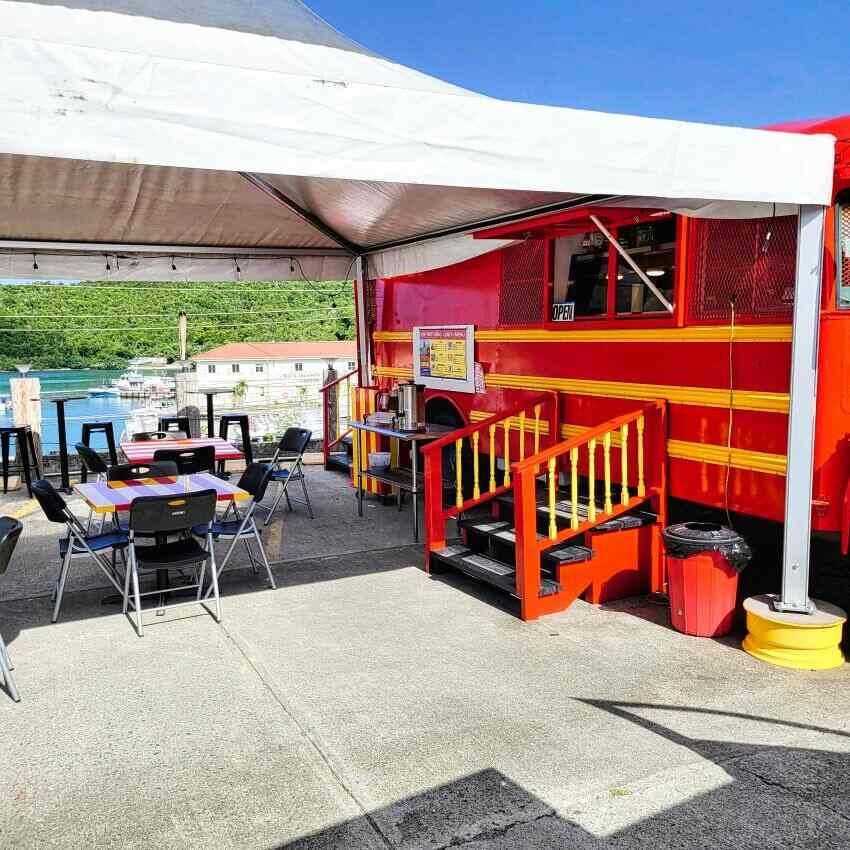 The Roti King is a food truck, run by Abdue Hill, located at the Lumberyard at Cruz Bay. It is a no frills place offering just plain old good food. A Roti is a flatbread filled with savory ingredients such as shrimp, goat or chicken and they also have veggie filled Rotis. Think of it as a Caribbean burrito.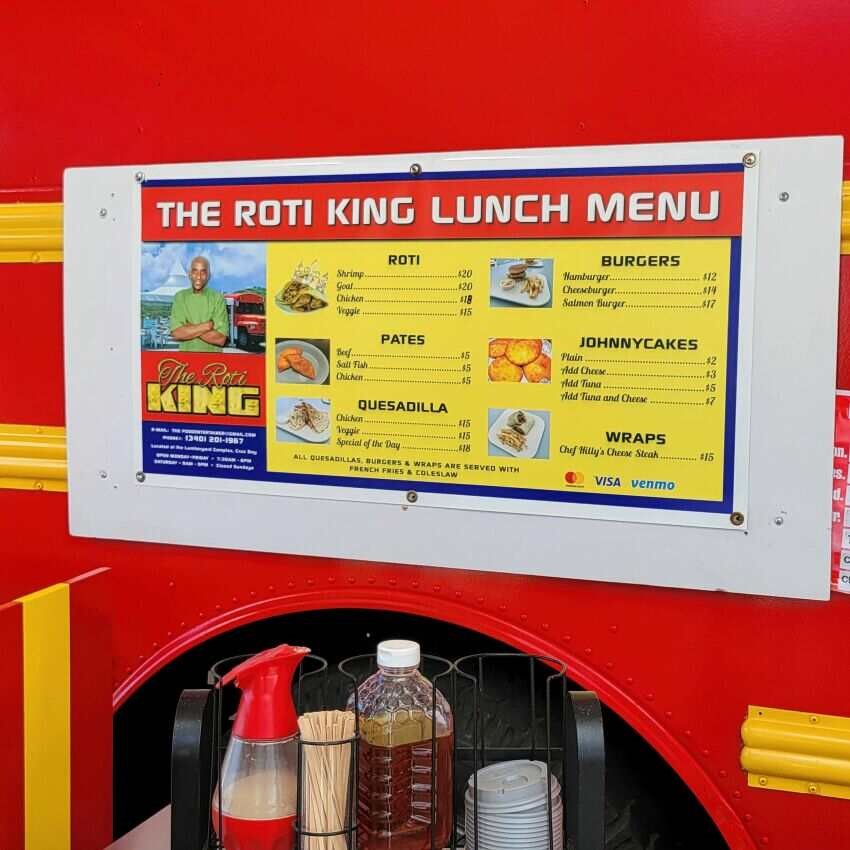 He also serves up Pates, similar to empanadas as well as quesadillas, burgers wraps and the island favorite Johnny Cakes. I had a cheese filled johnny cake with a lemonade for breakfast. If you want an authentic Virgin Islands breakfast then make this your first stop on the island before hitting the beaches.
Heading East Bar and Grill
When I travel, I like to try out local cuisine. I enjoy a good meal at a high end restaurant, but I also enjoy just finding a place where the locals eat and trying out some of the things they like. We stopped at a place named "Heading East Bar and Grill", where else but heading East away from the port on highway 10. Heading East has authentic local food served in an open setting with tables in a covered patio or in the open as well as a bar where you can eat and have a drink. I had goat curry, and it was delicious.
I was also persuaded to try a local drink called Mama Juana. To be honest it didn't take much persuasion. Mama Juana is a West Indian drink made by mixing wine, honey and rum and allowing it to soak in a jar filled with medicinal herbs. While referred to locally as "liquid Viagra" I can't attest to that, but it does have a little kick to it and was pretty good. I had 4 shots, just to be clear. Well after all I did have to give it a fair tasting. Heading East Bar and Grill is located at 28 Susannaberg, on Highway 10.
Morgans Mango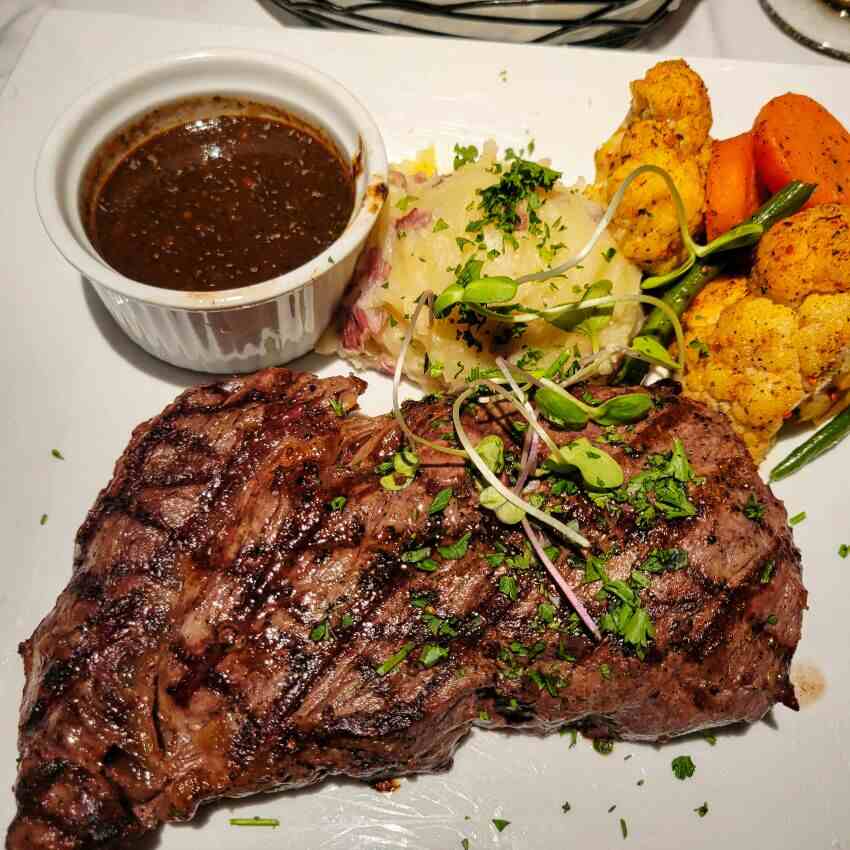 Morgans Mango has been around since 1992 and their food reflects a melting pot of Caribbean cuisine. Everything from Cuban fusion deep fried Calamari to Caribbean lobster, sugar cane rub pork tenderloin and a ribeye marinated with Jamaican sauce and peppercorns. They also have some killer cocktails and tropical frozen drinks. This is a fun place with great food. The staff was great along with the food and cocktails. Make this your last stop before heading to ferry back to St Thomas. You will enjoy it. Morgans Mango is located about 1 block away from Mongoose Junction on the road headed to the ferry.
Where to Stay on St .John
St John is a small island, and a lot of people own big luxurious villas. Even being a small island there are a few hotels and resorts on the island as well as rentals. Take a look at the map below for the best places to stay on St John.
Visiting St. Croix USVI
St. Croix has the nick name "Twin City" because of its two towns, Frederiksted and Christiansted. The island is flatter than St John and St Thomas, but there are a few hills. The roads seemed a little wider and a lot easier to navigate. While St John is known as a laid back beach island and St Thomas is known for shopping and night life, St Croix is known for its history, culture and heritage. St. Croix is also the home of the Cruzan Rum distillery. But don't get me wrong, the island offers gorgeous beaches, snorkeling and diving, two of the world's bioluminescent bays, as well as outdoor activities and excellent restaurants.
How to Get to St Croix USVI
Other than arriving on a cruise ship, there are several flights from the mainland US to St Croix arriving at Henry E. Rohlsen Airport. American Airlines, Delta and Spirit all fly to St Croix. There are also flights from Puerto Rico and a ferry. The ferry however is sometimes suspended so check ahead of time. Traveling from St Thomas to St Croix can be accomplished by taking Cape Air or by Seaplane. There are also ferries that run between St Thomas and St Croix, but check to make sure they are not suspended.
What to See and Do on St Croix
Christiansted National Historic Site
Established in 1952, The Christiansted National Historic Site spans 7 acres and tells the story of the Danish occupation era from 1734-1917. Consisting of six historic buildings, the area helped protect the area from pirates, privateers and invading forces as well as serving as a seat of government.
Fort Christiansvaern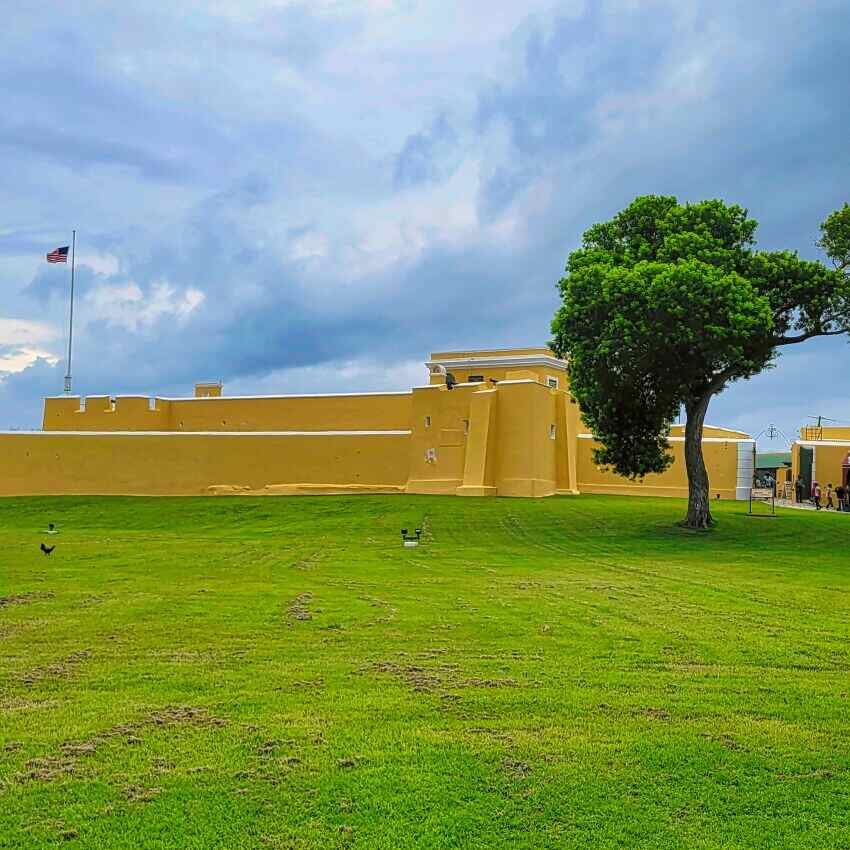 Constructed between 1738 and 1749, Fort Christiansvaern in the town of Christiansted not only served as protection, but the first Danish Governors were housed here. Later the British occupied the fort, and it served as a colonial jail. Alexander Hamilton's mother was interred here for a while. After refusing to live with her first husband she was arrested under Danish law and spent 10 months in the prison. She later fled to the British West Indies where she wed Hamilton's father. The fort is open for self-guided tours 8:30 to 4:30 daily.
Old Danish Customs House
Located on the grounds of the Christiansted National Historic Site just outside the fort, the Customs House was completed in 1842 and served the Danish colonial empire as a place to collect customs revenues. The building served the St Croix Customs Service until 1927. After that the building served as the first St Croix public library until 1972 and then served as the offices of the delegate to Congress up until the 1980's.
Christiansted Boardwalk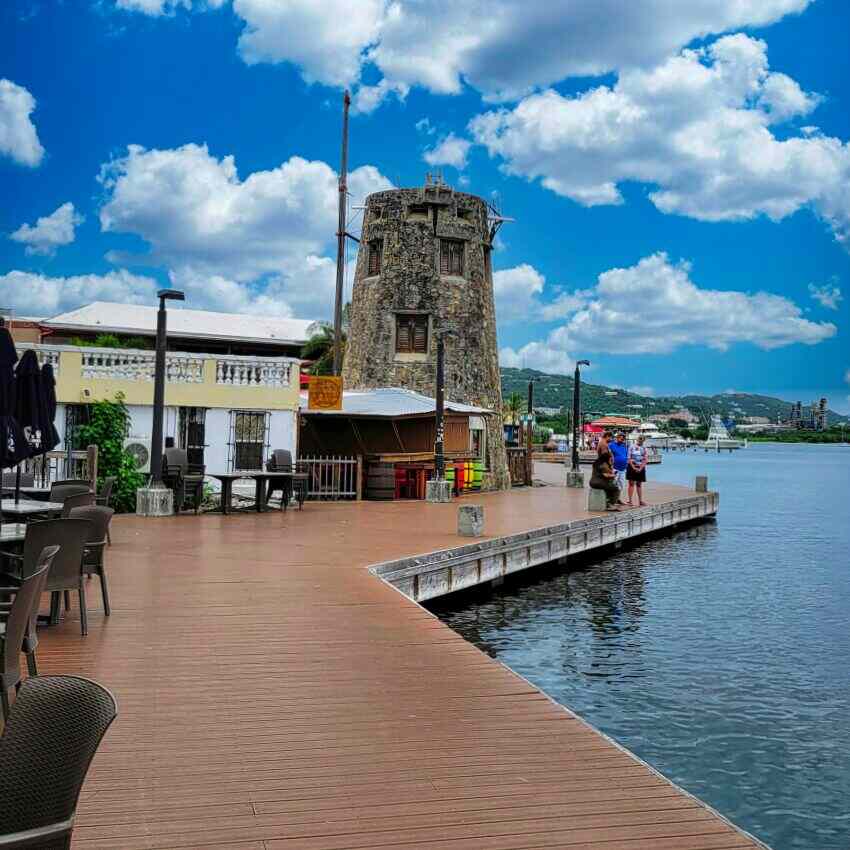 Take a walk along the Christiansted boardwalk and discover small unique restaurants, shops and bars. Located on the bay there are breakfast places, a tiki bar, ice cream shop, Mexican restaurant as well as boutique shops and the 200 year old historic King Christian Hotel. Even if you don't stay here, take a look inside at how beautiful the hotel is.
Fort Frederiksted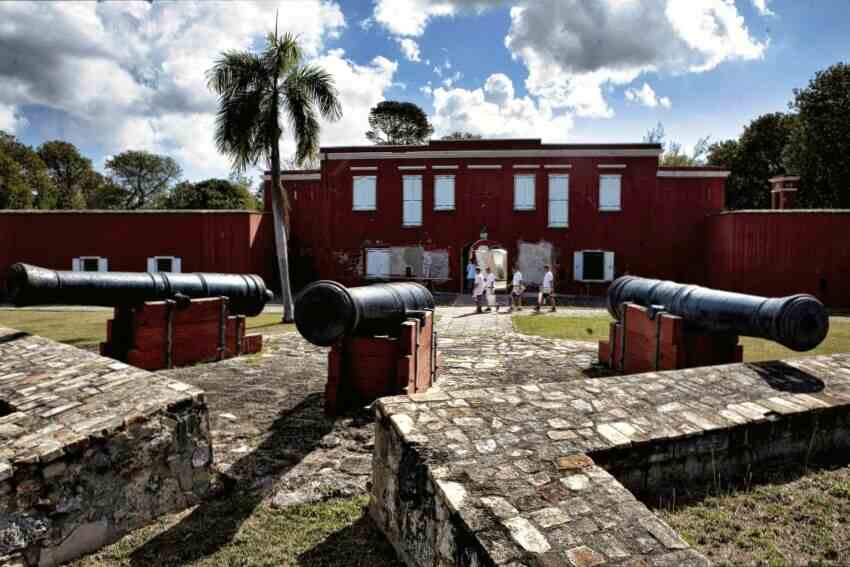 Located on the north end of Frederiksted on the western end of the island sits Fort Frederiksted. Construction of the fort was completed in 1760 and just as Fort Christianvaern, Fort Frederiksted served as protection for the island, at this point there were over 300 sugar plantations on the island and sugar was highly important the Danish economy. The earliest reported salute to a foreign ship occurred here in 1776 when a US ship arrived in port. As a National Historic Landmark, the fort is open to visitors Mon-Fri 8:30 am to 4 pm and Sat. 1-4 pm and the cost is $5.00 per person.
Point Udall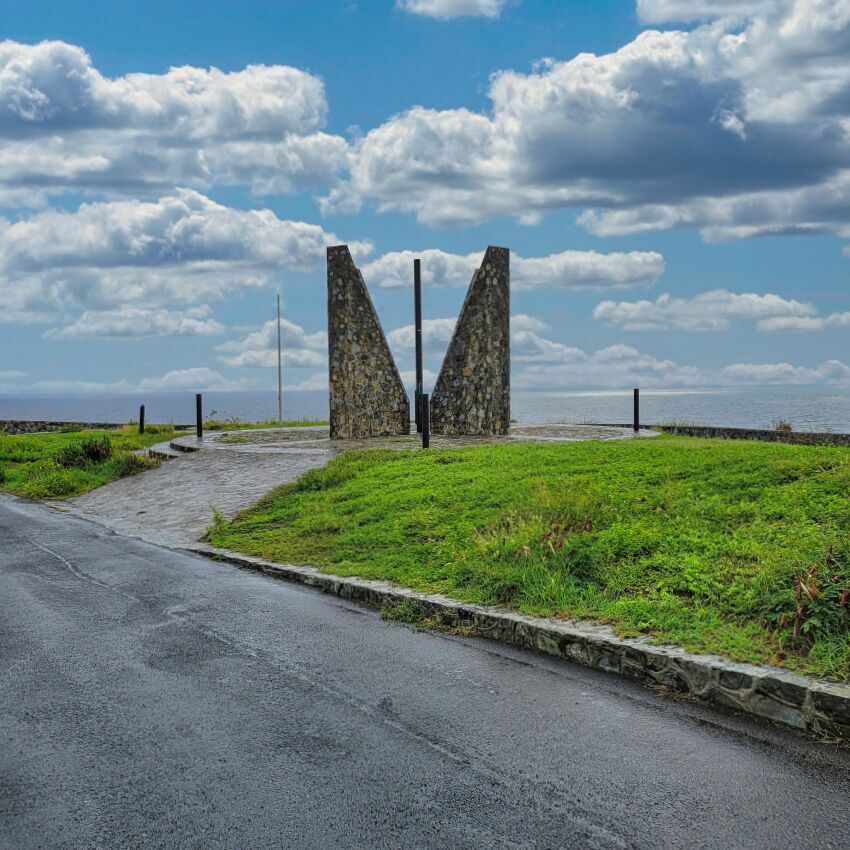 Okay this one is for those that like selfies. If you are the type to memorialize one of a kind places then this one is for you. Point Udall is located at the east end of St Croix and is famous for one thing. It is the easternmost point of the United States. It was named after Secretary of the Interior Stewart Udall. There is a sundial, known as the Millennium Monument, that was built in 2000. Here is a fun fact. The westernmost point in the United States is Guam. They also have a point Udall, named for Morris Udall, Stewart's brother. So, you can say the day starts and ends at Point Udall. Check it out, take a selfie and add it to your collection.
Buck Island National Reef
Buck Island Reef National Monument consists of a 176 acre pristine, uninhabited island and over 18,000 acres of submerged land including a 4,500 acre reef. Named as one of the finest marine gardens in the Caribbean, the area was established as a protected area in 1948 by the US Government and in 1961 declared a US National Monument. Buck Island Reef National Monument attracts over 50,000 visitors per year with many hiking the island trails and many others snorkeling and diving the waters. There are several companies in Christiansted that take visitors out to the reef by boat, or you can get a private boat.
Sandy Point National Wildlife Refuge
Sandy Point National Wildlife Refuge is located on the west end of St Croix and is home to the longest stretch of beach in the US Virgin Islands. The two mile long, white sand beach is only open on weekends with the exception of April thru August, when the beach is closed for turtle nesting. Even though the beach is beautiful it is usually a lot less crowded than other beaches on the island.
Salt River Bay National Historic Park and Altona Lagoon
There are roughly twenty bioluminescent bays in the world. Some are well known and some are highly guarded to avoid tourism. St Croix is home to two of them. Bioluminescence bays occur because of tiny microorganisms emitting a chemical light in the water. In St Croix you can visit the Salt River Bay National Historic Park and Altona Lagoon to witness this spectacular sight. There are companies that will rent out clear bottom kayaks so you can paddle out in the waters for a close look. In addition to the bioluminescence bays, the Salt River National Historic Park is a fascinating place that offers mangrove forests, an ecosystem that supports endangered species and archeological sites that tell the story of the Virgin Islands dating to the 1400's.
Mutiny Island Vodka
So, why would you visit a Vodka distillery when you are in the Caribbean, the Rum mecca of the world? Well, chances are you have never had vodka made from breadfruit. Sion Farm Distillery and Mutiny Island Vodka have made a name for themselves on this rum centric island. Not only do they make really good vodka they also serve food which is equally as good. St Croix chef Todd Manley teamed up with Chesapeake Bay Distillery CEO Chris Richeson in 2017 to create Mutiny Rum made from breadfruit.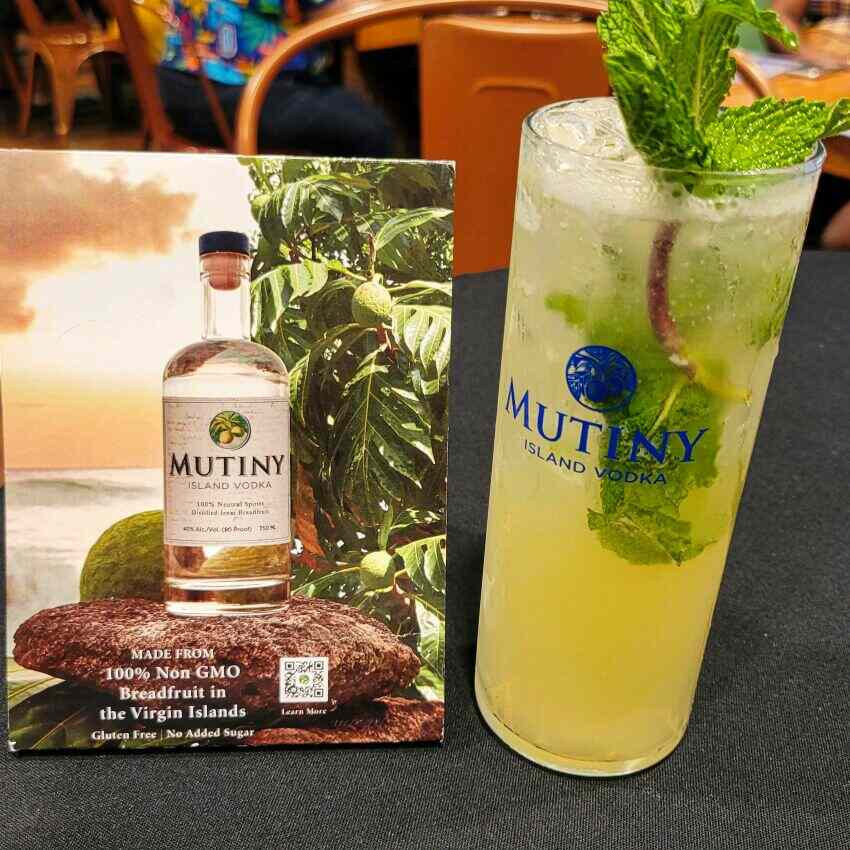 Distilled using nothing but breadfruit and Caribbean rainwater, collected in cisterns at the distillery, Mutiny Vodka has become an island favorite. The distillery is offers tours, where you can learn about the process, and is open Monday thru Friday 11:30 to 7:30. They also have a happy hour from 4pm to 5:55pm. Sion Farm Distillery is located at 4000 Sion Farm Rd, Christiansted, St Croix.
Steele's Smokes and Sweets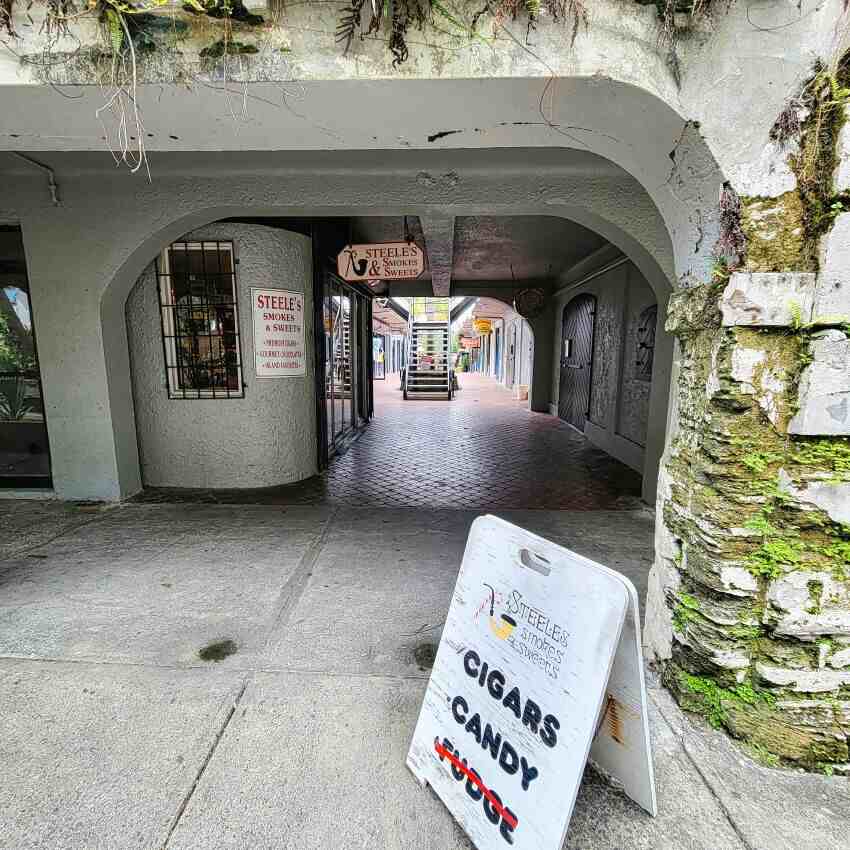 I like cigars, so when I can visit a cigar shop in a new town, I'm there. Steele's Smokes and Sweets is a little unique because they sell cigars as well as homemade chocolates. First let's talk cigars. Owner Jeff Seroogy has been in business in St Croix for over 40 years. He has a small but quality offering of cigars at good prices. He also is quite knowledgeable about cigars and the cigar scene on St Croix. A nice guy to talk to, and I thoroughly enjoyed spending time with him. His hop also offers homemade chocolates.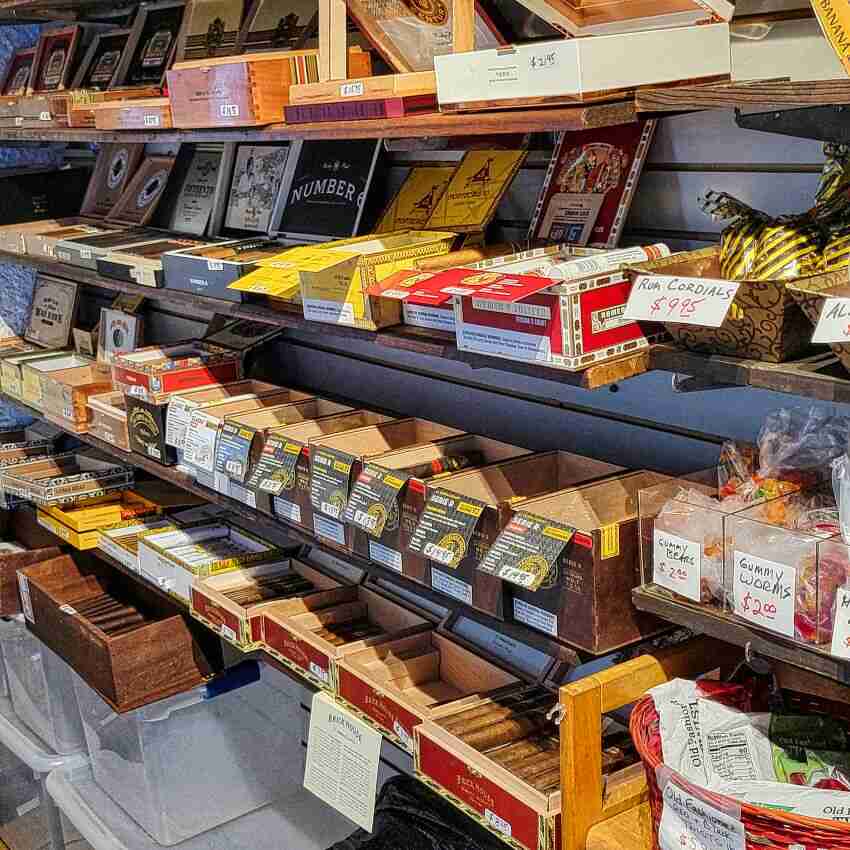 Why this combination you ask? Well, since 1899 the Seroogy family has been making and selling homemade chocolates in De Pere, Wisconsin. Jeff decided to start selling the family made chocolates at his shop and locals as well as tourists appreciate it. Various varieties of hand dipped candies, rum balls and more are for sale. Stop by and check out what's in the humidor for a good cigar and while you're at it pick up a little sweet treat. Steele's Smokes and Sweets is located at 1 Strand Street, just off the boardwalk, in Christiansted in St Croix. Hours are 10am to 5pm Monday thru Saturday.
Saturday Market at the Agriculture and Food Fair Grounds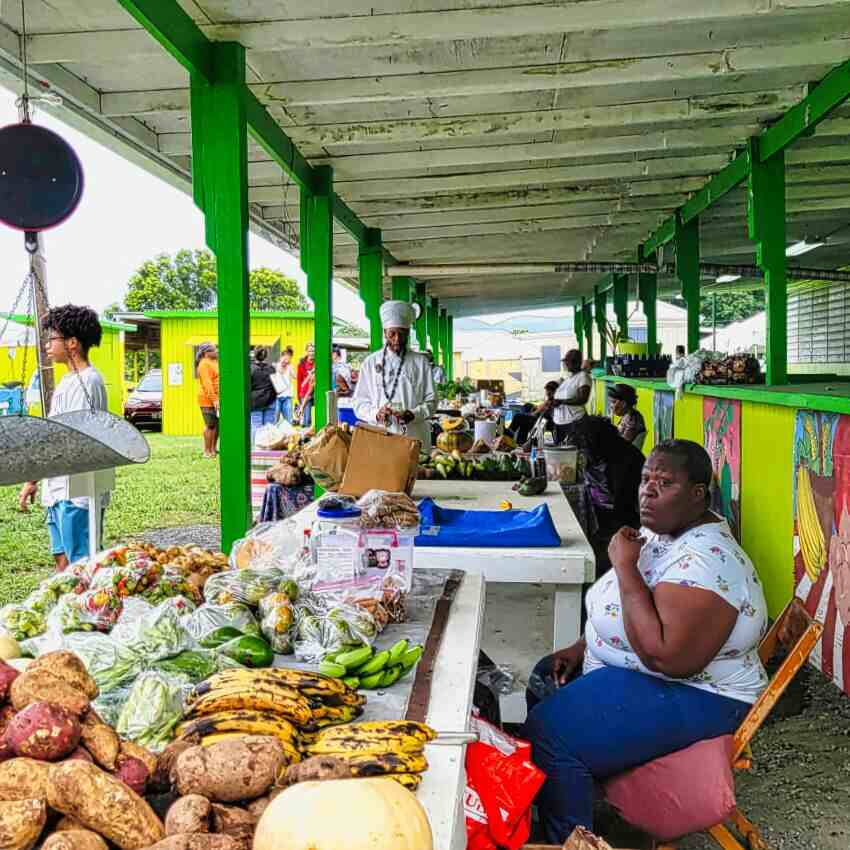 When traveling to new places I love to visit the local markets for two reasons. First, I get to meet interesting people, and second, I get to sample local foods. The Saturday Market at the fairgrounds in St Croix is an excellent place to do both.
The open air market has readymade food and drinks you can purchase as well as a wide assortment of produce, spices, jams, honey and much more. You might just discover a new favorite treat. The market is located on Centerline Road in Christiansted in St Croix and open 6am to noon on Saturdays.
Meet The Locals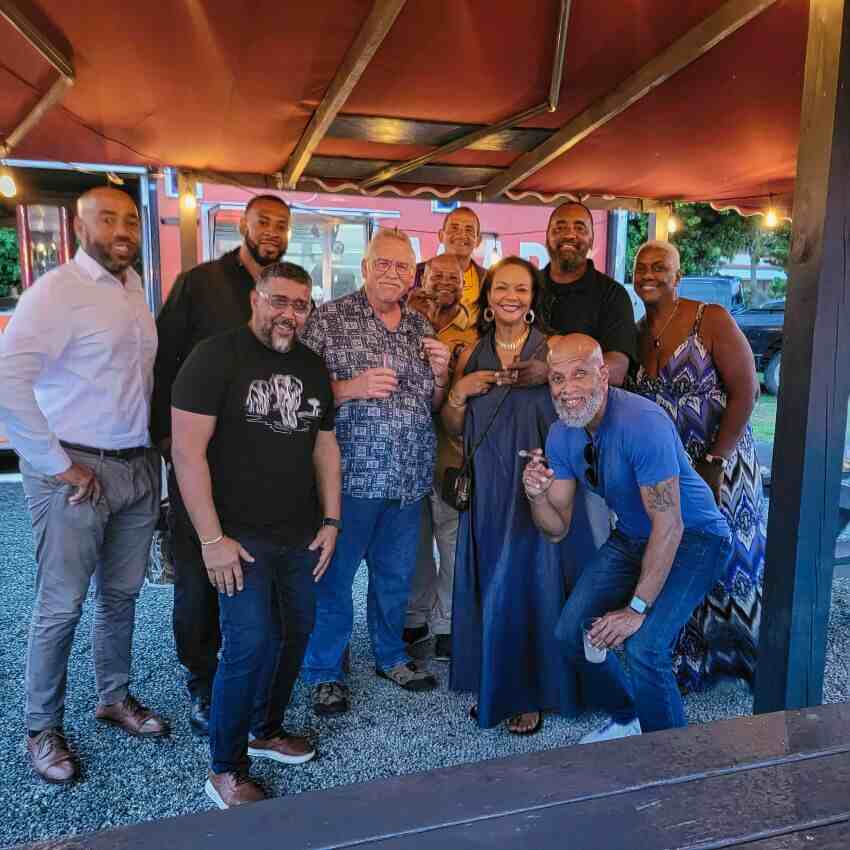 Okay, this one is not island specific. I love meeting and talking with people when I travel. On this trip I had the opportunity a couple of times during my visit to get away from the tourist areas and just hang out with the locals. On St John while having lunch at Heading East I got to meet some folks, drink a little of their local homemade Mama Juana and sit and talk. One guy told me about his family farm and how parts of it had been in dispute with the National Park system taking over some it. On St Croix I again found my people. I went to a roadside food truck and bar where they have a weekly get together of cigar smokers. I met some really nice people, traded a few cigars and just had a good time. The moral of the story is, get away from the tourist locations every once in a while, and experience the area you are traveling to.
Where to Eat St Croix
La Reine Chicken Shack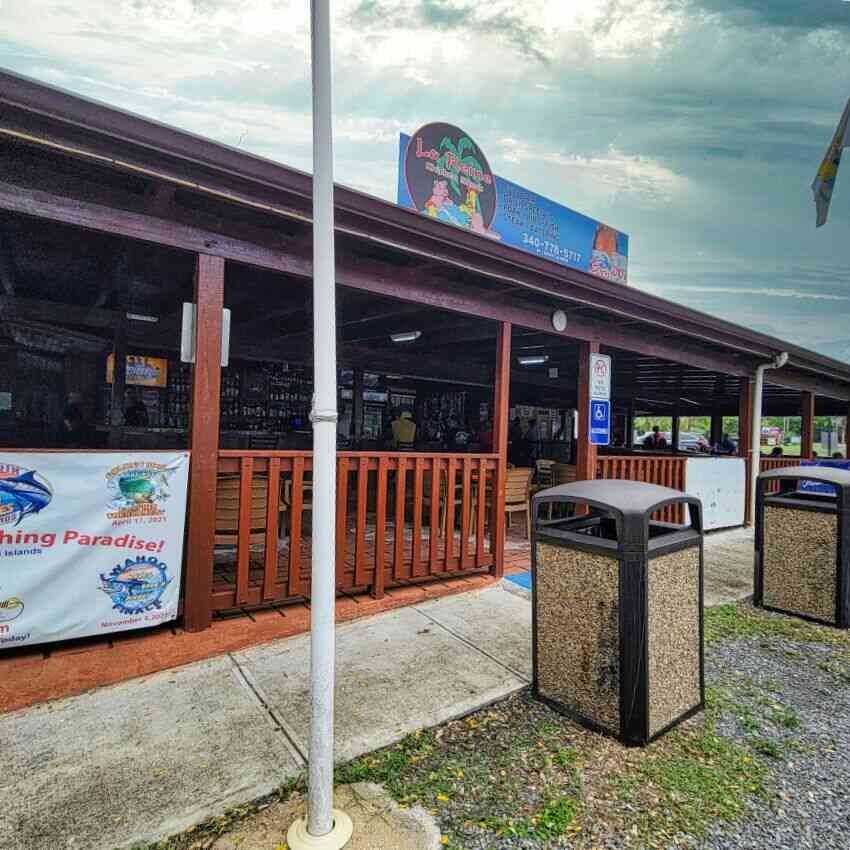 Ask anyone on St Croix where you should go to find a good local restaurant, and chances are they will tell you to go to La Reine Chicken Shack. Now don't get snobby about a place with the name "shack" in it. This is one of the most popular places for locals, and tourists that know, to eat on the island.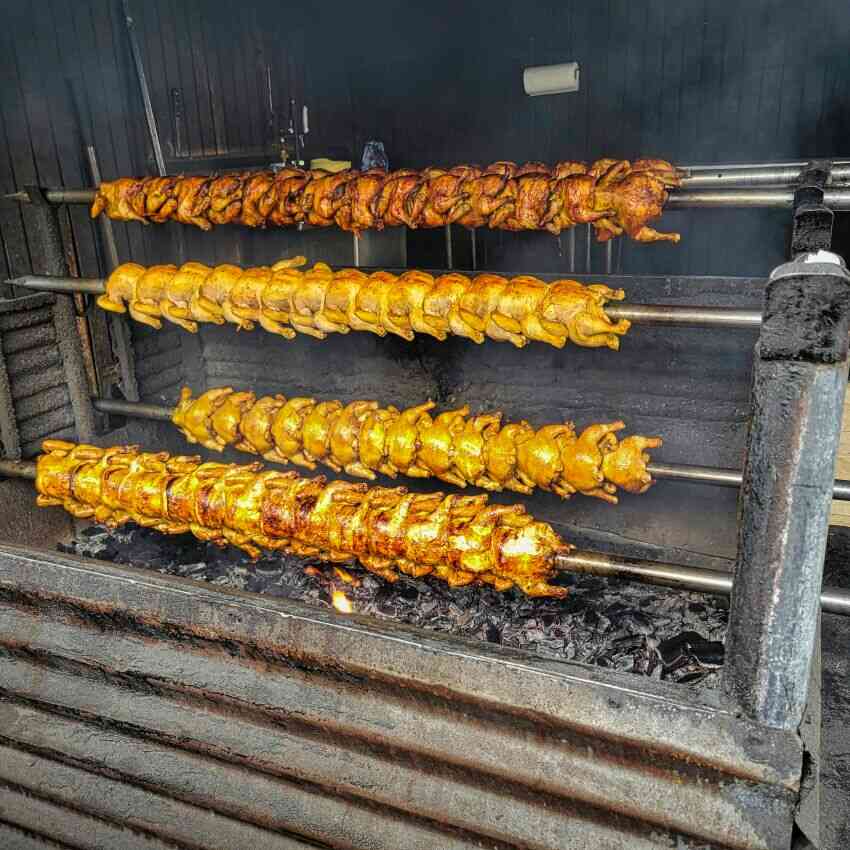 You might see a municipal worker, a government employee or even a celebrity while you are there. They all come to the chicken shack for some of the best food around. Martha Stewart and Andrew Zimmern have both visited, and for good reason. Nothing fancy here, picnic tables, Styrofoam plates, plastic utensils and good food. The chicken is roasted on a huge open pit rotisserie consisting of long rods driven by a motor with a fan belt and consisting of chicken seasoned with a secret mix of spices, cooked to perfection.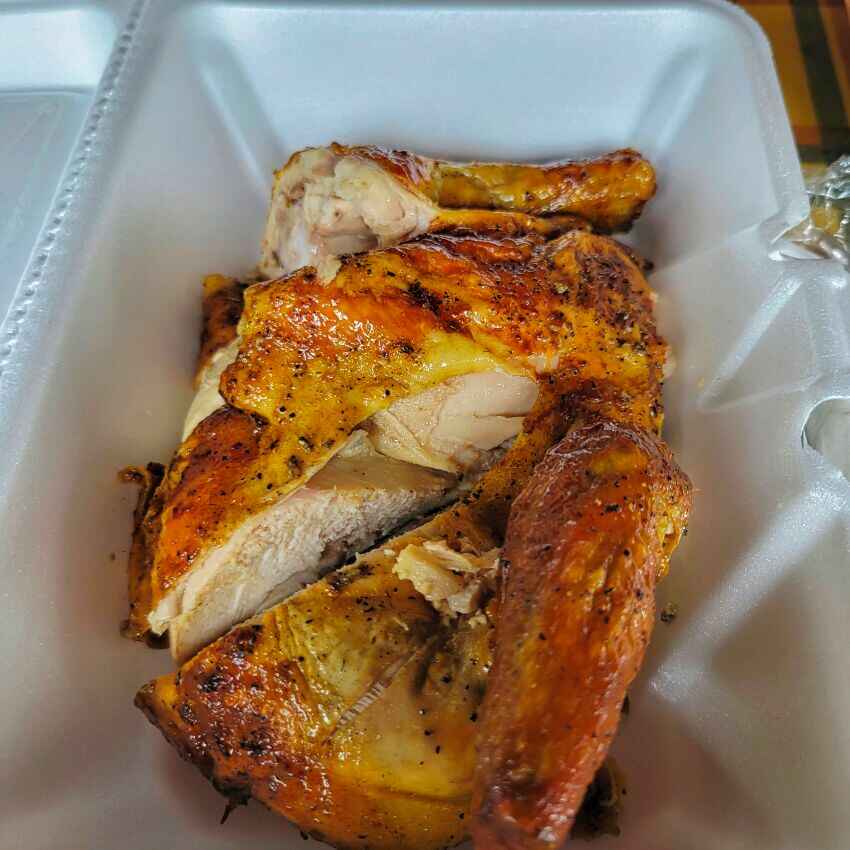 They also serve other food as well, and all good, but the chicken is the star. La Reine Chicken Shack is located at 24 Slob A-B Estate, La Reine, St Croix and open daily.
Savant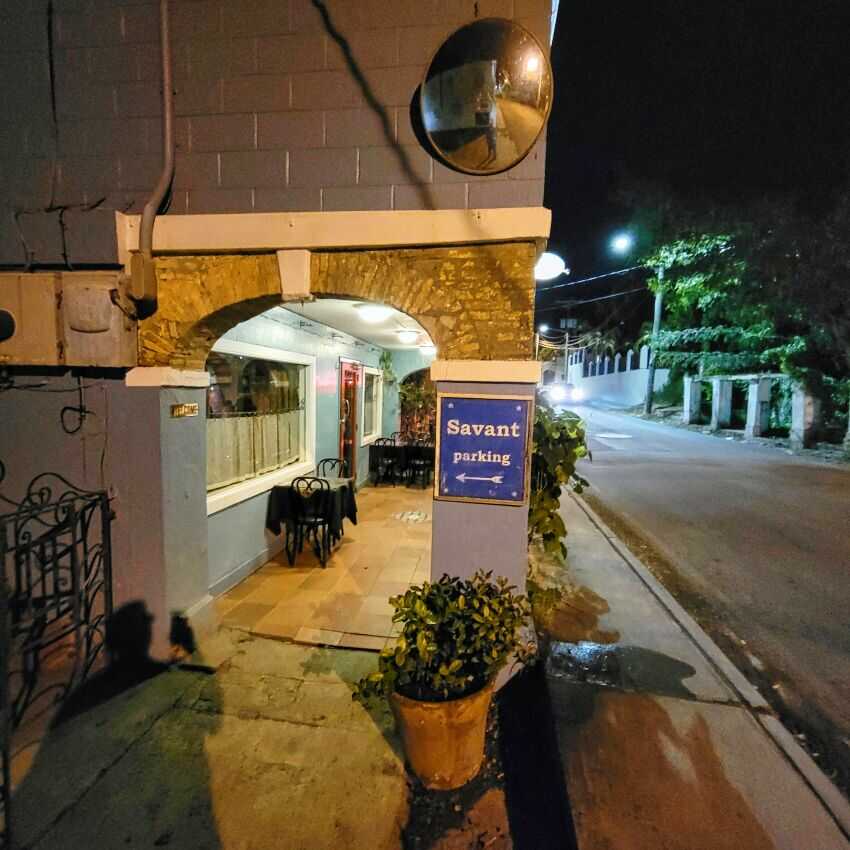 Owners Tom and Kate Miller opened Savant in 1998 and since that time locals, visiting celebrities and tourists have been enjoying their farm to table menu.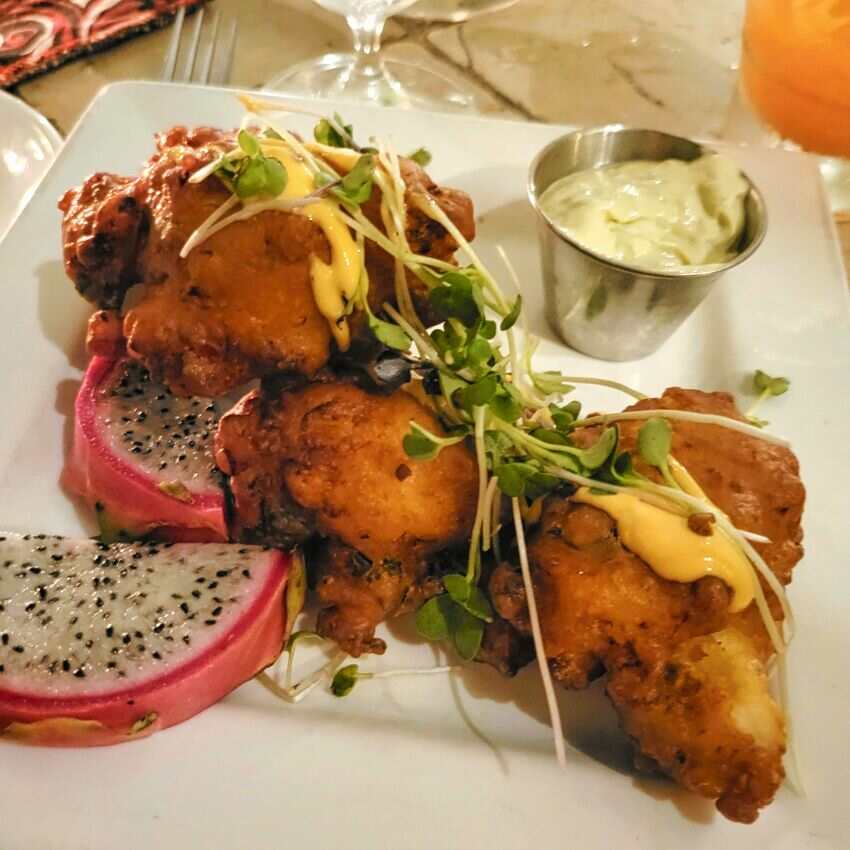 With fresh fish and lobster sourced daily from local fishermen and house favorites like goat cheese stuffed filet and bacon wrapped double cut pork chops, you can see why this place is always busy.
Two fully stocked bars, a signature cocktail menu and extensive wine list give you a lot of options as well. In a former life, Kate Miller was a movie set designer, and she decorated the patio area.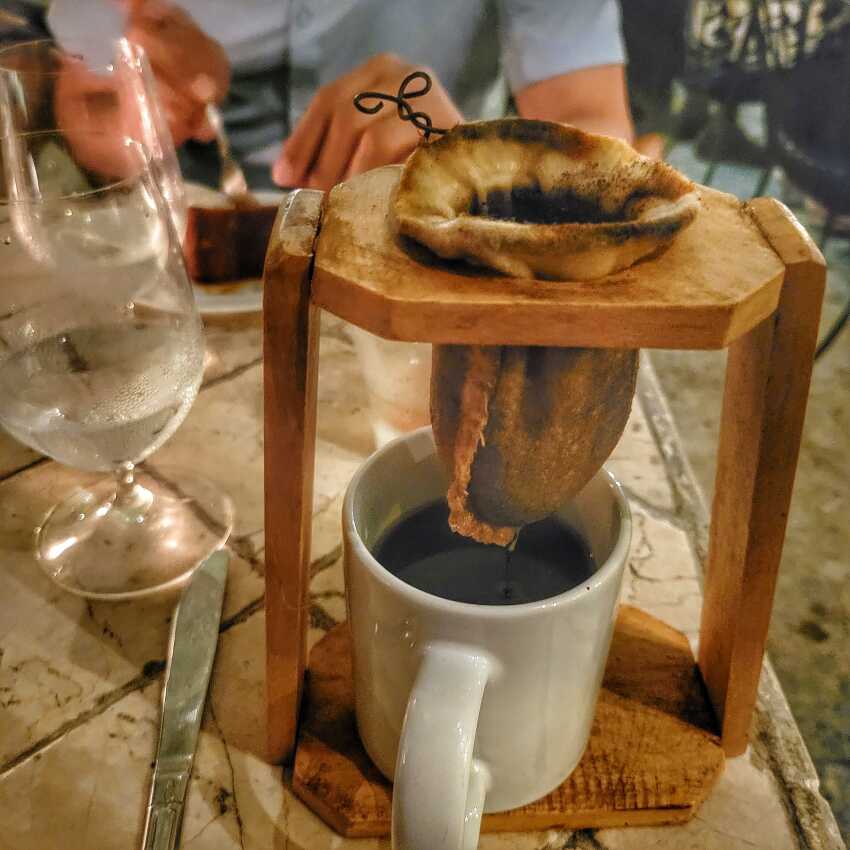 They have an inside dining area as well, but I ate on the covered patio, and recommend it. Savant is located at 4C Hospital St, Christiansted, Christiansted Monday thru Saturday 5:30 to 9:30 and reservations are highly recommended.
There are a lot of really good places to eat on St Croix such as Caroline's Breakfast on the boardwalk in Christiansted. Located at the King Christian Hotel, they serve breakfast and brunch and cocktails in a great atmosphere. Blue Water Terrace on the east side of the island has everything from sandwiches and burgers to steaks and fresh seafood. If you stay at the Buccaneer Resort, they have a fantastic breakfast buffet. I am sure they have an excellent lunch and dinner as well, but I only tried the breakfast.
Where To Stay St Croix
The Buccaneer Beach and Golf Resort
As a member of Historic Hotels of America, The Buccaneer Beach and Golf Resort is probably the best resort in the US Virgin Islands. The hotel occupies a historic area in St Croix. The first building where the hotel sits today was built in 1653 by a Knight of Malta, Charles Martel. Since then Danish Governors have had their estates here, sugar factories operated on the land as well as a place for growing cotton and raising cattle. In 1947 the Armstrong family opened the Buccaneer with eleven guest rooms. The first hotel on the island built and operated by an island family.
Fast forward to the present and the Buccaneer comprises of 340 acres of beautiful ocean front property, consisting of an 18 hole golf course, eight tennis courts, two pools and three beaches. There is also a full service spa, 24 hour fitness center, a shopping arcade and three restaurants, remember I mentioned the breakfast buffet was fantastic.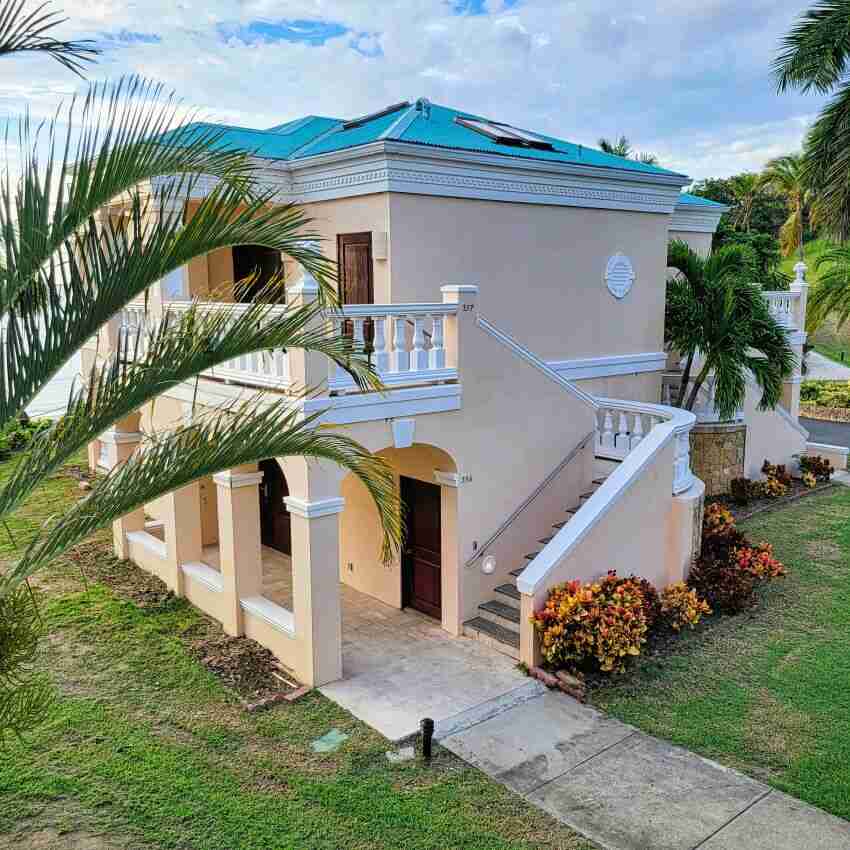 The hotel offers a wide variety of rooms from the main hotel to villa style suites and a six bedroom oceanfront villa. Attention to detail and excellent service keeps people returning to this hotel.
I have stayed at a lot of beautiful properties around the world and this one is definitely one of the top ones. The Buccaneer Beach and Golf Resort is about 30 minutes from the airport and located at 5007 Estate Shoys, Christiansted, St Croix.
Check out some of the other hotels on St Croix in the map below.
Any way you look at it, The United States Virgin Islands are fantastic. From the world class white-sand beaches, water sports, great dining, friendly Virgin Islanders and excellent resorts and hotels, this Caribbean paradise is truly one of the most beautiful places in the US.
Related Posts
(Visited 2,898 times, 2 visits today)